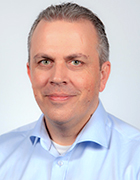 Peter Daalmans
Principal Consultant and Trainer at Daalmans Consulting -
Daalmans Consulting -
Peter Daalmans is a principal consultant at Daalmans Consulting, with a primary focus on the System Center Suite, Microsoft Exchange, and enterprise mobility. Peter has been awarded as a Microsoft Enterprise Mobility MVP (Configuration Manager, Microsoft Intune, and Enterprise Mobility + Security) every year since 2012.
Peter writes and shares his knowledge on his blog, ConfigMgrBlog.com. Peter is also a co-founder and leader of the Windows Management User Group Netherlands.
Peter is the author of the books Mastering System Center 2012 Configuration Manager, Mastering System Center 2012 R2 Configuration Manager, and the upcoming Mastering System Center Configuration Manager, published by Sybex. In 2016, he also released the book Microsoft Enterprise Mobility Suite: Planning and Implementation.
Peter speaks at local and international group meetings and conferences including TechEd (Australia/New Zealand), IT/Dev Connections, Midwest Management Summit (MMS), BriForum (London, Denver, and Boston), TechDays Netherlands, and ExpertsLive Netherlands. Read more about him at https://ref.ms/aboutme.
Peter Daalmans's Most Recent Content