Fotolia
LeanIX adds SaaS, microservice management to product lineup
Enterprise architect specialist LeanIX expanded its portfolio through the purchase of SaaS management startup Cleanshelf and the introduction of a Microservice Intelligence tool.
LeanIX has broadened its enterprise architecture portfolio with the acquisition of SaaS management startup Cleanshelf and the introduction of a new product for DevOps and engineering teams to catalog microservices.
The enterprise architecture tools vendor, based in Bonn, Germany, said the Cleanshelf technology would help CIOs, CFOs and IT managers automate the tracking of SaaS spending, licenses, usage and security. LeanIX plans to rebrand the Cleanshelf software and begin selling its new Saas Intelligence product May 1.
"It's a great complementary fit to what LeanIX does," said LeanIX CEO André Christ.
Adding SaaS to application portfolio management
LeanIX's core product is Enterprise Architecture Suite, which includes an Application Portfolio Management (APM) module. The company plans to make Cleanshelf's SaaS management capabilities available to existing customers in the second quarter as a free component of its APM module.
"As the market is shifting more and more to software as a service, it's an important step to prepare for that," Christ said. "I honestly believe in the future there will be no application portfolio management without proper SaaS discovery."
Christ noted that small and large businesses have increasingly relied on SaaS applications, such as Zoom, Microsoft Teams and other collaboration software, as employees shifted to remote work due to the COVID-19 pandemic. A recent Gartner report projected that half the organizations that use multiple SaaS applications will centralize management and usage metrics using a SaaS management platform tool by 2026 -- a substantial increase over the less than 20% that use them in 2021.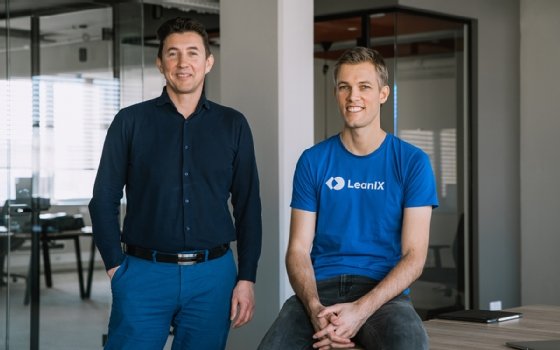 Shift to microservices
Another customer trend that LeanIX hopes to address through a new product is the shift from a monolithic to microservices-based application architecture. Christ said many of the company's enterprise architecture customers face the prospect of managing dozens if not hundreds of microservices as they scale up their in-house development work.
The new LeanIX Microservice Intelligence product that launched this week can create a cloud-based catalog of microservices to help customers track ownership and dependencies and monitor performance. The tool uses open source adapters to automate discovery and collection of data from CI/CD pipelines, tools and Kubernetes clusters. The initial set of adapters supports Kubernetes, Jenkins, GitHub Actions and OpenShift. Christ said LeanIX plans to add more connectors in the future.
LeanIX's Microservice Intelligence is Service Organization Control (SOC) 2 Type 2 certified to ensure data is safe and secure, according to Christ. He said about 10 LeanIX customers have already been using the Microservice Intelligence product as part of a closed beta program.
Pricing for Microservice Intelligence starts at about $10,000 for 100 microservices, and the cost per microservice decreases from there, Christ said. Customers have the option to use the new Microservice Intelligence with LeanIX's Enterprise Architecture Suite to give product IT and corporate IT teams visibility into how microservices support business capabilities.
The addition of Microservice Intelligence and, on May 1, SaaS Intelligence, will give LeanIX four products within its portfolio of enterprise architecture tools. Cloud Intelligence debuted last year, and the company's core Enterprise Architecture Suite has been available for more than nine years. In addition to APM, the Enterprise Architecture Suite has modules for Technology Risk Management and Business Transformation Management. Christ said LeanIX recently surpassed the 400-customer mark.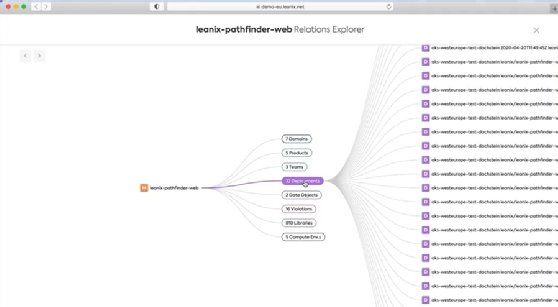 Latest SaaS management acquisitions
LeanIX wasn't the only vendor to scoop up a SaaS management startup this year. Last month, SailPoint Technologies Holdings closed on a deal to acquire Intello to help customers discover, manage and secure SaaS applications.
I honestly believe in the future there will be no application portfolio management without proper SaaS discovery.

André ChristCEO, LeanIX
"These acquisitions follow previous moves -- such as Alpin being acquired by CoreView [in 2019] -- as evidence that vendors in adjacent markets want to acquire SaaS app discovery capabilities to round out their existing offerings," said Chris Silva, a Gartner vice president and analyst. "In most cases, acquisitions are focused on vendors and tools that excel in performing discrete functions within the broader [SaaS management platform] mandate of discover, manage and secure."
Christ declined to specify the purchase price for Cleanshelf other than to say it was a "double-digit million" dollar acquisition. He said Cleanshelf's headquarters in San Francisco as well as its offices in Denver and Ljubljana, Slovenia, will remain open, and LeanIX will continue to support Cleanshelf's customers. Cleanshelf employed 40 and had more than 60 customers, 80% of which are in the U.S., according to Christ.
Cleanshelf launched in 2015 and raised $8 million in Series A funding a year ago, led by Dawn Capital, to accelerate the development of new product features. Cleanshelf CEO and founder Dusan Omercevic will join LeanIX as vice president of product SaaS Intelligence and managing director for Slovenia; he will lead the Ljubljana-based development team.
"Our intention is to work with the customers and leverage the joint experience to further develop the product," Christ said.
Carol Sliwa has been a TechTarget senior writer since 2008. Her coverage area includes enterprise architecture, flash, memory, and storage drive technology.
Dig Deeper on Enterprise architecture management