kentoh - Fotolia
New LeanIX EA module can ease linking IT to business goals
LeanIX's new Business Transformation Management module tries to simplify planning through its 'GitHub for IT architecture' approach and Apple Time Machine-like visualization tool.
LeanIX has expanded its Enterprise Architecture Suite with the addition of a Business Transformation Management module that can enable customers to visualize potential future states in their IT environments.
The Business Transformation Management (BTM) software joins the core Application Portfolio Management (APM) module and optional Technology Risk Management (TRM) add-on in the LeanIX Enterprise Architecture (EA) Suite. The new BTM module aims to help business and IT teams collaborate and align their transformation initiatives to high-level business objectives, after they assess their as-is IT landscape with the APM software.
LeanIX co-founder and CEO André Christ said research has shown that a high percentage of transformation initiatives fail. One reason for such failures is that many organizations don't trace and monitor how their architecture changes connect back to the high-level, visionary transformation goals they drew up on PowerPoint slides.
'GitHub for IT architecture'
Christ said EA tools attempted to tackle the problem in the past through scenario planning and strategic roadmapping, but customers rarely used the capabilities because they were too complex. He said LeanIX tried to simplify the process by taking a "GitHub for IT architecture approach" that is similar to the way distributed teams of software developers update and maintain code.
With the new BTM module, LeanIX customers can model changes to their architecture in much the same fashion that a software development team works on a branch of the current version of a software program, Christ said. Developers apply their changes to the branch, and after review, merge them back into the main code base, he said.
Another key new capability in the BTM module is a "time slider" for customers to display a future state. Christ compared it to Apple's Time Machine software, which lets users view point-in-time snapshots of their data backups. He said a LeanIX customer could view, for example, how the application landscape would look in the first quarter of 2021 after applying all planned projects to the current architecture.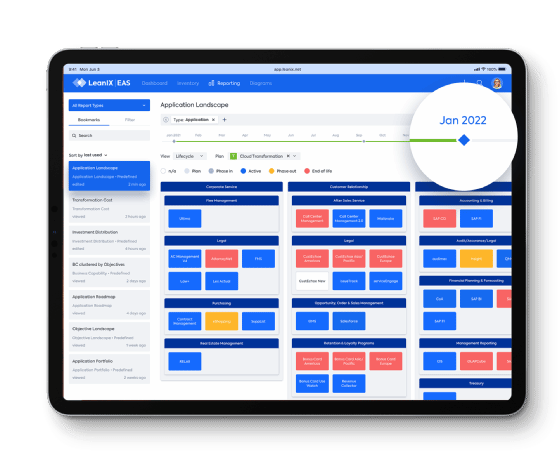 The LeanIX software can link transformation items to individual software development projects that users track with tools such as Atlassian's Jira in order to assess whether "the sum of their Agile development projects contribute to the bigger goal," Christ said.
"We believe our approach is efficient and scalable even for organizations that have hundreds and thousands of applications connected in their architecture repository," Christ said.
LeanIX BTM use cases
LeanIX envisions the BTM module could be helpful in use cases such as rolling out a cloud-based ERP system, modernizing legacy software applications and business processes, enabling remote workers and integrating IT assets after a merger or acquisition.
One customer, Coca-Cola European Partners (CCEP), provided conceptual input to LeanIX for the development of the new BTM module. The multinational bottling company was transferring LeanIX data into Excel spreadsheets to plot out a major transformation initiative that includes becoming more digital and consolidating technology following the 2016 merger of Coca-Cola's three main bottling subsidiaries in Western Europe.
But Andreas Nold, director of enterprise architecture at CCEP, said the team faced challenges in steering the transformation and simulating how the company's IT landscape would change with a complex Excel solution. Nold said the LeanIX BTM module -- which CCEP has been beta testing for more than two months -- makes "day-to-day life quite easy" with its ability to sequence designs and reduce the data sources the team has to manage, minimizing the prospect of inconsistent information. BTM also helps team members discuss scenarios with solution delivery teams and keep the transformation on track as they continually plan and update a target and transitional state, he added.
"The other benefit we see in the longer term is demonstrating, visualizing and keeping track of if projects delivered the actual business goals we want to achieve with the transformation, since we're going to be able to track how the landscape is evolving and which programs have been delivered," Nold said.
Business focus is crucial to EA
Betsy Burton, a vice president of research and fellow at Aragon Research Inc., said most EA tools are rooted in technology, application or solution architecture. Many are turning their attention to the critical business transformation piece, as LeanIX is doing now.
If you are not doing business architecture as an integral part of what you're doing in EA, you're really not doing EA.

Betsy BurtonVice president of research and fellow, Aragon Research Inc.
"Having that business architecture viewpoint is a fundamental requirement for EA," Burton said. "If you are not doing business architecture as an integral part of what you're doing in EA, you're really not doing EA. You're doing technology architecture."
Pricing for the LeanIX BTM module starts at less than $10,000 and grows based on the number of applications the customer has, Christ said. Customers must purchase the EA Suite's foundational APM module in order to use the BTM or TRM modules.
In addition to the EA Suite, LeanIX also sells a Cloud Native Suite (CNS) for customers in multi-cloud environments. One upcoming new CNS module that is available to select customers through an early-access program is a Microservices Intelligence module that can extract data from CI/CD tools to inventory their self-developed software. Also on the CNS product roadmap for 2021 is a SaaS Intelligence module.
Dig Deeper on Enterprise architecture management