peshkova - Fotolia
Mega Hopex update focuses on aligning IT to business goals
Mega's Hopex upgrade adds IT Business Management, Information Architecture and Risk Management features designed to help users keep their technology in line with business goals.
A major update to Mega International's Hopex enterprise architecture tool aims to help customers better align IT resources with business objectives through a new enterprise management portal and strategic planning module.
Mega's Hopex version 4 adds an IT Business Management module that can bring together functionality and data from the IT portfolio and business architecture components into one place through a streamlined UI to help users ensure their technology stays on track with their business goals. The more cohesive approach should smooth awkward transitions that customers sometimes faced between IT and business architecture profiles, said Daniel Hebda, Mega's chief strategy officer.
A new Mega Hopex 360 enterprise portal will also give CIOs, business stakeholders and IT leaders access to a dashboard with charts and graphics to help them monitor their digital transformation projects. Hebda said prior Hopex portals focused on enterprise architects as the primary end user.
Access for C-level execs
But Than Nagashunmugam, an enterprise architect at a major financial institution and a member of Mega's customer advisory board, said C-level executives also need to view a clear summary of the company's applications, including the total number, their locations on or off premises and any that might be at risk. He said he asked for the new portal, as well as the IT Business Management capabilities.
The global financial institution currently uses Hopex v3 mainly for data collection and presents the information in Excel spreadsheets and PowerPoint slides, according to Nagashunmugam. When information changes, the architects expend manual effort to recollect the data and update Excel and PowerPoint.
Nagashunmugam said the company needs an analytical tool to examine the current state of data, automatically update the information, and display the findings to C-level executives through a dashboard. He said that could help them to determine how the technology supports their business innovation strategies and where they might need to direct funding.
Citing an example, Nagashunmugam said the financial institution is working to digitize all documents through a workflow involving several systems, from the initial image capture to ultimate archiving. He said a tool that could automatically update diagrams and scenarios in a dashboard when the data changes might help executives to see, for instance, if additional funding could enable them to achieve their digital transformation goal in 2021 rather than 2023.
The new Hopex IT Business Management module integrates Mega's Project Portfolio Management to let customers define "what-if" scenarios of candidate projects and compare them with budgets and expectations. Users can then select scenarios and align them to the enterprise roadmap, according to Yannick Rudloff, a vice president and managing director at Mega.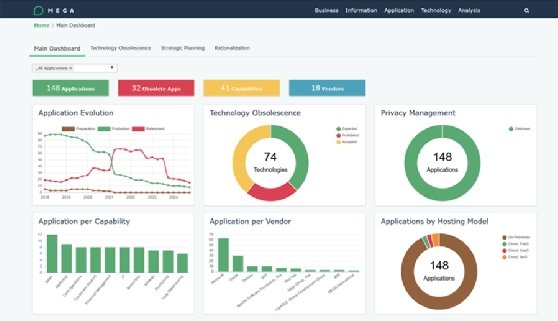 Information Architecture updates
The Mega Hopex v4 update also expands the Information Architecture component to improve insight into data usage, quality, sources and compliance. Prior versions gave users data modeling capabilities for database design at the conceptual level, and the v4 release adds data management, according to Hebda.
Hebda said customers would now be able to organize information into a business-friendly data dictionary, track sources for their golden data, and define and manage data lineage from creation and transmission to storage to help drive decisions in view of privacy and regulatory concerns.
The Mega Hopex v4 update also enhances the Risk Management module with a new desktop and mobile audit application and integration with the third-party Unified Compliance Framework (UCF). The UCF integration will give customers a holistic view of the controls they need to support to comply with regulations that are applicable to their organizations. The new mobile application will enable users to execute an internal audit and look up information about applications and information when they're away from their office workstations.
Customers can buy the whole Hopex platform, value packs that combine features or individual modules. The SaaS options cost about $250 per user, per month, according to Mega.
Dig Deeper on Data center ops, monitoring and management