Definition
corportal (corporate portal)
What is a corportal (corporate portal)?
Corportals, short for corporate portals, are sometimes referred to as enterprise information portals and are used by corporations to build their internal web presence by leveraging a company's information resources.
A corportal can be internal (a corporate intranet), a public site or -- with appropriate safeguards -- both combined. It functions as an integration of data, people and processes throughout an organization.
Corportals are also characterized by a central access point or web portal that aggregates data through application portlets that can be accessed through a login and password or authentication procedure.
The history behind corportals
The first public web portals were created in the mid-'90s to share information such as news, weather alerts and stock prices via self-contained portlets.
Not long after, enterprises began to adopt portals from software vendors as repositories and applications for their own operational workflows and business needs. Portal software vendors were in heavy competition by the early 2000s, providing offerings in lieu of commoditizing server technology.
2003 saw Java-based portal development that provided API interoperability between portals and portlets.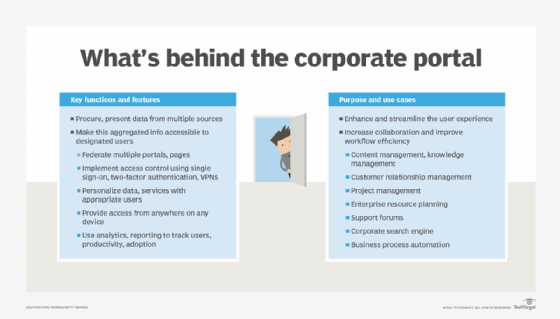 Corportal use cases
Today, corporate portals are still being used for a variety of reasons, all of which allow the authoring of company information, made available to employees. Ultimately, corportals can enhance and streamline the user experience, increase collaboration and improve workflow efficiency.
A few examples of corportal use cases include:
customer relationship management (CRM)
enterprise resource planning (ERP)
support forums
corporate search engine
While each use case serves a different purpose, all corportals provide the same fundamental features which we'll explore in the next section.
Key features of corportals
At its core, enterprise portals have two core functions: presentation and integration of information and data. They provide this functionality by procuring data from multiple sources and aggregating it for centralized access by designated users.
Additional key features include: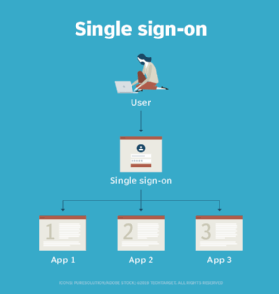 Federation. Corportals not only integrate information from multiple sources, but also integrate multiple portals and portal pages.
Access controls. Features like single sign-on (SSO), two-factor authentication and VPN capabilities help to strengthen secure access of corportals by company employees and prevent unauthorized use and access of enterprise data.
Personalization. Customization features allow organizations to match information and services with the appropriate users, depending on their user profile and designated permissions.
Mobile access. Modern corportals provide the ability for users to access information from anywhere, and any device, enabling them to work wherever it is convenient.
Analytics and reporting. Corportals also enable managers to track user behavior and peruse audit logs to monitor for unusual behavior or to track productivity and user adoption.
This was last updated in
October 2021
Continue Reading About corportal (corporate portal)
Dig Deeper on IT applications, infrastructure and operations