How integration platform as a service stacks up against PaaS and SaaS
IT orgs that face a hybrid mix of apps and data sets can turn to iPaaS for integration -- without the overhead of more software to manage. And there's more than one kind of iPaaS.
Application integration is a major challenge for enterprise IT organizations. When a group of applications includes externally created programs, challenges arise that demand integration platform as a service. However, iPaaS products share the software management space with PaaS and SaaS, so organizations must understand which services are the best match for application deployments.
Basically, iPaaS offers a set of tools to connect applications deployed across various environments. On-premises applications and data can connect to data hosted in the public cloud via iPaaS. With iPaaS, the same source data can feed into different ERP systems. An iPaaS offering includes ready-made software connectors. This includes APIs, rules, workflows, transformations, translations and other features that can help workloads communicate and share data effectively.
IPaaS vs. PaaS/SaaS
The line between software and platforms is blurry, and it grows more nebulous as offerings proliferate and business adoption accelerates. There isn't much difference between integrated platform as a service and its PaaS and SaaS counterparts; the primary distinction is in the services' intended purpose.
SaaS, PaaS and iPaaS are all as-a-service offerings -- hosted services from a third-party provider delivered across a network, almost universally the internet, and accessed through a web browser or other portal. The service provider manages all of the servers, storage and other infrastructure needed to operate the service, so adopters typically avoid local hardware and software investments. The primary benefits of iPaaS, PaaS and SaaS are business speed and cost savings over local, homegrown and managed platforms and software, with associated tooling. Services are typically billed on a per-user/per-month basis.
Confusion arises when an IT organization must distinguish among SaaS, PaaS and iPaaS.
SaaS: SaaS offerings are generally endpoint tools, and organizations typically run many SaaS offerings for diverse purposes. As examples, SAP Concur is an expense tracking and reporting tool for employees, Outlook 365 serves up email and Citrix GoToMeeting enables remote presentations and collaborations. There are countless products available as a service, but SaaS offerings are frequently close to the human element in business workflows.
PaaS: Farther back in the business workflow, you'll find PaaS offerings. A platform does work that is then utilized by other platforms or tools before the business can actually take an action with the outcome. Examples of PaaS include software development platforms, such as Apprenda, which takes input from software repository platforms, such as Git, and then delivers builds to other tools or platforms for testing -- all before the productivity workers experience the outcome.
IPaaS: In a practical sense, iPaaS is basically a subset or specialized form of PaaS. IPaaS describes a general class of cloud-based integration services. These iPaaS offerings all work to seamlessly connect workloads and data sets from disparate tools and platforms deployed locally or in the cloud.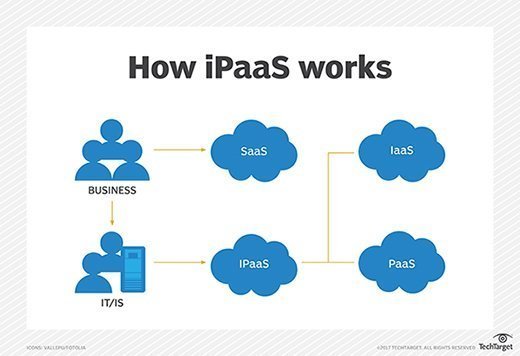 Types of iPaaS
IPaaS is all about integrating workloads and data sets seamlessly, regardless of where they are hosted. For example, an iPaaS platform can connect to a mix of vendors running within the same data center. At the other end of the spectrum, an iPaaS platform could connect a mix of local workloads, remote workloads, SaaS offerings and in-house cloud applications. An iPaaS deployment means that the IT organization connects its workloads and data without added hardware or middleware.
Shop for the best iPaaS match
IT organizations find it difficult to migrate from one iPaaS product to another, so they cannot take tool selection lightly. Once you identify the category -- or categories -- of iPaaS to pursue for streamlined business workflows, read about the notable features of iPaaS offerings, as well as key vendors in the space.
To function across a wide range of scenarios, it's easy to imagine a single, uniform set of features and capabilities in any iPaaS offering. Industry analyst firm Gartner's reference model for iPaaS highlights a series of vital functions. However, current vendor offerings might not include all of the features and functionality to support ubiquitous integration. Instead, iPaaS products fit into three broad categories: cloud/SaaS integration; e-commerce or B2B integration; and enterprise service bus (ESB) and service-oriented architecture (SOA) support.
Cloud/SaaS integration: Enterprise IT organizations have invested substantial time to select and integrate traditional on-premises applications. With the explosive growth of cloud-based and SaaS workloads, enterprises shed much of that overhead but, in exchange, lose the control needed to integrate everything from those disparate systems. The result is workloads that are convenient and easy to access, but that don't combine well in business workflows. MuleSoft Anypoint Platform is one example of an iPaaS specializing in cloud and SaaS integrations.
E-commerce and B2B integration: This category of iPaaS options focuses primarily on electronic data interchange. The goal is to share data, rather than applications. These iPaaS products aim to make data sets accessible from one workload or application to another. Youredi is one product that emphasizes features for this subset of iPaaS, related to data transformation, normalization, formatting and so on.
ESB/SOA support: The ESB is a formalized architecture that includes rules and principles to integrate applications over a bus-type infrastructure. Adopters can create a bus between two workloads and introduce the rules and flows so those workloads communicate over the bus while decoupled from one another. SOA's approach to workload connectivity provides specific services to applications over a network-based communications protocol. SOA creates interoperability between disparate workloads. The Dell Boomi platform is one example of iPaaS targeting ESB and SOA support by basically extending an organization's internal ESB or SOA externally.
Each of these iPaaS categories is focused on breaking down silos between enterprises' data sets and applications to enable business workflows through heterogeneous IT systems. IPaaS is an attractive option but requires IT organizations to understand their data and workflows before product selection.
Dig Deeper on Enterprise application integration