beawolf - Fotolia
How to pick the right application wireframing tool
Determine the best application wireframing tool for mobile and website projects based on team collaboration, prototype complexity and other real-world factors.
People don't talk enough about the planning stage of application and website development. While it's great to make an app faster, smaller and smarter, software teams should first properly plan its design and functionality.
An application wireframe is akin to a movie prop: It doesn't actually function like the real thing, but it is an easily, cheaply made dummy that provides the full visual effect of the end product. Application wireframing is crucial to enterprises and startups alike, especially when product owners need to convey to investors or internal stakeholders how the app will function and provide a sense of the end-user experience.
In highly distributed architectures designed, developed and managed by highly distributed teams, a good application wireframing tool plays a critical role in app creation and reinforces planning and collaboration strategies. For example, a mockup or blueprint is essential to guide the development of a multi-cloud or hybrid architecture, and many application wireframing tools act as de facto collaboration platforms where teams share wireframes locally and remotely.
Application wireframing tools for beginners
An ecosystem of tools exists to make application wireframing relatively straightforward and consistent. To find the right application wireframing tool, know what you want and what you do not want. Examine each tool for stability, a good UI library, and the ability to create a fairly complex but simplified mockup of your application.
Balsamiq is a basic, versatile application wireframing tool that doesn't require a lot of time to learn. It offers stability and a built-in UI component library. Balsamiq is only focused on static and low-fidelity mockups. You can't get much simpler than a drag-and-drop builder and digital whiteboard to sketch on, so this is probably the best wireframe tool for new users to start on. However, it's not a fit for software teams that need details in high-fidelity prototypes and complex mockups.
Sketch is a well-established basic application wireframing tool that's popular for UI design. Sketch is easy to use and has a bevy of integrated plug-ins, for tools such as version control and collaboration software, and UI kits. However, it also has desktop rigidity and lacks a built-in UI library. Sketch's large community of developers are constantly helping to improve it, though. Beginners should check out the Sketch wireframing tool, as it offers scope to expand, develop and learn new things.
Advanced prototyping tools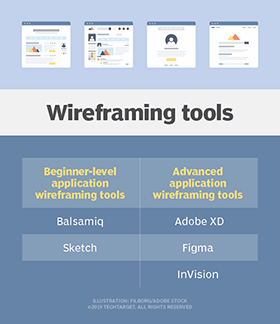 Those familiar with application wireframing should evaluate InVision for more complex and high-fidelity mockups than what's possible in Sketch and Balsamiq. InVision is cloud-hosted, while Sketch is installed on the user's desktop. This advanced application wireframing tool bolsters collaboration among multiple designers; supports iOS, Android and web platforms; and has a comprehensive UI library. InVision also supports drag-and-drop functionality, features a pen tool to create custom shapes and has the power to create a working or clickable prototype. Many application designers still use Sketch for the basic interface or outline and then export to InVision for the more complex prototyping.
Figma is another cloud-based wireframing tool with collaboration abilities. While it may not have its own UI components, it does offer one place to do wireframing, designing prototyping and collaboration. Developers can communicate with each other in the design file, as well as ask questions directly on the completed prototype.
Another alternative option worth exploring is Adobe XD, which is solely focused on application wireframing. Adobe XD can be considered easier to use than other Adobe offerings, yet it remains versatile enough to manage both basic wireframes and complex prototypes.
A lot is at stake in user experience of application design, so it's always smart to plan ahead. While choosing the right application wireframing tool makes a difference, it is only as good as the features and requirements research.
Dig Deeper on Application management tools and practices