COVID-19 ups the fight against Amazon package 'porch pirates'
Many unlucky online shoppers have fallen prey to 'porch pirates' who steal packages from outside their homes. It's a problem that could be exacerbated during the COVID-19 pandemic.
"Porch pirates" who steal Amazon and other retailers' packages have more opportunities than ever before as the coronavirus pandemic puts much of the world on lockdown, with a couple of new twists to ponder: Packages aren't on porches as long, because shoppers are isolating themselves at home and most deliveries are of essential items -- not the latest hot gadgets.
Experts predict a variety of outcomes in the near- and longer-term around package security, with sellers like Amazon, third-party product and software vendors, and customers themselves playing important roles.
"I tend to think when you're looking at the security and responsibility of Amazon, they probably have done their part," said Steve Weisman, a law professor at Bentley University in Waltham, Mass., and frequent commentator regarding online scams and other crimes. "You're paying a pretty good price that isn't building in the cost of security when it gets to you."
Amazon customers do have some protections. The company will refund or replace a stolen purchase for items it sells in most cases, and offers the A-to-Z Guarantee program for items sold by third parties on its platform.
But it takes time to get a package replaced or one's money back, and there's a sense of violation that comes with any theft, whether it's a pair of sweatpants or the latest iPhone.
Overall, porch piracy has been viewed as a crime of impulse and opportunity, Weisman said. "The organized scammers are probably not going to be doing this because there isn't enough of a guarantee that there's a worthwhile product [in the package]," he said.
But the odds there will be something of value to porch pirates inside the box have gone up amid the current pandemic, as Amazon and other sellers shift focus to delivering essential items, such as toilet paper and hand sanitizer.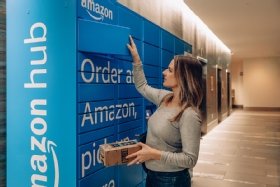 Porch piracy was already rampant before the crisis. More than 36% of 2,000 U.S. shoppers surveyed said they had a package stolen at least once, according to the 2019 Package Theft Statistics Report by C+R Research. And 56% said they knew somebody who had a package stolen as well.
The pandemic should bring the problem to the forefront anew. But it's an open question of how much more Amazon itself will do about it going forward. Some measures already taken include the option of getting packages delivered to one of the company's secure lockers at gas stations and other retail locations. Amazon has also offered Key, which gives delivery drivers keyless access to your home, but that service is currently suspended amid the pandemic.
Amazon did not respond to a request for comment on future porch piracy-related plans. The company is making aggressive investments in its last-mile delivery strategy, however, and some of that effort may address the matter.
The shape of shipping
Amazon's ultimate goal is to reduce the cost of shipping, and it already demands a lot from its network of delivery subcontractors, said Guy-Frederic Courtin, a former retail supply chain executive at Infor and close watcher of Amazon's business strategies.
Instead of saying, 'ship it in two days or next-day,' deliver it on my schedule [at a premium price]. That, to me, answers a lot more questions.

Guy-Frederic CourtinFormer retail and supply chain executive, Infor
One possibility is a more granular approach to package delivery that can rob porch pirates of opportunity -- in exchange for a premium price paid by the customer.
"Is this something where it's about last-mile delivery, or delivery on 'your time,'" Courtin said. "Instead of saying, 'ship it in two days or next-day,' deliver it on my schedule [at a premium price]. That, to me, answers a lot more questions -- not just about guaranteed delivery and getting porch pirates. It's about better customer experience."
Some third-party software vendors, such as Narvar, have already seen an opportunity along these lines. The company offers a suite of cloud-based applications that integrates with a retailer's e-commerce systems and seek to offer a better customer experience from purchase to delivery to returns.
One app, Concierge, coordinates product deliveries and returns through drop-off locations at 8,000 Walgreens stores as well as some Neiman-Marcus locations. Other applications handle package tracking and shipping notifications. Narvar's more than 600 customers include the Gap, DSW and GameStop.
Narvar's approach adds security to the online buying experience -- it's harder for thieves to steal packages from behind a Walgreens counter than off your porch -- as well as an improvement over Amazon's current processes, said Amit Sharma, Narvar CEO.
"You can set expectations all day long," Sharma said. "Customers now expect proactive communication. Are there any changes because of weather delays and supply chain disruptions?"
Securing the home front
In the past few years, a type of vigilante justice has emerged around porch pirates, as residents couple inventions such as the Ring video doorbell with social media sites like Nextdoor.com. The mix of technology and good old gossip has thwarted some would-be thieves, and Ring itself promotes success stories with real-life video clips captured by its cameras.
Still, like Amazon, Ring has competition and there is constant innovation in the home security space. Vivint Smart Home, which offers whole-house security systems, recently released Doorbell Camera Pro, which uses machine vision to detect faces and the presence of packages on the stoop.
Vivint collects anonymized data from customers' doorbells on an opt-in basis and uses it to improve the person and package detection algorithm. It also built the doorbell with a fairly powerful chip in order to provide the performance needed locally.
When a package is delivered, customers get a notification letting them know. If someone approaches the package, the camera starts recording and the doorbell emits a sharp chime, which can scare off the would-be thief, said Mike Child, senior director of product development. Prevention, it seems, is one key to the porch piracy battle.
"We did a lot of testing around that -- the sound it plays, the volume it plays at," Child said. "We find that once they get your hands on [your package] they don't drop it. They just run away faster."