spainter_vfx - stock.adobe.com
Heat map view sets table for food warehouse optimization
Inspired by the vivid views of stadium heat maps, a Midwest food distributor worked with Information Builders to gain a better view of its supply chain workings. The result was a novel warehouse optimization system.
Midwest wholesale food distributor Lipari Foods is extending its use of analytics in search of new process efficiencies, and it came up with a novel warehouse optimization strategy in the process.
The regional company's goal is to take the kind of data-intensive techniques now used in the major leagues -- to show where home runs are likely to fall -- to similarly gain a more acute view on how goods flow through its warehouse.
Inspired by sports
"I was inspired by seeing stadium heat maps and saw how a warehouse could be handled that way too," said Joe Beydoun, Lipari's director of supply chain management and BI.
To create the warehouse optimization framework, Beydoun and his Lipari colleagues worked with data integration and analytics provider Information Builders to create a supply chain management accelerator. The accelerator converts warehouse data into informative visual renderings that run on Information Builders' Visual Warehouse.
I was inspired by seeing stadium heat maps and saw how a warehouse could be handled that way too.

Joe BeydounLipari Foods
The application provides a snapshot view of what internet of things (IoT) applications -- many of them revolving around warehouse optimization -- are starting to look like in modern organizations.
Warehouse optimization became a logical step for Lipari as it consolidated several distributed warehouse operations. Now, the Visual Warehouse shows Lipari teams a heat map that displays the average movement of warehouse items, enabling planners to identify the best traffic patterns.
Process efficiencies
Beydoun's attention to warehouse process efficiencies comes after a concerted multiyear effort to bring more self-service BI to reporting and planning at Lipari. That included mobile BI development efforts to deliver analytics to smartphones and similar devices for users in the field.
"Our first big focus was on sales," Beydoun said. "We got dashboards up and running on mobile devices. Now, we are in a different phase. Now, being operationally efficient is a must do."
He said Lipari employees can now view SKUs (stock-keeping units) based on which ones get the most use, and they can view them against different business metrics.
The heat maps provide "a holistic picture" of how storage pallets are staged, Beydoun said. Such a view is more intuitive than what managers see when they are looking solely at spreadsheets.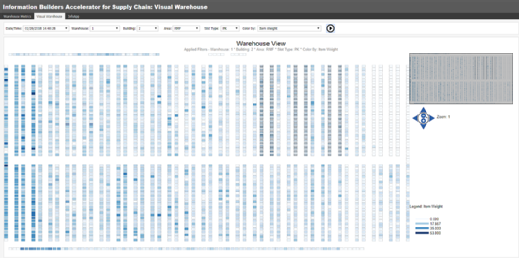 Harbinger of IoT
The Information Builders integration and analytics tooling Lipari is using include the WebFocus analytics platform, iWay data migrator and InfoAssist ad hoc reporting tool.
Palletized warehouse goods, which have been marked with intelligent RFID tags more and more in recent years, have been a somewhat widespread use case for IoT, the bubbling technology that has ubiquitous sensors feeding newly connected applications.
The essential drive behind IoT is not altogether new, according to Jake Freivald, vice president of product marketing at Information Builders. People have long been looking for some benefit from all the information they are collecting.
"The thing people are looking for is insight -- insight that changes their world," he said. "But, more often, it's specific insight at an operational level of what is happening right now. In fact, most of what changes the world is small data."
Beydoun believes this is the moment for IoT.
"IoT is not the future for us," he said. "It's the now."
Looking ahead, Lipari Foods' warehouse optimization will involve more data integration, according to Beydoun. Integrating forklift data, temperature control data and more are challenges he's optimistic about taking on.
"The next step is to take the data from sensors and enhance it with other data," he said. "I think a lot of ideas will be blended into the mix."
Dig Deeper on Business intelligence technology