WavebreakMediaMicro - Fotolia
SAP BI platform stays strong due to cloud-based architecture
A cloud-native BI platform along with domain-specific applications that can be embedded to serve the needs of various industries keep SAP current and positioned well for the future.
The SAP BI platform, a venerable analytics suite, is still a significant player in a fast-changing analytics market.
Much of that sustained success is due to a major reboot that recast the platform in a cloud-based architecture.
The result is an analytics suite, anchored by SAP Analytics Cloud, that is both competitive with the modern products from competing business intelligence software vendors and positioned to remain so in the future.
"SAP needed to re-platform -- update their analytics technology base -- and have done so," said Dave Menninger, research director of data and analytics research at Ventana Research. "Along the way they've adopted an agile approach to their development processes and have been regularly releasing new capabilities."
Menninger added that while competitive, the SAP BI platform isn't particularly innovative. It is a leader, however, in combining BI with planning and predictive capabilities, he said.
Germany-based SAP was founded in 1972 and is one of the world's largest software companies. Along with its core business in ERP and other enterprise software, the vendor has been a developer of BI tools over the past few decades along with such other survivors as perhaps its biggest rival, Oracle, as well as IBM, Tibco and Information Builders.
Just four years ago, however, SAP essentially started anew with its BI platform, identifying the cloud and capabilities such as augmented intelligence and machine learning as essential. Rather than build on top of existing products, the vendor introduced Analytics Cloud in 2015 as the main technology in the SAP BI platform.
"We really did rethink how we go about analytics," said Kate Wright, head of augmented BI for SAP HANA and analytics. "From a development perspective, we started with a net new architecture rather than starting from an existing product line, and we did that very intentionally. It's quite difficult to innovate on an older tech stack -- the technology is so different than it was 10 years ago."
That ability to create an analytics stack within Analytics Cloud, enabling users to manage their data all the way from data collection through insight gathering without using another product, is something SAP sees as one of the main ways to differentiate itself from other BI vendors.
SAP needed to re-platform -- update their analytics technology base -- and have done so. Along the way they've adopted an agile approach to their development processes and have been regularly releasing new capabilities.

Dave MenningerResearch director data and analytics research, Ventana Research
"The mission really was how do we build the best, most modern analytics solution which brings the capabilities that need to be together all in one place," said David Williams, SAP's vice president of product marketing. "If you look at different products in the space they may hone in on a particular area -- BI or advanced analytics, or they do planning -- but they don't bring everything together in one place."
Despite being cloud-based and incorporating advanced analytics capabilities, the reboot of the SAP BI platform's flagship product has not been without complications.
Because it's built for the cloud and only for the cloud, that means it can't be used by on-premises customers. They can connect to Analytics Cloud, and they can use products such as SAP BusinessObjects Universes, SAP Business Warehouse and SAP HANA, but until they migrate to the cloud, they can't use Analytics Cloud as their main BI tool.
Meanwhile, according to Mike Leone, senior analyst at Enterprise Strategy Group in Milford, Mass., SAP's transition to the cloud has come at a cost.
"The transition to a cloud business model has taken a toll," he said. "It has forced SAP to reevaluate much of its business, including everything from who to hire, who to partner with, who to buy (they've spent over $25 billion on companies to help with the cloud transition), how to market its products and how to sell."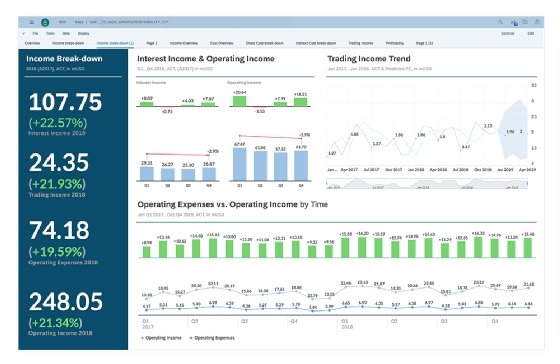 Among the acquisitions Leone alluded to are SAP's $2.25 billion purchase CallidusCloud in January 2018 and its $8 billion acquisition Qualtrics in January 2019.
While its cloud-based flagship product is one way SAP hopes to differentiate itself from other BI vendors, another route is specialization.
Within Analytics Cloud, SAP offers more than 30 embedded applications designed for various industries. The SAP BI platform includes applications built -- among many others -- for organizations operating in such varied realms as fashion, sports and aerospace.
Meanwhile, Analytics Cloud can be embedded into other SAP products so that users of other SAP products can deploy industry-specific applications.
"SAP has a slight head start here having integrated [Analytics Cloud] into S4/HANA ERP last year," said Doug Henschen, principal analyst at Constellation Research.
Henschen said SAP also expects to embed Analytics Cloud into SuccessFactors, its HCM platform, as well as its supply chain system, Ariba, and other applications in 2020.
"It's very clear that SAP and Oracle are squaring off on this competitive front, trying to outdo each other's application-integrated analytics with pre-built content and cloud-based data warehouse capabilities," he added.
One of the SAP BI platform's sports applications, for example, has enabled teams playing contact sports to gather concussion data for real-time analysis. Another helped Manchester City to its second consecutive English Premier League championship in 2019.
Moving forward as AI and machine learning become not only more standard but also more advanced, and due largely to its decision to reset a few years and develop Analytics Cloud, SAP appears prepared to remain competitive.