Fotolia
Tableau partners with AWS to release Modern Cloud Analytics
Tableau revealed an expanded partnership with AWS on Tuesday to help the vendor's on-premises users migrate their analytics operations to the cloud.
Tableau on Tuesday unveiled Modern Cloud Analytics, an expanded partnership with AWS designed to enable Tableau's self-service users to perform their data analysis in the cloud.
Tableau, which agreed to be acquired by CRM vendor Salesforce in June, introduced the partnership in Las Vegas at Tableau Conference 2019, its annual user conference.
Modern Cloud Analytics extends the established partnership between Tableau and AWS, building on preexisting integrations between Tableau and AWS that include data connectors to Amazon Redshift and Amazon Athena.
The first phase of Modern Cloud Analytics is designed to help Tableau customers migrate their data and analytics operations to the cloud via Tableau on AWS, According to Tableau.
Moving to the cloud
Benefits are expected to include faster time-to-value for Tableau deployments as a result of improved scalability, guidance and application architecture along with tooling and operating models as customers migrate their on-premises operations to the cloud, and reduce customer costs, the vendor said.
In addition to Modern Cloud Analytics, Tableau on Tuesday unveiled Tableau Partner Network, a redesigned partner program, and new integrations with Alibaba Cloud, Alteryx, Databricks and DataRobot, among others.
"I see [Modern Cloud Analytics] as a first step toward a deeper, tighter cloud-native integration that will make it faster, easier and more cost-effective for Tableau customers to migrate to the cloud," said Doug Henschen, principal analyst at Constellation Research. "Many more Tableau customers are now considering migrating, but they want more than just prebuilt integrations with Redshift and Athena."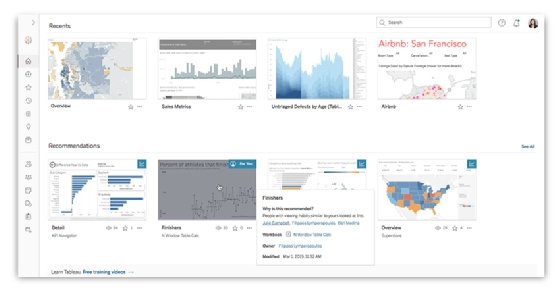 Tableau 2019.4 and Webhooks
The introduction of Modern Cloud Analytics came just days after Tableau quietly rolled out Tableau 2019.4 in a blog post on its website.
The update features View Recommendations, a new augmented intelligence tool to help users quickly access the most pertinent data rather than sift through the wrong data before finally discovering the most relevant information, according to Tableau.
Driven by machine learning, View Recommendations delivers suggested data visualizations to users. It uses not only the user's own search patterns to proactively send recommendations, but also, according to Tableau, delivers recommended data visualizations based on the search habits of similar users.
I see [Modern Cloud Analytics] as a first step toward a deeper, tighter cloud-native integration that will make it faster, easier and more cost-effective for Tableau customers to migrate to the cloud.

Doug HenschenPrincipal analyst, Constellation Research
In addition, Tableau 2019.4 includes Webhooks support, a means for developers to integrate Tableau with other applications; horizontal scrolling capabilities to handle support for up to 50 columns of data; new data connectors; and more security in Tableau Mobile.
"It's more incremental than innovative, but I believe it's laying the groundwork for some massive innovation in the near future," said Mike Leone, senior analyst at Enterprise Strategy Group in Milford, Mass.
He added that Webhooks may wind up being the most innovative feature in Tableau 2019.4, though View Recommendations uses augmented intelligence, an advanced capability that many analytics vendors are starting to add to their platforms.
"I'm more excited about the future of Webhooks," Leone said. "This initial release is just the beginning and offers ways to create workflows with intelligent automation. The opportunity is incorporating more technologies to enable self-service across data pipelines throughout the data lifecycle to simplify operations and development of next-generation applications."
Like Leone, Henschen said 2019.4 is a step forward for Tableau, but not a giant leap.
"The upgrades in the release are best described as incremental," he said. "When you add them up, it's a good upgrade, but there's nothing earth-shattering or unique. View Recommendations is fairly routine, as multiple vendors have the ability to recommend what's popular and new across the platform, including the ability to refine those recommendations based on users with similar content access and usage habits."
Tableau-Salesforce integration will proceed
While the release of Tableau 2019.4 is Tableau's second quarterly upgrade since the vendor agreed on June 10 to be acquired by Salesforce for $15.7 billion and the deal closed Aug. 1, Modern Cloud Analytics is Tableau's first significant new product release since the vendors agreed to merge.
Despite the cloud-based orientation of Modern Cloud Analytics, however, there's no evidence yet of any Salesforce influence on Tableau.
In fact, even though the acquisition closed in the summer, open communication between Tableau and Salesforce was held up until Nov. 5 when regulators in the United Kingdom, investigating the merger's potential impact on competition, finally gave Tableau and Salesforce permission to begin the integration process.
"I'm not necessarily seeing influence from Salesforce yet, but I'm seeing opportunities where Salesforce could potentially leverage some of this technology to expose more data to end users and automate recommendations and insight through advanced visualizations," Leone said.
Tableau 2019.4 and Modern Cloud Analytics are both now generally available.