Melpomene - Fotolia
Alteryx 2019.4 highlighted by new integration with Tableau
New integrations with Tableau that enable easier data management and Mapbox to provide street-level map views come with the latest platform update from Alteryx.
New integrations with Tableau and online map vendor Mapbox highlight Alteryx 2019.4, the analytics and data management vendor's fourth-quarter platform update.
Released for general availability on Monday, Alteryx 2019.4 includes Tableau Hyper API.
Tableau Hyper, developed in early 2018, is the technology that powers Tableau's data engine -- enabling the opening, creating, refreshing and querying of data extracts. Tableau Hyper API, meanwhile, is an application programming interface that connects Hyper and Alteryx Designer -- Alteryx's platform for self-service analytics. It enables Tableau users to easily read, write and transform their Hyper files within Alteryx and then port the files back into Tableau for visualization.
The Tableau Hyper API does this quickly, according to Alteryx, and can be done repeatedly at the behest of the end user.
"The Tableau Hyper API is important because customers have been asking for it," said Mike Leone, analyst at Enterprise Strategy Group in Milford, Mass. "Now Alteryx customers will be able to rapidly iterate on data better and faster than ever before. They'll be able to do more than output or write data to extracts -- they'll be able to read from extracts, which opens up a new way to combine, manipulate and eventually export data for visualizations on new data."
The integration between Alteryx -- founded in 1997 and based in Irvine, Calif. -- and Hyper reflects Alteryx's goal of infusing its platform with code-free features that enable users to develop functions that previously required an IT team to create.
"We are continuing to add more [features users have requested], particularly around what is code-free, so you're dragging and dropping and SQL is happening in the background but you have no idea," said Ashley Kramer, Alteryx's senior vice president of product management.
A host of analytics vendors have recently introduced low-code and no-code tools for application development, not new among general-purpose software vendors but the start of a trend among companies specializing in BI tools.
Another key feature of Alteryx 2019.4 is the integration between Alteryx and Mapbox.
Users can now access Mapbox through Alteryx Designer to turn location data into insight.
"Alteryx is used for a lot of really deep spatial use cases, so if the owner of a coffee shop wants to know where to franchise next, they can find out where's the best location," Kramer said.
With Mapbox, that owner of a coffee shop can look at any geographical area and know exactly what competition may exist, for example.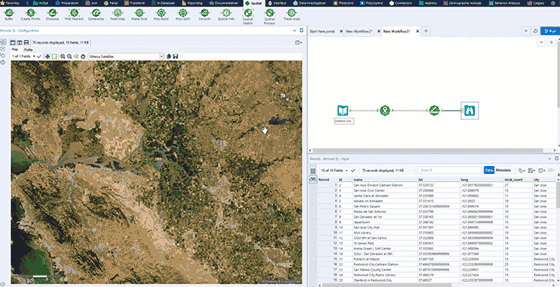 "If there's a Starbucks there it's probably a bad idea and you probably don't need Alteryx for that, but if you expand globally it's very powerful," Kramer said. "One thing we started hearing feedback about is we want more map-level detail, we want to see street level … so we're going to introduce that deeper level of detail, and I think that will be really big for those customers using those."
Despite the unveiling of a series of new tools, Alteryx 2019.4 is an additive update rather than the introduction of significant new technologies, according to Leone.
However, it adds to what Leone views as a powerful data management platform.
This update is incremental for Alteryx, enabling the company to build on its gold standard of delivering an advanced and innovative data platform.

Mike LeoneAnalyst, Enterprise Strategy Group
"This update is incremental for Alteryx, enabling the company to build on its gold standard of delivering an advanced and innovative data platform," he said.
One thing not obviously reflected in Alteryx 2019.4, according to Leone, is the vendor's recent acquisition of Feature Labs.
Based in Boston and founded in 2015, Feature Labs is an MIT spinoff that automates feature engineering for augmented intelligence and machine learning applications.
"This announcement doesn't appear to incorporate specifics from the Feature Labs acquisition," Leone said, "but I'm keeping a close on eye it because once integrated, it will serve as a fantastic launching pad for both business analyst and data science Alteryx users alike."
That is still to come, according to Kramer.
"It will take time," she said. "We will do some immediate integrations, just because it's a pretty mature product, and then we have a much longer roadmap that will make us more mature in the data science space."