Sergey Nivens - Fotolia
Alteryx analytics platform focuses on ease of use
Alteryx is focusing on ease of use in new platform updates as it looks to attract users beyond its traditional base of data scientists and data analysts.
In its effort to make data analysis accessible to data consumers of all levels, ease of use is a key tenet of the Alteryx analytics platform.
Alteryx, founded as SRC LLC in 1997 and based in Irvine, Calif., provides a suite of four tools designed for both data scientists and data analysts to manage and interpret data. Included in the Alteryx analytics platform are Alteryx Connect, Alteryx Designer, Alteryx Promote and Alteryx Server.
The vendor's most recent update was Alteryx 2019.3, which was released in October. Alteryx 2019.4 is scheduled for release in December.
The October release included more than 25 new and upgraded features, with ease of use at the core of many, according to Ashley Kramer, senior vice president of product management at Alteryx.
Among them are features to help reduce the number of clicks it takes to get to the point of visualizing data to make analytic decisions. Data Profiling enables the user to visualize their data as they work with it, and Alteryx introduced a way to work with data in an Excel-like format at the bottom of the screen as well.
"What we focused on in 2019.3 are really features we call You Features, which are features the customers had been asking for," Kramer said. "Some were features people probably didn't even notice, but some were those ones that people discover and call us crying, 'Thank you,' because it makes [them more efficient] as they're building out their workloads."
The December update to the Alteryx analytics platform will again center around ease of use, with an enhanced mapping tool part of the upgrade.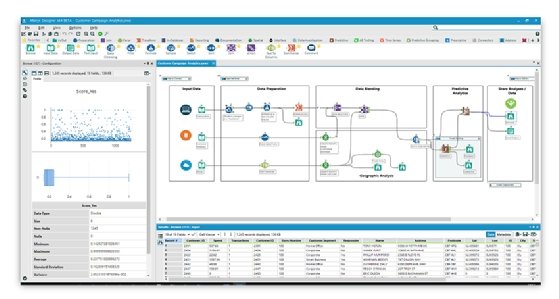 Another piece will be low-code and no-code modeling assistance for developers.
"Alteryx has done a good job riding the market trends," said Dave Menninger, analyst at Ventana Research. "They rode the data preparation wave to fuel their IPO and now they are riding the [augmented intelligence/machine learning] wave. The company remains focused on the needs of their customers, [and that] has enabled them to succeed despite some areas of the product that are not quite as modern as some of their competitors."
He added that ease of use is a strength of the Alteryx analytics platform, with the qualifier that Alteryx has traditionally been aimed at users with a high degree of data literacy.
Alteryx is easy to use for the personas they target -- data-literate analysts preparing data for others and analyzing it for themselves.

Dave MenningerAnalyst, Ventana Research
"Alteryx is easy to use for the personas they target -- data-literate analysts preparing data for others and analyzing it for themselves," Menninger said. "They are not a general-purpose BI tool."
That said, Alteryx is looking to make its product more accessible to citizen data scientists.
The vendor has a partnership with Tableau, for example, and the Alteryx analytics platform can be used in concert with Tableau or any other vendor's business intelligence tools. In addition, Alteryx, like other vendors in the analytics industry, is focused on increasing data literacy as data analysis becomes a greater part of everyday business.
A particular focus for Alteryx, as evidenced by the low-code and no-code modeling assistance that will be included in the December release, are tools to aid developers.
Looker included a kit for developers in its most recent update, and Yellowfin followed suit with its own set of developer tools in its November release.
"We now have in beta what we're calling Assisted Modeling, which is basically a guided utility to walk the analyst who doesn't have any coding skills through the model-building process," Kramer said. "They have a data problem, they want to do something like predict, but they don't know what kind of model they want -- they might not even know they need a model -- so they can use this and we'll walk them through."
Alteryx's intent in two recent acquisitions -- ClearStory Data in April and Feature Labs in October -- was to speed up the process of making the development process more accessible to those without information technology backgrounds.
"They are making the data preparation tasks more interactive with the ability to visualize the data at various steps in the process," Menninger said. "With the acquisition of ClearStory Data earlier this year, they can provide data profiling and automatically infer relationships in the data."
Feature Labs, meanwhile, helps designers add AI and machine learning capabilities.
"There are many tedious and time-consuming steps to creating AI/ML models," Menninger said. "If you can automate some of those steps, you can produce more accurate models because you can explore more alternatives and you can produce more models because you've saved time via the automation."
The Alteryx analytics platform will continue to focus on ease of use, with cloud migration and AI features such as recommendations and guided experiences part of the roadmap, according to the vendor.
"Organizations are trying to be data-centric and build an organization based on analytics," said Zak Matthews, Alteryx's sales engineering manager, "and that's hard to do if the tools aren't easy to use."