Sergey Nivens - Fotolia
Alteryx 2020.1 highlighted by new data profiling tool
Holistic Data Profiling, a new tool to give users an overall view of their data during modeling, highlighted the latest platform update from the data management and analytics vendor.
Holistic Data Profiling, a new tool designed to give business users a complete view of their data while in the process of developing workflows, highlighted the general availability of Alteryx 2020.1 on Thursday.
Alteryx, founded in 1997 and based in Irvine, Calif., is an analytics and data management specialist, and Alteryx 2020.1 is the vendor's first platform update in 2020. It released its most recent update, Alteryx 2019.4, in December 2019, featuring a new integration with Tableau.
The vendor revealed the platform update in a blog post; in addition to Holistic Data Profiling, it includes 10 new features and upgrades. Among them are new language toggling feature in Alteryx Designer, the vendor's data preparation product.
"The other big highlights are more workflow efficiency features," said Ashley Kramer, Alteryx's senior vice president of product management. "And the fact that Designer now ships with eight languages that can quickly be toggled without a reinstall is huge for our international customers."
Holistic Data Profiling is a low-code/no-code feature that gives business users an instantaneous view of their data to help them better understand their information during the data preparation process -- without having to consult a data scientist.
After dragging a Browse Tool -- Alteryx's means of displaying data from a connected tool as well as data profile information, maps, reporting snippets and behavior analysis information -- onto Alteryx's canvas, Holistic Data Profiling provides an immediate overview of the data.
Holistic Data Profiling is aimed to help business users understand data quality and how various columns of data may be related to one another, spot trends, and compare one data profile to another as they curate their data.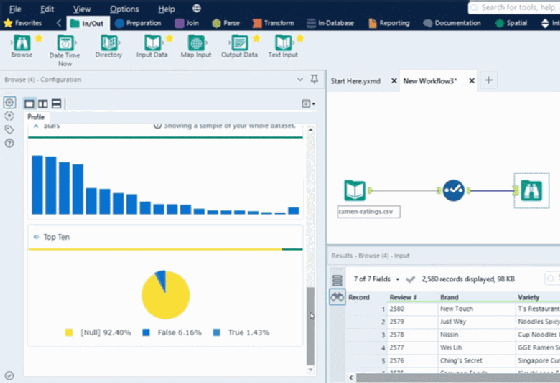 Users can zoom in on a certain column of data to gain deeper understanding, with Holistic Data Profiling providing profile charts and statistics about the data such as the type, quality, size and number of records.
That knowledge will subsequently inform how to proceed to the next move in order to ultimately make a data-driven decision.
It's easy to get tunnel vision when analyzing data. Holistic Data Profiling enables end users -- via low-code/no-code tooling -- to quickly gain a comprehensive understanding of the current data estate.

Mike LeoneAnalyst, Enterprise Strategy Group
"It's easy to get tunnel vision when analyzing data," said Mike Leone, analyst at Enterprise Strategy Group. "Holistic Data Profiling enables end users -- via low-code/no-code tooling -- to quickly gain a comprehensive understanding of the current data estate. The exciting part, in my opinion, is the speed at which end users can potentially ramp up an analytics project."
Similarly, Kramer noted the importance of being able to more fully understand data before the final stage of analysis.
"It is really important for our customers to see and understand the landscape of their data and how it is changing every step of the way in the analytic process," she said.
Alteryx customers were previously able to view their data at any point -- on a column-by-column or defined multi-column basis -- but not to get a complete view, Kramer added.
"Experiencing a 360-degree view of your data with Holistic Data Profiling is a brand-new feature," she said.
In addition to Holistic Data Profiling, the new language toggle is perhaps the other signature feature of the Alteryx platform update.
Using Alteryx Designer, customers can now switch between eight languages to collaborate using their preferred language.
Alteryx previously supported multiple languages, but for users to work in their preferred language, each individual user had to install Designer in that language. With the updated version of Designer, they can click on a new globe icon in their menu bar and select the language of their choice to do analysis.
"To truly enable enterprise-wide collaboration, breaking down language barriers is essential," Leone said. "And with Alteryx serving customers in 80 different countries, adding robust language support further cements Alteryx as a continued leader in the data management space."
Among the other new features and upgrades included in Alteryx 2020.1 are a new Power BI on-premises loader that will give users information about Power BI reports and automatically load those details into their data catalog in Alteryx Connect; the ability to input selected rows and columns from an Excel spreadsheet; and new Virtual Folder Connect to save custom queries.
Meanwhile, a streamlined loader of big data from Alteryx to the Snowflake cloud data warehouse is now in beta testing.
"This release and every 2020 release will have a balance of improving our platform … and fast-forwarding more innovation baked in to help propel their efforts to build a culture of analytics," Kramer said.
Dig Deeper on Business intelligence technology