Sergej Khackimullin - Fotolia
Alteryx continues focus on ease of use in analytics platform
Ease of use is an ongoing focal point for Alteryx, which recently rebranded its suite of tools the Alteryx APA (Analytic Process Automation) Platform.
Ease of use continues to be a focal point for Alteryx as it adds new features to its analytics platform and upgrades old ones.
The data management vendor, founded in 1997 and based in Irvine, Calif., recently renamed its suite of tools the Alteryx APA (Analytic Process Automation) Platform. By creating the APA Platform, Alteryx not only revealed a heightened emphasis on robotic process automation (RPA) but brought all of its products together to make them accessible in one place to better enable self-service users as they develop their data for analysis.
Longstanding tools such as Designer, Server and Connect are all now under the umbrella of the APA Platform, as are new features.
The move was motivated by Alteryx's strategy to target digital transformation, according to Matt Madden, Alteryx's senior director of product marketing.
"This category of analytics process automation is emerging, in our eyes, as a way to help meet the needs of these organizations," he said. "The reason we say that is because the APA Platform, overall, addresses the three biggest keys that we see to digital transformation success."
Those elements, he continued, are the ability to effectively use data, optimize processes and upskill talent.
In the past, Alteryx's platform was geared toward trained data scientists and data analysts, but recent platform updates have marked a shift in the vendor's strategy. Now, much like DataRobot, which bolstered its data management capabilities via its 2019 acquisition of Paxata, Alteryx is gearing its product development toward a wider audience through automation.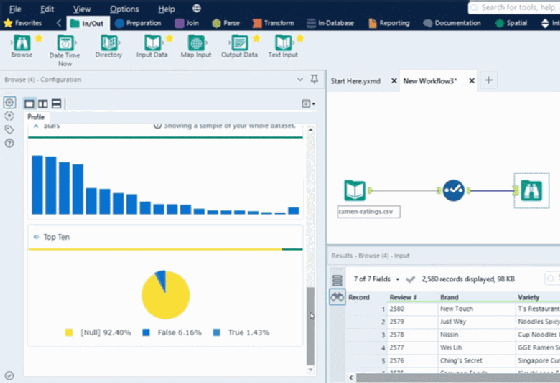 And while Alteryx offers analytics capabilities, it doesn't compete directly with business intelligence vendors with advanced visualization technology such as Tableau, Qlik and Microsoft, but rather handles much of the data preparation work leading up to data visualization and works in concert with the analytics/BI specialists.
Meanwhile, Alteryx's platform rebranding -- and reshuffling of the tools in the platform to make them easier to navigate -- will benefit the vendor's customers, said Doug Henschen, principal analyst at Constellation Research.
"The APA tag line is in tune with what organizations need, which is outcomes, not more disconnected tools," he said. "Alteryx is focusing on providing a broadly accessible, end-to-end process for gathering, cleansing and preparing data, creating models, putting those models into production and keeping them fresh and performant over time."
Mike Leone, senior analyst at Enterprise Strategy Group, similarly said that the APA Platform will benefit Alteryx's customers, and at the same time wondered why it's taken analytics vendors so long to reach the automation sphere, noting that RPA technology is gaining momentum in enterprises.
"Why not take the same ideas of RPA and try to address the complexities associated with analytics from integration to insight?" he said. "It's such a natural fit that it's almost surprising it took this long for a vendor to come out with a platform to deliver the value organizations expect."
Alteryx is focusing on providing a broadly accessible, end-to-end process for gathering, cleansing and preparing data, creating models, putting those models into production and keeping them fresh and performant over time.

Doug HenschenPrincipal analyst, Constellation Research
In line with Alteryx's focus on creating a broadly accessible end-to-end data management platform -- one that gives self-service users some of the data science capabilities that previously required the ability to write code -- Alteryx released its 2020.2 platform update in June, highlighted by two new tools.
The Alteryx Analytics Hub is a place where organizations' analytic assets are consolidated to enable better collaboration. It eliminates the silos that keep one department's data separate from another's, according to Alteryx. And using automation, it is able to quickly and easily help users move through the data management process while freeing data scientists from the mundane, often time-consuming tasks that go into data preparation, the vendor said.
"Analytics Hub is critical," Leone said. "While their platform already had tools that could enable collaboration and communication across data teams and lines of business, Analytics Hub takes it a step farther by democratizing analytics through the entire analytics lifecycle."
The Alteryx Intelligence Suite, meanwhile, addresses upskilling talent.
The tool works with the Analytics Hub and Alteryx Designer to enable users without a background in data science to build predictive models. With the vendor's Assisted Modeling tool, customers can quickly develop an end-to-end machine learning pipeline with just clicks of a mouse, Alteryx said. In addition, the models can be exported at any point in the development process into a workflow built on Python so a data scientist can customize the model.
A second part of the Intelligence Suite is a text mining component that helps users extract data from PDFs and other images and transforms them.
Beyond the Analytics Hub and Intelligence Suite, the 2020.2 platform update includes upgrades for Holistic Data Profiling, a new way to update contacts in Connect, a feature that enable users to share scheduled workflows and results, and one that automates the conversion of international times and dates to localize data.
"Anything we create we want to make sure that ease of use is always going to be top of mind for us," Madden said. "You'll see that when you look at the users' ability to build out models in Assisted Modeling with just a few clicks. People that have never built models before can now go in without a Ph.D. or background in statistics and build out these models."
Henschen, meanwhile, said the new tools continue to add functionality to the Alteryx platform, making it easier for customers to ultimately move their data to stage where it's ready for analysis. It also meshes with enterprises' changing needs during the COVID-19 pandemic, he added.
"It's a well-timed release that puts the focus on team productivity and automation, both of which are of heightened interest amid pandemic working restrictions, but it's a direction Alteryx was headed in long before COVID-19 showed up," he said. "The new Hub provides a better collaborative environment to work in while the new Intelligence Suite steps up assisted modeling capabilities that make model building more accessible to non-data scientists."
He added that Alteryx didn't always focus on self-service users, but that over the past few years the vendor has made its platform easier to use and made it accessible to a broader range of potential customers.
As Alteryx continues to update its platform and improve capabilities, making the data management process faster and easier will continue to be of importance, according to Madden.
Future updates, he said, will continue to build up the functionality of the APA Platform to make it easier for data to be used throughout organizations rather than by select individuals, as well as add more automation to Alteryx's tools.
"We're looking at better ways to make data accessible across an organization," Madden said.
Dig Deeper on Business intelligence technology