Fotolia
DataRobot acquisition of Paxata adds data prep to AI platform
By buying data prep vendor Paxata, DataRobot plans to fill out its machine learning and AI platform with tools to automate data prep processes and provide an underlying data fabric.
DataRobot entered into an agreement to acquire Paxata, a self-service data preparation vendor, in a bid to enhance the automated data preparation capabilities of its own platform.
Revealed Dec. 12, the DataRobot acquisition of Paxata will apparently give the Boston-based auto-machine learning vendor data preparation tools that could be a step above those of some of its competitors.
A step up
"DataRobot's founding vision has been to automate as many steps on the AI model building lifecycle as possible. Paxata fills a big gap in DataRobot's AI platform," said Forrester analyst Mike Gualtieri.
Most machine learning systems have at least some data preparation capabilities, or integrate with third-party tools such as Trifacta or Alteryx, Gualtieri said.
"However, by integrating Paxata into the DataRobot AI platform it raises the bar high for other AI vendors to follow," he continued.
Doug Henschen, an analyst at Constellation Research, agreed.
By integrating Paxata into the DataRobot AI platform it raises the bar high for other AI vendors to follow.

Mike GualtieriAnalyst, Forrester
"DataRobot and its competitors less frequently have data prep capabilities and they usually are partnering with the data prep providers," Henschen said. "There's pressure, though, on the independent data prep vendors, in that many of the mainstream BI and analytics vendors, as opposed to the advanced analytics and data science vendors, have been coming up with data prep capabilities."
"That has kind of forced the dedicated data prep vendors to move upstream to more sophisticated requirements, and that's right square in the data science domain," he added.
As of today, the Paxata platform has been added to DataRobot's AI Catalog, a collaborative environment that enables users to share, search and tag data.
The core of the AI Catalog, released in a Sept. 2019 platform update, came out of the DataRobot acquisition of Cursor, a data collaboration platform, earlier this year.
"The AI Catalog was built as a hub for all data across the DataRobot platform. Whether it be training data for a new, or existing, model or data to be scored, it all flows through the catalog," said Adam Weinstein, vice president of product management at DataRobot. "As a result, we've enabled Paxata to both pull data from and push data to the catalog. This is actually available today in concert with the announcement."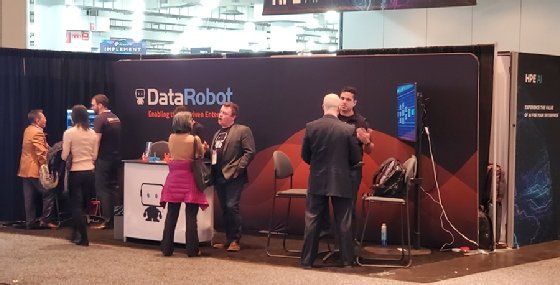 Automating data prep
While details on the acquisition were scarce, the Paxata acquisition is expected to provide the DataRobot platform with tools to automate users' data preparation processes in 2020.
The new capabilities would give DataRobot a more end-to-end platform for machine learning, one that starts with automated data preparation and ends with automated model creation and deployment.
Ideally, the Pazata technology would reduce the effort and time required by DataRobot users to get their data machine learning-ready.
"Enterprise data environments are voluminous and gnarly," said Gualtieri. "A data prep capability like Paxata should help accelerate AI use cases for DataRobot customers."
Paxata has raised some $86 million in venture capital funding. The companies did not disclose the price of the acquisition. DataRobot said it would continue to support Paxata customers.
This is the third acquisition DataRobot has made this year and the fifth since 2017. Earlier this year, the vendor acquired ParallellM and Cursor. Out of the three 2019 purchases, this one, according to a release, is the largest.
Dig Deeper on Artificial intelligence platforms