Getty Images
DataRobot intros AI Platform 9.0, generative AI to come
With the new platform, the vendor aims to help enterprises focus not only on model performance but also on business performance. The vendor also unveiled key new partnerships.
DataRobot released its new AI Platform 9.0 as well as unveiled new integrations and partnerships aimed at helping enterprises deploy AI products and systems faster and more easily.
The new platform is a rebranding of DataRobot's AI Cloud -- which had eight iterations over the years -- with added features and integrations.
With the product launch on Thursday, the independent AI vendor is seeking to address three problems that lead many AI projects to fail, said Venky Veeraraghavan, the vendor's chief product officer.
One is that many data scientists focus mainly on model performance instead of business performance, Veeraraghavan said.
The second is ensuring that data scientists can quickly deploy their models. Finally, the AI vendor said it wants its customers to extract value from the infrastructure they already have.
Standardizing data pipelines
DataRobot AI Platform 9.0 offers different capabilities to tackle these issues.
The new AI platform enables experimentation and value identification with Workbench. In addition, Workbench is now integrated with Notebook, letting users do data science work either using code or without code. It also includes guardrails such as bias mitigation, model monitoring and model compliance documentation.
AI Platform 9.0 lets enterprises standardize their data pipelining techniques, said Chirag Dekate, an analyst at Gartner.
"The enterprise leaders need to standardize the data ecosystems," he said. "They need to standardize the model to deployment ecosystem."
Enterprises are trying to change the ways they collect, clean up and expose data and finished AI applications to end users in the organization, Dekate said.
The new platform is aimed at aiding enterprises to navigate the data pipelining and model deployment ecosystems.
Another new capability of 9.0 is that the AI platform now supports the major cloud ecosystems from AWS, Google Cloud and Microsoft Azure.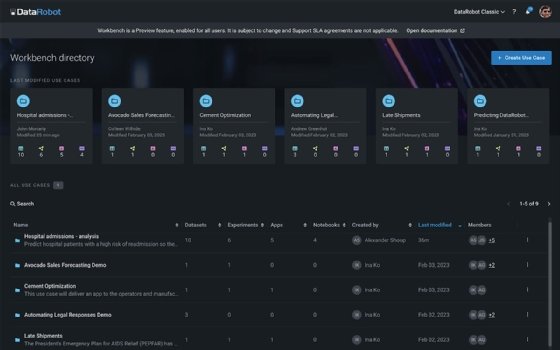 New partnerships
DataRobot also revealed a new partnership with SAP and a deeper partnership with cloud data vendor Snowflake, with a tighter integration. The SAP partnership lets DataRobot customers use business data from SAP HANA Cloud and other third-party data sources to build machine learning models in DataRobot and embed them in the SAP application stack, according to DataRobot.
The closer Snowflake integration and the new one with SAP are built into AI Platform 9.0.
"If DataRobot can be used within SAP to deliver those AI capabilities, that's another way for DataRobot to be adopted," said Forrester Research analyst Mike Gualtieri.
The platform also integrates with Snowflake for data preparation, model building and monitoring.
Even with more partners and more ecosystems for enterprises to deploy their models with, the vendor might still face pushback from business users, Dekate said.
"Anytime you are going with a cloud strategy -- whether it's Amazon or Azure or Google Cloud -- the cloud service providers like Amazon and Google also have their own MLOps [machine learning operations] ecosystems," he said. "The first question that a lot of people ask is, 'What does DataRobot do that I cannot do with my current cloud spend?'"
However, he added that DataRobot's platform pieces together multiple infrastructure stacks and can still prove useful to enterprise with its array of AI and machine learning capabilities in one platform.
Generative AI capabilities to come
While the new AI platform currently doesn't have generative AI capabilities, DataRobot is working with OpenAI to incorporate Azure OpenAI into DataRobot, Veeraraghavan said.
The enterprise leaders need to standardize the data ecosystems.

Chirag DekateAnalyst, Gartner
One application for generative AI in the DataRobot AI platform is a prompt in the Notebook interface with which users can ask for code to be generated for them.
Another use case is for users to talk to the model and have it explain the insights coming from the model in plain English.
This kind of generative AI capability is already available in software development tools such as GitHub, Gualtieri noted. However, providing it in in AI and ML platforms will help enterprises take on yet another problem: shortage of the right talent.
"With something like this code assist, they don't have to find that unicorn hire. They can instead upskill the people they already have and give them an assist directly in the Notebook," Gualtieri said.
DataRobot said it isn't ready to release these generative AI features as products yet because it is working with Microsoft to deploy them safely.
"One of the big things that they're really looking to us for is working with enterprise customers and specifically data scientists on what kind of controls and what kind of error conditions we might have," Veeraraghavan said.
DataRobot's new AI platform 9.0 capabilities are generally available except for Workbench, which is in preview.
Esther Ajao is a news writer covering artificial intelligence software and systems.