momius - Fotolia
Enhanced admin controls highlight Alteryx platform update
New features to augment administrative control over the data management process highlight Alteryx 2020.4, the latest update from the data management vendor.
The latest platform update from Alteryx gives administrators new controls over the data management process and includes a series of enhancements to the vendor's Analytics Hub.
The vendor unveiled Alteryx 2020.4 in a blog post on Nov. 18, and all of the new features and upgrades outlined in the release are now generally available.
Alteryx, a data management specialist founded in 1997 and based in Irvine, Calif., introduced the Analytics Hub to its platform in its June 2020 update -- Alteryx 2020.2 -- as a place where organizations can consolidate their analytic assets to enable collaboration.
The hub is designed to eliminate the disconnected places that separate an individual department's data from another's, and using digital process automation it assists users throughout the data management process, while freeing data scientists from certain mundane, time-consuming tasks.
Upgrades to the Analytics Hub in the updated platform are focused around giving administrators better control over the platform job queue, including the ability to assign priority to certain jobs, assign tags to certain jobs so they can be run on a specific worker node, and activating and managing worker license keys.
In addition, a new integration enables users to synchronize Microsoft Windows Active Directory groups with the Analytics Hub.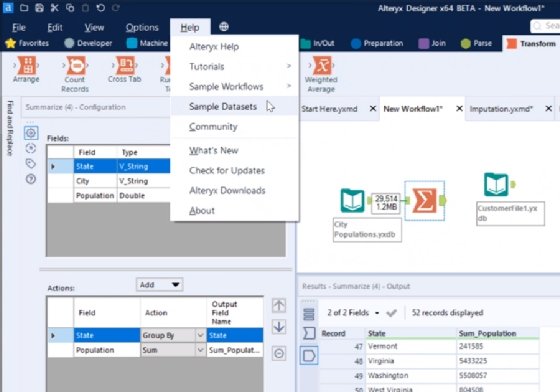 "We are refining the Analytics Hub, and updates are focused around the admin experience," said TJ Williams, vice president of product management at Alteryx. "Overall, the changes made in 2020.4 are to help refine our products and [enable] customers with new ways they can uplevel their solving."
That focus on the admin experience makes the latest Alteryx platform update, while lacking a major new tool, welcome in a practical sense, according to Doug Henschen, principal analyst at Constellation Research.
"There were a number of upgrades in 2020.4 that one could say are incremental, but I see a number of them as very useful," he said.
In particular, Henschen continued, it's useful to give more power to Alteryx admins and process owners by improving visibility into the platform's job queue and adding the ability to assign priority to jobs or schedules in the queue.
There were a number of upgrades in 2020.4 that one could say are incremental, but I see a number of them as very useful.

Doug HenschenPrincipal analyst, Constellation Research
In addition to its practicality, Henschen said that the latest Alteryx platform update is important because it comes just six weeks after Mark Anderson was named the vendor's new CEO after co-founder, chairman of the board and longtime CEO Dean Stoecker stepped down on Oct. 5. Stoecker is now executive chairman and remains chairman of the board.
"It's an incremental upgrade, but in the wake of the recent management changes at Alteryx, it's important to maintain the continuity and cadence of the regular update cycle," Henschen said. "Upgrades like these reassure customers that the mission continues and that the company is still focused on responding to customer feedback."
Beyond the enhancements to the Analytics Hub, the Alteryx platform update includes an upgraded connector with Microsoft Azure Data Lake.
It's the second version of the connector and can be found on the Alteryx Public Gallery. Version 2.0 of the Azure Data Lake Connector is designed for customers that require a high level of security in the cloud and includes an option to connect to the Azure Government Cloud, a dedicated version of the Azure Cloud for U.S. federal, state and local governments.
Other new features and upgrades included in the Alteryx platform update are focused on Alteryx Server and Alteryx Designer, which, along with the Analytics Hub and other products, are grouped under the umbrella of the Analytic Process Automation (APA) Platform.
Additions to Alteryx Server, like those in the Analytics Hub, are aimed at driving administrative efficiency and include the ability to grant Run As permission to a group of users to run workflows as if they were under a specific user account and grant custom user groups specific permissions to shareable workflows the vendor terms a Collection.
"The ability to grant custom user groups specific permissions to a Collection will extend automation capabilities to a broader set of users, while maintaining important access controls," Henschen said. "There's always a give and take between opening up access to data and the need for control, [but] Alteryx custom user groups provide a way to balance these needs."
Alteryx Designer updates, meanwhile, include making more than 200 sample data sets available in the Help menu to make them easier to find and the addition of International Numeric Separator support to easily recognize delimiters.
In addition, the vendor added two new tools -- Download and Summarize to the Alteryx Multithreaded Processing (AMP) Engine that fuels Designer to enable users to more quickly work with large volumes of data.