Saktanong - stock.adobe.com
Yellowfin 9 marked by developer tools, revamped mobile app
The latest product update from BI vendor Yellowfin features new dashboard design tools, a revamped mobile app and a repackaged data presentation platform.
Yellowfin 9, the latest version of Yellowfin's business intelligence platform, features a dashboard builder for developers and a reimagined mobile app.
The vendor, founded in 2003 and based in Melbourne, Australia, unveiled Yellowfin 9 on Thursday. It is generally available now.
The dashboard builder includes two features that are aimed at helping organizations customize their dashboards rather than simply use standard data visualizations.
Dashboard Canvas, according to Yellowfin, features pixel-perfect design control. Dashboard Canvas enables developers to create their own dashboards so that they can be integrated into their organization's applications as well as designed to visually match their organization's corporate scheme.
Also, Dashboard Code Mode enables developers design their dashboards and extend their capabilities -- embedding them into applications, for example -- using familiar coding languages.
"Yellowfin's new release shows how they are paying detailed attention to real-world use cases in their design," said Donald Farmer, principal at TreeHive Strategy in Seattle. "A pixel-perfect dashboard designer supports BI developers who feel they need complete control to produce very specific designs, often to meet corporate standards."
Yellowfin's new release shows how they are paying detailed attention to real-world use cases in their design.

Donald FarmerPrincipal, TreeHive Strategy
Meanwhile, Farmer added that Dashboard Code Mode could be a feature that sets Yellowfin 9 apart from other vendor's platforms.
"I think the Dashboard Code Mode is a significant development in Yellowfin's thinking," he said. "Business Intelligence tools, whether traditional or self-service, have been great tools for analysts exploring data and making interesting discoveries, but then what?
"Few vendors have given much thought to the actions that follow," Farmer continued. "Dashboard Code Mode addresses actions very directly, and the ability to use familiar languages rather than proprietary scripts should ensure this feature becomes popular with developers."
The vendor rolled out Yellowfin 9 just a day after Looker introduced its most recent update, which also features tools aimed specifically at designers.
Like Yellowfin 9, Looker 7 provides tools for designers to customize dashboards. It also includes an in-product marketplace for add-ons.
"BI vendors see the developer community has a big new market," said Wayne Eckerson, president of Eckerson Group in Hingham, Mass. "They are bolstering their [application programming interfaces] and ability to embed functions to be more suitable to developers who want to modify the BI tool, embed it in another application, or create a custom application with analytic components from the BI tool."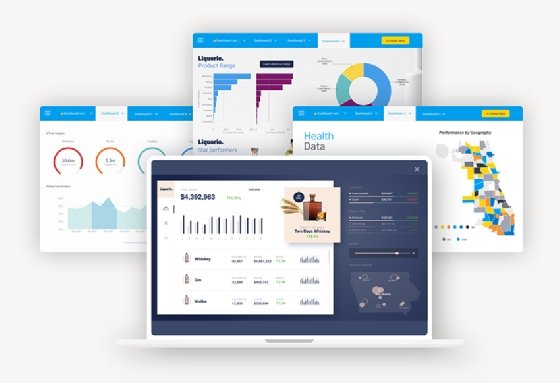 In addition to the design tools, Yellowfin 9 includes the official release of the vendor's revamped mobile app, which was first unveiled in September.
While some mobile BI apps attempt to create the desktop experience -- a common problem given the small size of phone screens and the difficulty toggling between apps on phones and tablets -- Yellowfin designed a mobile app that uses a timeline feed similar to Facebook and Twitter.
The app includes Yellowfin Signals and Yellowfin Stories.
Signals is an automated data discovery tool, while Stories enables the creation of data narratives to help an organization understand its operation.
"Yellowfin's approach here is to enable an authentic mobile experience, which feels much more like an app than a dashboard on a phone," Farmer said.
He added that Yellowfin's approach to its mobile app versus its approach to dashboards shows dexterity.
"Contrast [the new design tools] with their mobile app, which recognizes that you cannot build a pixel-perfect BI experience on multiple, constantly evolving mobile platforms," Farmer said. "These contrasting approaches show that Yellowfin really are thinking deeply about design for the user."
Similarly, Eckerson noted that Yellowfin's approach to BI is a differentiator, and that it has capabilities that are forward-thinking rather than reactive to the rest of the market.
"Yellowfin is a real solid BI platform," he said. "It's very integrated with nice visualization, collaboration and storytelling capabilities.
Beyond the new design capabilities and the general availability of the new mobile app, Yellowfin 9 features Yellowfin Present, which is a redesign of the vendor's secure data presentation tool formerly called Yellowfin Storyboard.