vali_111 - Fotolia
AtScale 2020.2 adds new self-service, cloud capabilities
The latest platform update from AtScale features new self-service analytics tools and the ability to run natively on the platforms of all three major cloud service providers.
Enhanced self-service capabilities and the ability to run natively in multiple cloud environments highlight the release of AtScale 2020.2.
AtScale, founded in 2013 and based in San Mateo, Calif., specializes in data engineering by serving as a conduit between stored data and business intelligence tools, and until recently focused on how to get big data to work for analytics. The release of its 2020.1 update in January, however, marked a significant strategic shift with self-service analytics and data virtualization as central tenets.
AtScale 2020.2, which was unveiled on April 29 and is now generally available, builds on what started with 2020.1 and adds cloud migration as one of the vendor's new focal points. Along those lines, AtScale revealed that it is now available in the AWS, Microsoft Azure and Google Cloud marketplaces.
"Over the last couple years I've watched AtScale transform itself into something special," said Mike Leone, senior analyst at Enterprise Strategy Group. "Leadership changes and technology pivots have enabled them to be increasingly more relevant, and this announcement continues that trend."
With respect to AtSCale's ability to now run natively in each of the major clouds, helping customers migrate to the cloud was a key motivator, according to Scott Howser, AtScale's chief product officer.
As customers move their on-premises analytics operations to the cloud, they want the option to select the cloud service provider of their choice. And many, in fact, will wind up with more than one cloud service provider, for example, by using Azure for certain operations and AWS for others.
"People want to have a hybrid approach to that, so our ability to transcend the different cloud platforms becomes very important to organizations as they make that shift," Howser said. "We continue to invest there. We've been doing a lot in that area in the last year … enabling customers to do just that."
Beyond its multi-cloud capabilities, AtScale 2020.2 improves the vendor's data virtualization proficiency with self-service query and data engineering features fueled by augmented intelligence and machine learning, AtScale said.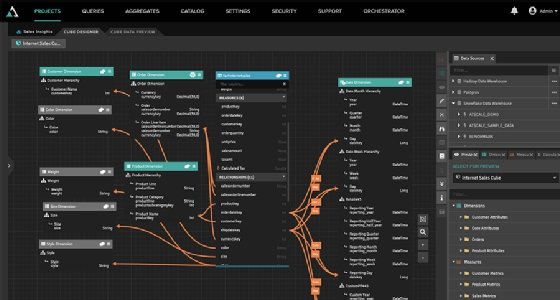 The update features an enhanced version of Autonomous Data Engineering, a no-code data preparation tool that learns users' behaviors in order to provide them with relevant data stored in OLAP cubes, and more support for the vendor's query engine, which is designed to help users quickly and easily access and analyze their data.
In addition, AtScale 2020.2 includes expanded security features and the ability to bridge cloud, hybrid cloud and on-premises data stores.
"The advancement we continue to make in what we call Autonomous Data Engineering is really important for enabling customers to move on this journey of cloud OLAP," Howser said. "It's important because those strategies watch and understand what the users wish to do and the questions they may want to ask of the data, and accelerate performance and reduce the workload on the underlying data platform."
Similarly, Leone said that AtScale 2020.2 gives enterprises both moving to the cloud and already operating in the cloud the capabilities they need to efficiently analyze their data.
Over the last couple years I've watched AtScale transform itself into something special. Leadership changes and technology pivots have enabled them to be increasingly more relevant, and this announcement continues that trend.

Mike LeoneSenior analyst, Enterprise Strategy Group
"This announcement virtually checks the boxes for what organizations are looking for in a multi-cloud analytics platform, with the big three in my mind being security/management consistency across environments, intelligent automation and self-service enablement," he said.
Beyond the release of 2020.2, AtScale recently revealed that it is offering free access to its COVID-19 Cloud OLAP Model.
AtScale built the tool using data from Boston Children's Hospital, Johns Hopkins University, Hungarian data engineering firm Starschema, and the World Health Organization, among other sources, and can be used by anyone.
"It ranges from everyone who might just be an individual researcher -- an academic -- to our existing customers who are looking to use the data to other companies who are learning how COVID and the data around COVID is impacting their business, their community," said Cort Johnson, AtScale's vice president of growth. "We just want to make the data easily consumable so you can … generate the insights that are most impactful for you, your community and your company."
And like any data model built using the AtScale platform, the COVID-19 Cloud OLAP Model takes advantage of the no-code capabilities the vendor has rolled out in recent months.
"You might have your first question that you want to ask about the data, but that question leads to two or three more questions based on the response," Johnson said. "Without AtScale, someone would have to go into that raw data and hand roll or hand engineer the data in such a way so they could generate those relationships through data engineering."
Meanwhile, as AtScale continues its shift away from big data analytics and toward data virtualization and self-service analytics in the cloud, Howser said that the vendor's upcoming platform updates will build on what's already been released in 2020.
"As a company, from the inception, we've always been focused on this idea that we want to make analytical data accessible to everyone at scale," he said. "So we continue to simplify the user experience in ways that will drive accessibility to more and more folks in the enterprise."
Key to that ease of use, he continued, will be adding to the AI and machine learning capabilities of AtScale's platform and enhancing its cloud capabilities.
"You'll see us do more in the AI and [machine learning] space," Howser said. "And in the cloud, just continuing to make investments to maximize the value of the emerging cloud data platforms that our customers are moving toward in earnest, making that transition seamless for the customer."