whyframeshot - stock.adobe.com
Salesforce to buy Narrative Science, roll it into Tableau
The data storytelling vendor revealed that it has reached an agreement to be acquired by Salesforce and will then become part of the Tableau subsidiary.
Data storytelling vendor Narrative Science revealed that it has reached an agreement to be acquired by Salesforce, and upon closing will become part of Tableau.
Narrative Science unveiled the acquisition news in a Nov. 15 blog post by CEO Stuart Frankel.
A spokesperson for Tableau subsequently confirmed the acquisition, but said there will be no official announcement from Salesforce or Tableau.
Financial terms of the acquisition were not disclosed. Narrative Science president Nick Beil told TechTarget in an email that the deal is expected to close before the end of Salesforce's fiscal year on Jan. 31, 2022.
Tableau, an analytics vendor founded in 2003 and based in Seattle, was acquired by CRM giant Salesforce for $15.7 billion in June 2019 . Once rolled into Tableau, Narrative Science, founded in 2010 and based in Chicago, will add data storytelling capabilities.
Narrative Science and Tableau have been partners since 2016, and Tableau offers the Explain Data tool that automatically generates narratives about data. But by acquiring Narrative Science, said Donald Farmer, founder and principal of TreeHive Strategy, Tableau has the potential to add deeper data storytelling capabilities.
Narrative Science overhauled its platform in late 2019, introducing Lexio as its primary offering. Lexio connects to an organization's data, whether stored on premises or in the cloud, and uses augmented intelligence and machine learning to automatically query the data and develop narrative stories.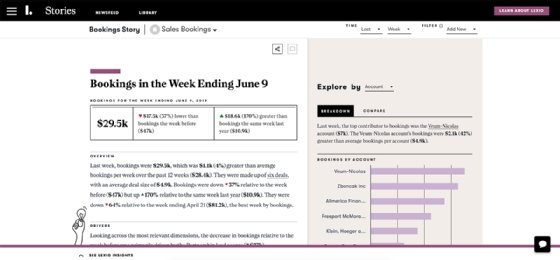 "Narrative Science has been partners with Tableau for some time, enabling text narratives to be generated from Tableau visualizations, but [Narrative Science] also enabled new forms of data storytelling with their Lexio product," Farmer said.
"It will be fascinating to see how much Salesforce takes on these innovative techniques and how much they leverage Narrative Science's well-established narrative generation," he continued.
The story of data storytelling
Data storytelling is an automatically generated explanation of data put in narrative form to help data consumers understand what their data is telling them.
Despite the benefits of data-driven decision-making, analytics use remains low across most organizations. An estimated one-quarter to one-third of employees use data to inform their decisions.
Vendors have taken different approaches to broadening the adoption of analytics.
ThoughtSpot and Oracle, for example, have made natural language query -- which enables users to speak or type a query in natural language rather than code and receive a response from their data -- a priority. Other vendors, such as Logi Analytics and Sisense, have focused on embedded analytics.
And still others, such as Yellowfin and startup Toucan Toco, have prioritized data storytelling with Tableau and Microsoft Power BI among the platforms that offer some data storytelling capabilities.
Gartner, meanwhile, predicts data storytelling will be the most widespread means of consuming analytics by 2025, and that by then a full 75% of all data stories will be automatically generated by AI and machine learning systems rather than trained data analysts.
Narratives, it has been shown, are a more effective way for users to absorb and understand information than visualization on its own. Combining narratives with reports and dashboards enables a better understanding of data than reports and dashboards alone.
With Salesforce reaching an agreement to acquire Narrative Science and roll it into Tableau, Tableau is poised to take over a vendor whose sole focus is data storytelling.
And as Salesforce and Tableau continue to develop integrations -- most recently unveiling a trio of integrations between Tableau and Slack, another Salesforce entity -- Salesforce is in a position to add data storytelling capabilities throughout its suite of capabilities.