Sergey Nivens - Fotolia
Hyper engine aims to give enterprise Tableau analytics a boost
The Hyper in-memory data engine added in Tableau 10.5 could make Tableau analytics capabilities more expansive, enabling the software to support new use cases, like IoT analytics.
Tableau is continuing its focus on enterprise functionality, rolling out several new features that the company...
Continue Reading This Article
Enjoy this article as well as all of our content, including E-Guides, news, tips and more.
hopes will make its data visualization and analytics software more attractive as an enterprise tool to help broaden its appeal beyond an existing base of line-of-business users.
In particular, the new Tableau 10.5 release, launched last week, includes the long-awaited Hyper in-memory compute engine. Company officials said Hyper will bring vastly improved speeds to the software and support new Tableau analytics use cases, like internet of things (IoT) analytics applications.
The faster speeds will be particularly noticeable, they said, when users refresh Tableau data extracts, which are in-memory snapshots of data from a source file. Extracts can reach large sizes, and refreshing larger files takes time with previous releases.
"We extract every piece of data that we work with going to production, so we're really looking forward to [Hyper]," Jordan East, a BI data analyst at General Motors, said in a presentation at Tableau Conference 2017, held in Las Vegas last October.
East works in GM's global telecom organization, which supports the company's communications needs. His team builds BI reports on the overall health of the communications system. The amount of data coming in has grown substantially over the year, and keeping up with the increasing volume of data has been a challenge, he said.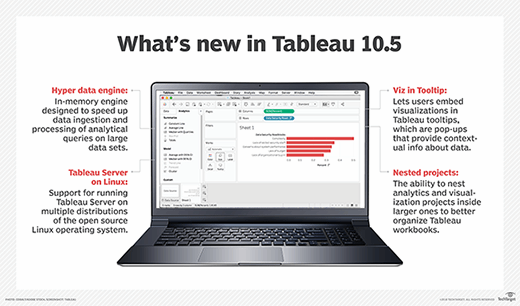 Extracting the data, rather than connecting Tableau to live data, helped improve report performance. East said he hopes the extra speed of Hyper will enable dashboards to be used in more situations, like live meetings.
Faster extracts mean fresher analytics
The Tableau 10.5 update also includes support for running Tableau Server on Linux, new governance features and other additions. But Hyper is getting most of the attention. Potentially, faster extract refreshes mean customers will refresh extracts more frequently and be able to do their Tableau analytics on fresher data.
"If Hyper lives up to demonstrations and all that has been promised, it will be an incredible enhancement for customers that are struggling with large complex data," said Rita Sallam, a Gartner analyst.
Sallam's one caveat was that customers who are doing Tableau analytics on smaller data sets will see less of a performance upgrade, because their extracts likely already refresh and load quickly. She said she believes the addition of Hyper will make it easier to analyze data stored in a Hadoop data lake, which was typically too big to efficiently load into Tableau before Hyper. This will give analysts access to larger, more complex data sets and enable deeper analytics, Sallam said.
Focus on enterprise functionality risky
Looking at the bigger picture, though, Sallam said there is some risk for Tableau in pursuing an enterprise focus. She said moving beyond line-of-business deployments and doubling down on enterprise functionality was a necessary move to attract and retain customers. But, at the same time, the company risks falling behind on analytics functionality.
Sallam said the features in analytics software that will be most important in the years ahead will be things like automated machine learning and natural language querying and generation. By prioritizing the nuts and bolts of enterprise functionality, Tableau hasn't invested as much in these types of features, Sallam said.
"If they don't [focus on enterprise features], they're not going to be able to respond to customers that want to deploy Tableau at scale," Sallam said. "But that does come with a cost, because now they can't fully invest in next-generation features, which are going to be the defining features of user experience two or three years from now."