Fotolia
State of the self-service analytics market
Self-service analytics are important to strong enterprise analytics. Experts talk about how top vendors in the market are keeping up with user needs.
Self-service analytics is evolving to meet the needs of modern enterprises. Instead of running static reports or simply visualizing data, users can now type natural language queries that make interacting with data even easier. And the results literally speak for themselves in the form of narrated data visualizations.
This article provides a brief overview of today's self-service analytics market and why every organization should care.
What are self-service analytics?
Self-service analytics is most often associated with power users otherwise known as citizen data scientists. The self-service analytics concept began about 15 years ago with self-service reporting because lines of business were tired of waiting for IT to deliver custom reports. Conversely, IT had better things to do than generate one-off reports.
While organizations still required periodic reporting, the accelerating pace of business necessitated the need for interactive dashboards that could provide faster, more timely access to critical information. Like self-service reporting, self-service analytics enables users to answer their own questions.
Recently, BI and analytics platform providers modernized their offerings with natural language understanding (NLU) and natural language generation (NLG) capabilities. NLU allows users to ask questions in natural language so they don't have to know a query language. NLG supplements data visualizations with explanatory text. These new AI and machine learning-enabled capabilities are collectively called augmented analytics because machine intelligence is augmenting human intelligence.
"A few years ago, self-service features were mostly available for interacting with existing content, but when you needed to create a new report -- new dashboard especially that's being connected to a new data source -- it was the realm of professionals," said Boris Evelson, VP and principal analyst at Forrester Research. "Modern BI tools allow for non-IT professionals to author net-new content."
Augmented analytics is enabling the latest wave of the self-service analytics market by providing relatively quick and easy ways to understand data. In fact, augmented analytics capabilities affected vendor ratings in the 2020 Gartner Magic Quadrant for Analytics and Business Intelligence Platforms.
"We definitely see the idea of self-service as we defined it in 2007 evolving pretty substantially because of advances in augmentation, advances in ease of use, advances in NLP," said Rita Sallam, VP analyst and Gartner fellow.
Forrester published two enterprise BI platform reports in July 2019 for client-managed platforms (on premises) and vendor-managed platforms (SaaS).
Regardless of whether a vendor is selling an SaaS product to a line of business or an on-premises solution to IT, IT is still usually involved in deployment to provide access to data resources and make sure the appropriate data governance controls are in place.
"Generic prebuilt SaaS tends to be relevant for enterprises at the early stage of their automation and digital transformation," said Kateryna Dubrova, research analyst at ABI Research. "As firms progress and display more need for analytics and data management functions, the degree of customization and potential vendor lock-in are important considerations."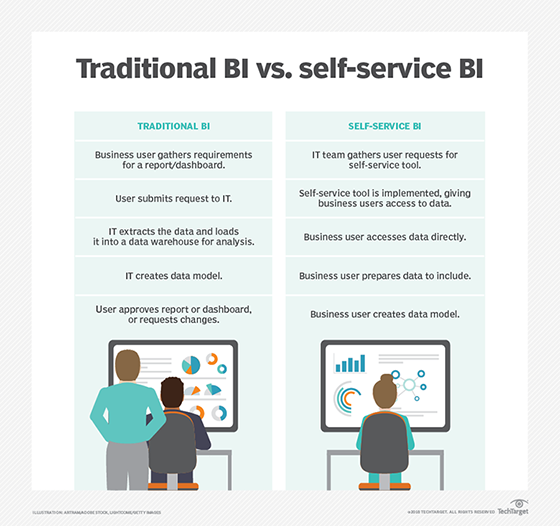 Enterprise approaches to procuring self-service analytics
Evelson warned clients against choosing a vendor based on features and functions because whatever one vendor introduces doesn't remain unique for long. Instead, he recommended looking at other types of criteria.
"If I'm using Microsoft Office 365 and Microsoft Azure is my dominant platform, then I don't recommend people look outside that ecosystem without spending a lot of time evaluating," Evelson said. "The same is true for Salesforce, IBM and Oracle. If a client has Tableau, Information Builders or MicroStrategy, are they sure that they have a software problem because in 99% of the cases, it's people, processes and data architecture, so I talk them out of looking elsewhere."
When enterprises look for a solution, they may also consider ease of use, ease of deployment and domain specialization. For example, life insurance broker Simple Life Insure switched from Tableau Insurance Analytics to InsuredMine for its data integration CRM, and task and goal management capabilities.
"The ability to set and monitor your own performance goals is what 'self-service' means to my organization, especially as we all continue to work remotely," said Ty Stewart, CEO and president of Simple Life Insure.
Sallam said Microsoft's lower pricing and continuous product improvements have caused price/performance to become a significant factor lately.
Microsoft also has a unique selling point of a natively integrated ecosystem, including Power BI and various other Microsoft products, such as Microsoft 365 and Teams. Colin Van Dyke, CTO of digital, machine learning and data visualization firm Blue Orange Digital, said he likes the ease with which Power BI can link to Excel, Azure cloud and SQL Server.
Meanwhile, Tableau was acquired by Salesforce in August 2019. Even before the companies merged, both were expanding their capabilities through acquisition.
"Tableau has been the innovator, a disrupter, a leader in self-service," Sallam said. "Tableau, Qlik and Tibco Spotfire are the three vendors that drove this whole revolution to enterprise-centric reporting to what became known as visual-based exploration. Now you're seeing AI automation, autogenerated insights, the ability to ask questions in natural language instead of building views in point-and-click."
Here are some offerings from other players' in the self-service analytics market:
MicroStrategy. MicroStrategy targets data science to users across the enterprise. It offers augmented analytics, embedded options and other solutions that enable businesses to take advantage of contextually relevant information.
Qlik. Qlik Sense includes an associative engine that understands relationships in data. The augmented intelligence capabilities suggest insights, automate processes and enable natural language interaction.
ThoughtSpot. ThoughtSpot markets itself as "true self-service for anyone" so users can answer ad hoc questions instead of waiting for custom reports from data professionals. It includes AI-driven insights and provides enterprise governance and security controls.
Yellowfin. Yellowfin helps data professionals create operational reports and strategic dashboards for employees, customers and suppliers. The suite offers five components, including dashboards, data discovery, signals (what's missing from a dashboard), data storytelling and data prep.
Should you switch platforms?
Switching platforms is a major undertaking that may not be worth the effort, especially if you have a lot of time, money and data invested in a specific platform. Before leaving one vendor for another, make sure the root cause of your problems isn't inside your four proverbial walls. Otherwise, your woes will likely repeat, albeit with a new vendor.