Pavel Losevsky - Fotolia
Commvault appliance lineup expands by two
Commvault moves its HyperScale appliance platform into the enterprise with the HS3300 and into remote and branch offices with the Remote Office Appliance.
NASHVILLE, Tenn. -- Commvault expanded its data protection appliance strategy with two hardware models this week at its annual user conference.
The appliances launched at Commvault Go extend the vendor's data protection and management capabilities to enterprises, managed service providers (MSPs) and remote offices. All devices run Commvault Complete Backup & Recovery, the vendor's flagship data management and protection software.
Commvault began integrating its backup software onto appliances in 2017, after years of resisting selling hardware. The integrated Commvault appliance competes with the likes of Veritas NetBackup appliances and scale-out secondary storage platforms from relative newcomers Rubrik and Cohesity.
The Commvault HyperScale HS3300 is similar to the currently available HS1300, which targets midsize businesses and starts at 29 TB. The Commvault HS3300 stores between 174 TB and 262 TB of useable storage, making it suited for enterprises and MSPs with larger workloads.
The other new Commvault appliance, the Remote Office Appliance, scales down. This appliance has between 5 TB and 15 TB of capacity for remote or branch offices. While they would store data locally, these devices could be managed remotely as part of a larger data ecosystem.
The Commvault Remote Office Appliance is available immediately, while the HyperScale HS3300 is expected to be available in December 2018.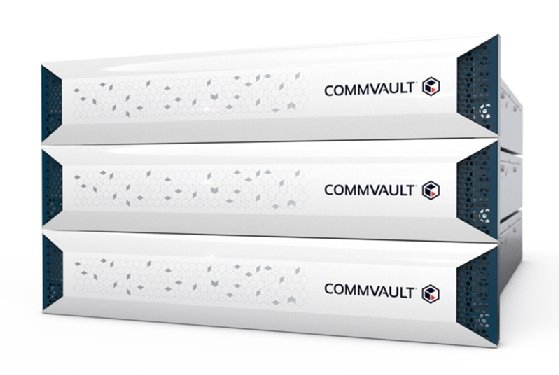 Customers wanted more appliance choices
After years of resisting integrated appliances, Commvault is now doubling down on the HyperScale platform. Phil Goodwin, research director at IDC, said he believes the reason for the expansions to the Commvault appliance portfolio can be traced back to backup software market leader Veritas' similar move.
"It's a convenient consumption model for the consumer," Goodwin said of Veritas' move into integrated appliances. "Everything is already configured, it's loaded, [and] it's ready to go. It's the closest you can get to plug-and-play for a backup product. For Commvault, I think it's really a similar thing."
[Customers are] really looking to simplify their environment. This appliance is a step in that direction, where you're eliminating some of that complexity of having to deal with separate components.

Phil Wandreidirector of solutions at Commvault
Now, with the Commvault appliance additions, the vendor is positioned to take on the other enterprise data management leaders with its scale-out model.
"The HyperScale is more aimed specifically at Rubrik and Cohesity as a hyper-converged implementation," Goodwin said. "Rubrik and Cohesity are very successful in the marketplace, so vendors are naturally moving into that space to capture some of that growth."
Phil Wandrei, director of solutions marketing at Commvault, based in Tinton Falls, N.J., said since the Commvault appliance was deployed a year ago, there has been customer demand for a wider range of sizes.
"The common piece of feedback that we got from customers was they wanted more appliances," he said. "Specifically, they wanted a larger appliance and a smaller one."
Before the HyperScale appliance was released, Commvault sold software, and customers provided their own hardware backup targets. The integrated appliances enable one-stop shopping.
"They're really looking to simplify their environment," Wandrei said of Commvault customers. "This appliance is a step in that direction, where you're eliminating some of that complexity of having to deal with separate components."