buchachon - Fotolia
N2WS Backup & Recovery enhances cloud storage management
N2WS launches its first major product update since Veeam sold the company back to its founders. Backup & Recovery 3.0 focuses on storage and cost efficiency.
With a major update to its AWS backup and recovery product, N2WS is seeking to help customers better manage and control costs for data that can get complex and expensive.
N2WS Backup & Recovery 3.0, launched this week, provides enhanced data lifecycle management, quicker recoveries, cost optimization tools and a new user interface.
Cloud storage administrators often get hit with a bill that's much higher than anticipated. Specifically, keeping AWS Elastic Compute Cloud (EC2) and Relational Database Service instances on when they're not in use is a major problem area.
The N2WS Backup & Recovery product's enhanced Resource Control cost optimization shows users how much money they can save by turning off noncritical instances when not in use. Users can click to add or remove resources.
In a similar way, the product's AWS Cost Explorer enables customers to calculate EBS snapshot costs per policy, which helps present a picture of backup storage cost, according to N2WS. The feature shows how storage costs change over time.
"So much of what I do is cost optimization," said Kevin Allard, CEO and systems engineer at Mt. Shasta IT Services, an N2WS customer.
Extended data lifecycle management in N2WS Backup & Recovery added the ability to archive snapshots to Amazon Glacier. Automated policies move backups into the most appropriate storage tier on Amazon S3.
N2WS now supports every Amazon S3 storage tier, adding Glacier and Glacier Deep Archive with the 3.0 release, said Ezra Charm, vice president of marketing at N2WS.
So much of what I do is cost optimization.

Kevin AllardCEO and systems engineer, Mt. Shasta IT Services
The launch marks the first major product release since Veeam Software sold N2WS back to its original founders last year. Veeam, which owned N2WS for about two years, has since launched a similar product, Backup for AWS.
High availability previously took more work on the part of N2WS customers, Charm said. Now the Recovery Scenarios feature brings entire workloads back to production in seconds.
Users can define a policy that will recover an entire application or service in one click, according to N2WS. For disaster recovery, a user can recover to another AWS region or account. The feature also runs recovery drills for compliance purposes.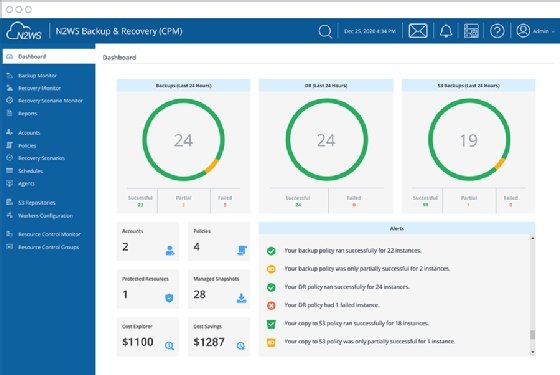 'All about the recovery'
Allard's company, based in Mt. Shasta, Calif., provides technology consulting and cloud services. He has been using N2WS Backup & Recovery -- previously Cloud Protection Manager -- for about a year and upgraded to 3.0 this week.
Allard's clients include three local government agencies, with 18 Amazon EC2 instances. N2WS backs up their data every five minutes because of the important nature of those workloads.
Recoveries have ranged from a deleted file to a full instance.
"Recovery is always easy," Allard said. "It's one of the most important parts of your backup software. It's all about the recovery."
Mt. Shasta IT Services also looked at Iland, Druva CloudRanger and Veeam for AWS backup and recovery. N2WS had better features and keeps its data in AWS GovCloud, which is necessary for Allard's government workloads, he said.
Allard said he is looking for easy multi-factor authentication. Without it, a company risks losing a lot of data.
"Someone can get in there and easily delete all your snapshots," Allard said.
N2WS Backup & Recovery 3.0 also added an enhanced user interface, including a new dashboard that shows backup status and real-time storage costs. From the navigation tab, users can create policies, implement EBS snapshot archiving and access detailed reporting, according to N2WS.
"It's so much quicker to access what you need," Allard said.
Allard already noticed a specific helpful change -- he was having a problem deleting a backup, when a message on the dashboard informed him what happened and why.
N2WS, which is AWS-native, claims it protects more than 5,000 AWS accounts, hundreds of thousands of instances, more than 13 PB of backup, and thousands of end users and service providers.
Charm said N2WS has focused on its core competencies in the public cloud since the Veeam sale.
"We really haven't missed a beat," Charm said. N2WS, which has a research and development center in Israel and sales and marketing headquarters in West Palm Beach, Fla., just surpassed 70 employees. Charm said N2WS is hiring and will likely reach 100 employees.
N2WS also competes with the AWS Backup product. Charm said N2WS Backup & Recovery offers more centralized backup and quicker recovery.