buchachon - Fotolia
HubStor takes on Veeam, goes virtual with backup service
The HubStor backup and archive platform offers two types of models for its vSphere support. One customer called the platform an 'incredibly valuable' collection of functions.
HubStor is taking its backup-as-a-service platform into the virtual world.
The cloud data management provider launched its BaaS offering for VMware vSphere virtual machines, featuring backup, replication, recovery and archiving.
HubStor also plans to provide support for other virtual infrastructures, including Microsoft Hyper-V and Nutanix.
Customers seek VMware backup
The HubStor backup and archive platform already supported SaaS apps such as Microsoft 365 and Box, as well as PaaS offerings, including S3 and Azure Blob Storage.
"HubStor is one unified SaaS platform," CEO Geoff Bourgeois said.
Bourgeois said he thought VM backup was a saturated market, but customers at trade shows kept asking if the vendor backed up VMware. He found that many customers were following the 3-2-1 rule of backup, but they were making it more complicated than necessary, such as using tape.
"We can simplify the whole 3-2-1," Bourgeois said of the cloud platform.
The HubStor support for vSphere includes backup policy administration and monitoring, immutability, encryption and cloud storage. HubStor recovers the VMs to any vSphere instance, Bourgeois said.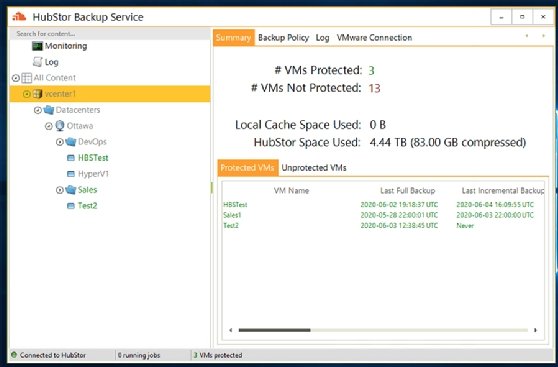 The HubStor VM backup is available in dedicated and shared models with pricing mainly based on cloud storage consumption.
The dedicated BaaS instance is geared toward enterprises. It provides more enhanced features, including advanced security, data sovereignty controls and expansion into other HubStor offerings such as file system tiering and journaling. Pricing starts at $335 per month, with monthly storage costs typically ranging from .3 cents to 3 cents per gigabyte.
The shared BaaS instance is aimed at smaller businesses that only want VM backup. Pricing starts at $50 per month, with backup storage costs ranging from .3 cents to 3 cents per gigabyte.
HubStor's vSphere backup became generally available in May. The vendor is targeting late July for its Hyper-V backup. Bourgeois said he's hoping to add support for Nutanix, Azure VMs, Windows Server and SQL Server by the end of the year. Within that group of infrastructures, customers requested VMware support the most by far, he said.
Bourgeois listed Veeam as HubStor's top competition. He acknowledged that while HubStor might not be as feature-rich, some Veeam customers have said they're paying for a lot of features they don't use, and they're looking for a backup product that's cheaper and simpler. Veeam started out as a pioneer in virtual backup and has since expanded to include physical and cloud protection.
HubStor has recently been converting a couple of Veeam customers over to its product. Veritas is another competitor, Bourgeois said.
HubStor, based in Ottawa, claims more than 200 customers, who are backing up a range from gigabytes to multiple petabytes.
Since the coronavirus pandemic hit in March, customers have told HubStor that they want to use more cloud. Users are looking for simplification, Bourgeois said.
HubStor customer appreciates range of functions
Virgin Hyperloop has been using HubStor for about two years. The product protects more than 100 TB for the transportation company, which is based in Los Angeles.
Cory Coles, senior systems administrator at Virgin Hyperloop, said he was initially impressed with HubStor's e-discovery, Microsoft 365 backup, and Windows file server stubbing and cloud tiering.
I needed to check a bunch of boxes and HubStor was able to do a lot with one stroke.

Cory ColesSenior systems administrator, Virgin Hyperloop
"From the first time I heard about it, I found HubStor to be a collection of incredibly valuable solutions I had never seen combined into one platform before," Coles wrote in an email. "As a startup company still adding a lot of core IT functions to our infrastructure, I needed to check a bunch of boxes and HubStor was able to do a lot with one stroke."
Coles said it was simple to add the vSphere backup to his HubStor platform and it took about 30 minutes.
"It's honestly probably easier than using the native Azure Backup product," he wrote. "I can easily tier older backups to cool and archive storage, [which is] key for saving money and not upsetting my boss with an accidentally large bill."
Coles said he would like to see application backup supported with the VM backup, "so I can back up and restore to SQL Server and Active Directory natively and on a per-object level."