Luiz - Fotolia
Cloud use spikes amid COVID-19 but IaaS costs remain stable
Don't expect hyperscalers like AWS to profiteer from the COVID-19 pandemic. But enterprises must take extra precautions as they invest in cloud-based infrastructure and software, analysts say.
AWS, Microsoft and Google have benefited greatly from the COVID-19 pandemic as companies worldwide scrambled to adopt technologies that enable remote work at scale, and enterprises are more likely to enjoy flat costs or price cuts -- not hikes -- for the foreseeable future.
Enterprises likely don't need to brace themselves for profiteering on the part of hyperscalers, even as the pandemic gives them more leverage and influence, according to a recent report from 451 Research.
"We expect the price of cloud services to remain constant for the next six months, at least," said one of the report's authors, analyst Owen Rogers. "Best not to cut prices today, in case costs rise further along the line, impacting margins. The last thing enterprises want is for cloud providers to increase prices after time and money are invested in a move to a particular provider."
And a price hike in the current conditions could prove disastrous to a provider's reputation and trust level among customers, Rogers added.
The pandemic's impact on IT spending has been massive, according to Gartner. In January, the analyst firm predicted that total IT spending this year would rise 3.4% to $3.9 trillion. But earlier this month, it downgraded its forecast substantially and now estimates total spending of $3.4 trillion, a drop of 8%.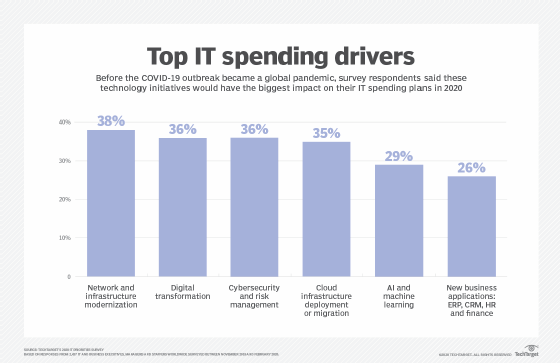 However, public cloud services will rise 19% this year with cloud-based telephony and messaging growing by 8.9% and cloud-based conferencing up 24.3%, Gartner said.
The pandemic prompted one AWS customer, financial services provider Enova International, to make a quick move onto the platform's Workspaces virtual desktop service to extend its remote-work capacity, said Chief Analytics and Technology Officer Joe DeCosmo.
Enova had already been testing Amazon Workspaces in sandbox environments in recent months, and the familiarity helped it get 1,200 employees set up on Workspaces quickly, he said. Overall, Enova's IT staff had eight to 10 business days' notice to complete the project and did so successfully.
"We're two months in and things are pretty smooth," he said. "We're having few technical issues."
Given Envoa's close working relationship with AWS and the need to deploy remote desktops quickly, the IT team didn't consider alternatives, he said.
Impulse purchases have their drawbacks, however.
"We did not do a lot of negotiation on the contract or the pricing and sort of took their a la carte pricing as it was to get going," he said. "We've since worked with AWS to optimize how we're paying for that service and have brought the cost down considerably."
Enova made sure to sign only a month-to-month deal, which allowed for those immediate negotiations, DeCosmo said. While the company's main IT focus now is on balancing AWS usage with on-premises assets, it also uses Google Cloud for email and productivity applications, and is considering the broader Google Cloud portfolio, he said.
COVID-19's impact heightens cloud competition
While there is no current indication of a cloud price war, it does seem to be both a buyer's and seller's market.
For example, AWS this month reduced the price of its Macie data security service by 80%. Oracle, which runs a distant fourth place in market share behind AWS, Microsoft and Google for cloud services, used its recent virtual Cloud Day conference to tout its 50% percent cost savings compared to AWS. Oracle hopes aggressive pricing can help it gain market share. Customers previously reluctant to adopt Oracle's IaaS may now do so, prompting competitive reactions around cost from its larger rivals.
Meanwhile, there's an economic reason for the uptick in cloud spending amid COVID-19, since they typically involve installment payments and not large up-front purchases, said Holger Mueller, an analyst with Constellation Research. "You don't want to [make capital expenditures] in IT when cash preservation is key, and CAPEX needs to go into pivoting or securing your core business."
But customers must take care to build "commercial elasticity" into all cloud contracts, allowing for expansion and contraction of spending based on economic conditions, he added.
Customers should also closely examine the operations of SaaS vendors they contract with, Mueller added.
"A [first generation] SaaS vendor that runs most of its data centers cannot be commercially elastic without incurring a loss," he said. "You want a SaaS vendor that sits on a PaaS that in turn sits on an IaaS."
Upstart cloud providers find niche in pandemic
Cloud platform provider DigitalOcean is dwarfed in size by the hyperscalers. But it also saw a jump in business during the pandemic, said Apurva Joshi, vice president of products.
"Just like other cloud providers, we did see a huge uptick in certain workloads," namely video and file sharing, he said. "Fortunately, there was not any capacity crunch. We had to be creative on rebalancing all of our compute workloads."
One thing we all know is some of the trends we are seeing are here to stay. They're sticky.

Apurva JoshiVP of products, Digital Ocean
DigitalOcean is now eyeing the long-term picture. "We definitely had to rework our future capacity planning," Joshi said. "One thing we all know is some of the trends we are seeing are here to stay. They're sticky. Usage is at the peak. It will taper off over the months, but not down to the level it was pre-pandemic."
The company recently opened a new data center in San Francisco. It derives about 70% of revenue from overseas, particularly in Southeast Asia, and has used its low entry-level costs as a selling point. DigitalOcean's most inexpensive "droplet," the term it uses for VM resource allotments, costs $5 a month, which is lower than comparable offerings from hyperscalers.
However, DigitalOcean can't compete with larger rivals on measures such as global availability zones and the number of available native services.
Still, "at some point we do think prices will come into parity," he said.
Going 'all-in' amid COVID-19 crisis
TC Energy, a $13.2 billion natural gas pipeline and energy generation company based in Calgary, Alberta, decided to devote nearly all of its IT spending to AWS.

"We did a full bake-off of all the cloud providers," said CIO Chris Foster. "We were very impressed with the plan and the story AWS had around getting there."
About 90% of TC Energy's systems are now in the cloud. Exceptions include the company's SCADA (system control and data acquisition) systems that run directly on pipelines and other infrastructure. It also uses Microsoft Office 365.
While TC Energy has largely completed the move onto AWS -- including its SAP ERP system -- it is now focused on new innovations with the platform, Foster said. One target is AWS Textract, a service that pulls information from scanned documents. The subject of going all-in with a single cloud vendor makes for "interesting debates with my fellow CIOs," Foster said. Rather than risk, doing so provides "the leverage and opportunity to work with a vendor that considers you an important customer," he said.
TC Energy also considered the costs involved with getting staff hired or trained to work with multiple cloud platforms and decided the single-vendor approach made more sense.
Ultimately, the prospect of adopting emerging technologies to improve TC Energy's business was a main driver for the move to AWS.
"To me, that's where this journey goes beyond putting a bunch of servers in the cloud," Foster said. "In the old days when [the business] wanted to do something that required massive compute power like a GIS system, I had to say, 'We have to go away and build it'. Now I can pretty much say 'Give me an hour and I'll have it.' And if we say it's not a good idea after all, I can turn it off on Monday and you'll never see another bill."
Dig Deeper on Cloud infrastructure design and management