iconimage - Fotolia
NetApp Astra goes GA, adds Kubernetes data protection
NetApp Astra, a data management service for Kubernetes workloads, gained snapshotting, application-level backups and cloning and became generally available this week.
NetApp Astra got loaded up with data protection features ahead of its general availability launch today.
Formerly called Project Astra, NetApp Astra is a Kubernetes application data management service first introduced in April 2020. It provides a way for NetApp customers to deploy and manage container-based microservices via a containerized version of NetApp OnTap, the vendor's data management software. NetApp Astra manages clustered Kubernetes nodes that run on premises or on the public cloud through NetApp Cloud Volumes Service.
In advance of the GA launch, NetApp Astra gained data protection features, including Snapshotting, which allows customers to revert Kubernetes clusters to an earlier state if something goes wrong. Customers can also take full, application-aware backups and restore applications to another Kubernetes cluster. Lastly, entire applications and their data can be cloned and moved between Kubernetes clusters.
Customers see data protection as an important factor in how they deploy their applications, so it made sense for NetApp Astra to offer protection natively before its public availability release, said Eric Han, vice president of product management at NetApp.
"The idea of data protection and backup is important, especially when you're running in production. It is going to become an important part of your decision tree," Han said.
NetApp Astra currently supports Google Cloud and will roll out Azure support in April. Support for on-premises environments is expected to be available this June or July. It's priced based on the number of applications under management.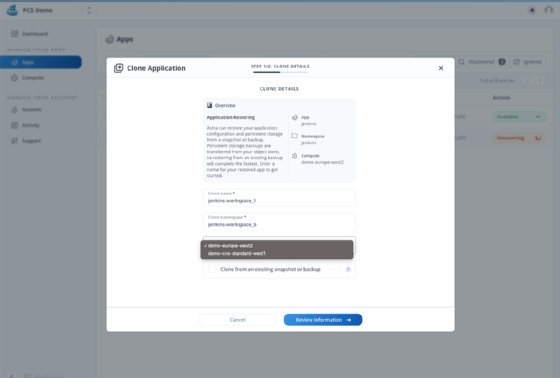 Going cloud native
NetApp is retooling itself to become more cloud-friendly, and NetApp Astra is the first step, said Ashish Nadkarni, group vice president of worldwide infrastructure systems at IDC.
This is the first time the vendor has released an offering that isn't directly a storage product, which is significant. It's rare that an incumbent storage vendor doesn't force an appliance component, and this release shows NetApp is going where their customers want to go, Nadkarni said.
According to IDC research, 97% of enterprises are committed to using a mix of on premises and public cloud, and 70% of cloud management decision-makers want a consistent control plane. There is no doubt that enterprises are interested in using the cloud more, and Kubernetes adoption will be tied to that, Nadkarni said.
He compared Kubernetes adoption to when virtualization took over the enterprise. It caught bare-metal vendors flat-footed and they lost market dominance to the virtualization players. NetApp doesn't want to repeat that mistake as the industry trends toward cloud native, Nadkarni said. He pointed out that NetApp Astra is an evolution of NetApp Kubernetes Service, which was powered by technology from StackPointCloud, a startup NetApp acquired in 2018.
I think that history is being repeated in some ways, but people are smarter about it this time. People have cash and are acquiring intelligently.

Ashish NadkarniGroup vice president of worldwide infrastructure systems, IDC
"I think that history is being repeated in some ways, but people are smarter about it this time. People have cash and are acquiring intelligently," Nadkarni said.
Customers need to combine different products to get the same cross-environment data management NetApp Astra is offering, Nadkarni said. Even though Pure Storage acquired Portworx and Veeam bought Kasten, neither of those vendors have their own Astra analogs yet. For now, NetApp Astra has the uniqueness advantage.
There are three major roadblocks to Kubernetes adoption, Nadkarni said. The first is that Kubernetes is too fragmented, and one of the first challenges customers must overcome is figuring out which Kubernetes distribution to go with and how compatible it is with the systems they already have.
The second is a lack of best practices or guidelines for organizations to follow, which will only come as the market matures. Lastly, there's the concern that by containerizing applications without an established, definitive guide, IT teams will forget something important -- like data protection -- as they implement Kubernetes, Nadkarni said.
"I don't think every company has a solid checklist of what to do with cloud native," Nadkarni said.
NetApp Astra, as a fully managed service, helps overcome some of those hurdles, Nadkarni said. Going through a trusted vendor alleviates some of the best practices concerns, and NetApp had made it a point to include data protection in Astra's public launch.
Overall, Nadkarni characterized NetApp's turn toward cloud native as a bold but necessary move and will likely put the vendor in a good position as more of its customers go through digital transformation.