Getty Images/iStockphoto
Qumulo consolidates data protection features into Recover Q
Qumulo Core's snapshotting, replication, recovery and access control have been packed into Recover Q to give customers a one-stop shop for anti-ransomware capabilities.
Qumulo wants its users to have an easier time tapping into the platform's native anti-ransomware capabilities.
The storage vendor launched Recover Q this week, a suite of features in the Qumulo Core storage platform that helps minimize entry points of malware intrusion and recover files if ransomware does get through. Recover Q lets customers set access control and finely define who can do what within the Qumulo system, take granular snapshots, replicate those snapshots to an off-site cluster or to AWS S3 and recover the snapshots back into production.
Qumulo Core's capabilities are arranged into named suites to help customers perform specific storage operations. For example, Cloud Q enables customers to create and manage pools of unstructured data in the cloud and migrate data between clouds. Customers only pay for one license for Qumulo Core to use Cloud Q, Server Q, Recover Q and the product's other capabilities -- the suites aren't licensed separately.
Recover Q is a repackaging of existing Qumulo Core capabilities, said Ben Gitenstein, Qumulo vice president of products and solutions. The company launched Recover Q because an increasing number of customers have been asking for anti-ransomware measures but couldn't easily find and implement the preexisting native features within the platform, Gitenstein said.
"It's a way for customers to understand all the tools they have at their disposal to keep their data safe," Gitenstein said.
Qumulo intends to build more data protection features into Qumulo Core, and these will fall under the Recover Q umbrella, Gitenstein added.
"Threats are always evolving, attackers' techniques are always evolving, and our customers' attack surfaces are always expanding," Gitenstein said.
Threats are always evolving, attackers' techniques are always evolving, and our customers' attack surfaces are always expanding.

Ben GitensteinVice president of products and solutions, Qumulo
Native data protection is not enough
Qumulo Core is primarily storage software designed to view and manage massive storage environments. Qumulo targets customers with several hundred terabytes to multiple petabytes of unstructured data, such as those involved with life sciences research, autonomous vehicle development, and media and entertainment.
Data protection is not Qumulo's focus, and the company partners with third-party backup vendors such as Commvault. Through API integrations, joint customers can back up their entire Qumulo environment through Commvault's methods and products.
Jason Krisch, director of IT at the Fralin Biomedical Research Institute at Virginia Tech Carilion, uses Qumulo Core's recovery capabilities but supplements them with third-party data protection via Veeam. Veeam provides granular recovery that Qumulo cannot, and Krisch uses Veeam to protect the research institute's critical machines such as mail servers and database servers and to provide application-specific backup.
However, Qumulo's data protection tool set doesn't feel incomplete, Krisch said. Rather, some of the capabilities he uses Veeam for aren't features he should expect from a storage platform.
"Restoring accounts in Active Directory or a part of a mailbox. … Those aren't things I expect the storage to be keeping track of," Krisch said.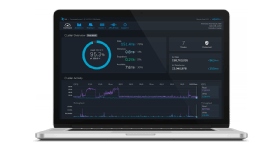 Fralin Biomedical first deployed Qumulo in 2018, and all of its production now runs on it, according to Krisch. Qumulo's snapshotting capability replaced the institute's old tape backup. Krisch has implemented a comprehensive snapshot process where snapshots are taken every hour and replicated to a secondary site. The secondary site also snapshots its system so both can be rolled back if necessary.
Krisch recently had to perform a full VM restore using Qumulo, which took between 20 and 30 minutes. The old, tape-based system would've taken potentially four or five hours to complete the same task, he said.
Qumulo's unified web interface for viewing and managing his entire storage estate is the platform's most important benefit, Krisch said. Simplicity is key, he added, as his IT team of nine manages a 2.9 PB capacity production environment, of which 1.3 PB is active research data, and a 1 PB off-site replication environment, which supports 38 laboratories that conduct research on cancer, neuroscience, infectious disease and other focus areas.
"We're a small team, so I don't have storage experts on staff. We're very happy with Qumulo as a platform," Krisch said.
Johnny Yu covers enterprise data protection news for TechTarget's Storage sites SearchDataBackup and SearchDisasterRecovery. Before joining TechTarget in June 2018, he wrote for USA Today's consumer product review site Reviewed.com.