How cloud backup can help remote workers
As a result of the coronavirus pandemic, some companies that were hesitant before may finally push the button for cloud backup. Remote data is a solid use case.
IT professionals can use the cloud smartly to meet backup requirements during the coronavirus crisis and beyond -- capitalizing on the potential upsides while avoiding pitfalls.
The novel coronavirus pandemic caused enterprises to adopt fully remote work operations. In part one of this two-part series, we covered the importance of protecting backups from pandemic-related cyberattacks. Now, see how cloud backup can help your organization and its remote data protection.
Why use cloud backup now?
One of the biggest advantages of cloud-based compared to on-premises backup is that the cloud is lighter-weight to get up and running and to maintain for IT personnel. That's very important, considering that over 90% of IT employees are currently working from home, according to the IT professionals surveyed for Evaluator Group's recent study, "Enterprise IT Responds to COVID-19."
Provided that your organization has approved the corporate charge, you can spin up cloud resources quickly, without requiring IT personnel to be physically on site at a data center. The cloud provider also conducts ongoing maintenance. This benefit provides another way to avoid IT staff being on premises, making it easier for enterprises during a time in which they need to prioritize running day-to-day operations.
Further simplifying remote management for IT, many cloud backup products are designed to consolidate other operations like disaster recovery and data management into single-pane-of-glass operations. Increasingly, we are seeing key features like artificial intelligence-based anomaly identification for ransomware detection, as well.
Best practices for implementing cloud backup
About 30% of respondents in Evaluator Group's study said data protection and disaster recovery will be positively impacted by the pandemic, underscoring the criticality of security and business continuity during the crisis. Backups play a critical role here in providing available recovery points, including in the cloud, where malware and other issues can quickly replicate across sites and resources.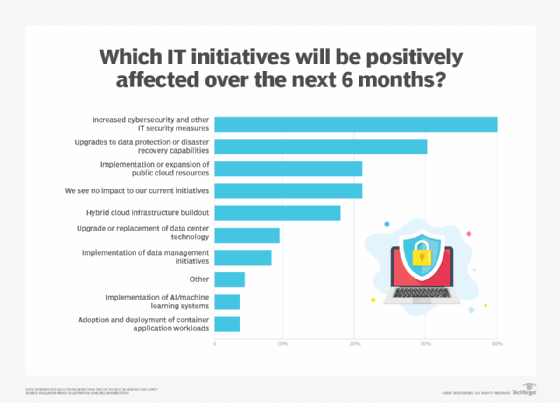 It is prudent for prospective cloud backup users to consider immutability, in lieu of a more traditional "air gap," and setting retention periods, to help protect against ransomware and malicious deletion. In fact, these are requirements of some data privacy regulations.
It is important to ensure security of VPNs and other tools used for remote connectivity, as well as to apply encryption of data at rest and in flight, alongside strong encryption key management. IT professionals should also research surveillance and other security capabilities of their cloud provider.
The coronavirus pandemic is disproving long-held perceptions that the cloud is a virtually unlimited resource.
Challenges in cloud backup use
Its unique advantages acknowledged, cloud backup for remote workers also presents some unique challenges. Arguably the most important to note is that the coronavirus pandemic is disproving long-held perceptions that the cloud is a virtually unlimited resource.
In Evaluator Group's study, multiple respondents said that their cloud service provider is rationing services -- in one instance, even to a longstanding and early customer -- because demand is so high. This will compound the cloud service availability concerns that have been deterrents for some organizations.
Compliance requirements and security vulnerabilities persist. Additionally, the cloud can increase in cost, not only because growing capacities are being rented over time, but also because egress fees for data access are notoriously expensive. Bills are difficult to predict and can quickly become quite high. When they occur, restores and recoveries can take a long time depending on several variables including network bandwidth.