Jason Stitt - Fotolia
COVID-19 puts IT infrastructure spending in flux
As the pandemic continues, research firms state that organizations must realign IT budgets to support projects that maintain operations and put nonessential initiatives on hold.
The COVID-19 pandemic disrupted 2020 IT infrastructure spending and projects across all types of industries. Months into this abrupt economic and workplace change, and without an end in sight, organizations must make purposeful and risk-averse investments.
Data center systems spending will fall by double digits in 2020, and most IT departments must put projects on hold or reevaluate plans, according to industry research reports. But companies also recognize the need for IT changes and improvements to adapt to remote work, customer demands and prolonged economic uncertainty.
IT directors and leadership teams should understand all the options available to add capacity and which ones suit their needs.
The pandemic's effect on IT spending
In 2020, industries generally fall into three categories:
Those decimated from the pandemic, such as airlines, in-person entertainment and hospitality.
Companies that have adapted and maintained business. These businesses must evolve plans as economic factors continue to play out.
Organizations that offer products and services that are valuable during the pandemic, now experiencing a boom in new business.
This last category ranges from SaaS collaboration tools to virtual desktop infrastructure (VDI) providers and has a different spending mantra than most. For companies slammed by growth, speed is of the essence.
"[These companies] went from 50 million users to 500 million users in a month," said Juan Orlandini, chief architect for the cloud and data center solution area of Insight Enterprises, a global IT integrator.
Online service providers must spend in any way that grows their infrastructure footprint fast, whether that's in the cloud or data center.
"They can't add talent or resources fast enough," Orlandini said.
On the other extreme, companies in the hardest-hit verticals are putting dollars into IT to prevent collapse. Data security and the most-critical IT infrastructure make the list. A company might invest heavily in security, even with little revenue coming in, Orlandini said, because a breach means the end of that brand.
For most companies, cloud and data center spending must be more strategic and less ambitious than what's in the 2020 planning folder. Overall, IT spending will fall 7.3% this year, from $3.81 trillion in 2019 to $3.53 trillion, according to Gartner. The research firm expects data center systems to contract more than areas such as enterprise software and IT services.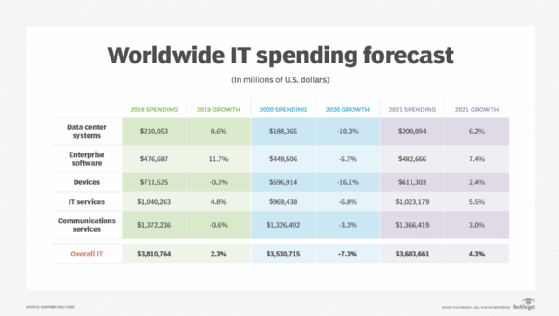 Many companies haven't stopped spending, Orlandini said, but are going about it differently. Initially, organizations invested in end-user computing to enable remote work. As the pandemic drags on, IT departments are now focused on projects to navigate and outlast economic disruption.
IT departments must make data center upgrades to support long-term remote work and product delivery, such as infrastructure capacity, edge and graphics processing unit accelerators. Other projects -- to improve revenue, open new markets or build customer loyalty -- might proceed on a tentative basis.
In a survey of more than 300 enterprise IT operations professionals, Evaluator Group found that nearly half of respondents are reevaluating current IT projects and resetting future priorities. Others have put all new projects on hold.
About half of survey respondents expect an overall decrease in the budget, though about 25% said spending will drop in some areas and increase in others, such as security and VDI licensing. Both Gartner and Evaluator Group note that overall IT spending trends belie a turbulent and multisegmented IT landscape across many industries.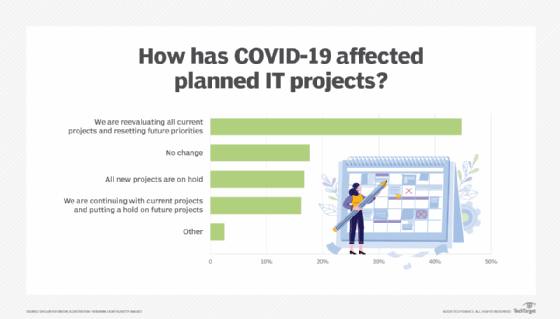 Flexible IT infrastructure investments
The three main options to add IT capacity are as a service, rental and purchase. IT capacity is available as a service if IT teams can stop payment at any time. If organizations decide to stop using a service but still must pay, that's a rental. These two options enable organizations to run programs and projects with more flexibility than outright infrastructure purchases.
The data storage industry is the most mature infrastructure sector for on-premises flexible spending, Orlandini said. IT managers should expect to pay for a minimum amount of storage -- 100 TB, for example -- with flexibility beyond that point to increase and decrease usage with demand.
Unlike past on-premises leasing models, consumption-based pricing programs enable organizations to pay less when they scale down. Companies such as Pure Storage, NetApp, Dell EMC and Hewlett Packard Enterprise offer variations of the rental model.
On-premises rentals handle small surges and dips in usage. Orlandini points out that a storage vendor won't leave 500 times the base capacity in the data center just in case an IT department needs storage. For extreme capacity changes, cloud might be the better choice.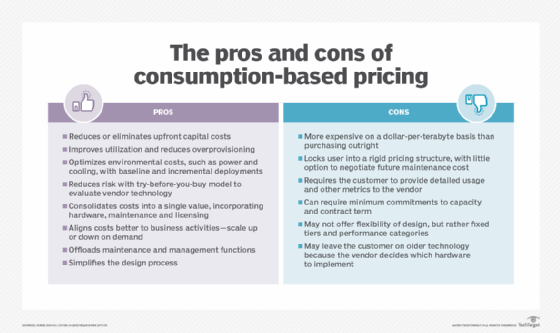 Public cloud storage is the quickest and most flexible way to add IT project capacity. With a backlog of IT projects and little cash on hand, IT departments will rely heavily on IaaS to enact a business recovery from COVID-19 disruptions, Gartner predicted.
In 2020, that means a 13.4% growth rate in IaaS spending to $50.4 billion. IDC projected that businesses will decrease capital spending through 2020 but continue to invest in cloud deployments. Cloud projects can defer capital spending on data center upgrades and application updates, the analyst firm stated.
But it isn't automatically easier or cheaper to run cloud infrastructure than on-premises options. Evaluate cloud storage when a project could grow -- or stop -- at any time or if the project requires services the provider offers. Just as you can overprovision on premises, you can pay for a lot of wasted cloud resources.
"As a service is a powerful tool, but like all tools, you have to know when and how to use it," Orlandini said. It's cheaper to buy capacity than rent, and storage has a long shelf life. If IT teams can use that hardware for three years, there's no requirement to rent it the whole time.
How to evaluate vendors
The economic chaos of 2020 also affects how IT purchasers evaluate vendors. Orlandini shared some advice to make smart IT investments in anything from management software to storage hardware.
Admins should determine if the company they purchased from is in a financial position to survive upheaval. For example, a small, regional reseller might not have the cash position or diversity of offerings to weather the storm of 2020. Startups can be riskier bets than established vendors, but not always. Ask about the vendor's funding and financial standings, alongside the usual considerations of technologies and value they bring to your IT infrastructure deployment.
How much can the vendor scale up its product to maintain performance when demand skyrockets? Consider how remote monitoring and management tools, collaboration software and other products gained users in 2020. Choose vendors that can deliver in these circumstances.
More than ever, vet a product, service or contractor for security.
Preserve cash through smart management. Capable IT management is the key for low costs, whether that's in the cloud, purchased or contracted on-premises IT infrastructure. Standardized app delivery and hosting enable workload portability across existing hardware as well.
Dig Deeper on Data center careers, staffing and certifications