everythingpossible - Fotolia
Dell EMC VxRail powers Mercy Ships' floating hospital DCs
Dell EMC hyper-converged appliances float the Mercy Ships IT team's boat. VxRail helps the medical charity consolidate IT technology in its floating hospitals and headquarters.
Founded in 1978, Mercy Ships delivers free medical treatment to people in disadvantaged nations. The charity's Africa Mercy vessel is active, with a second ship under construction.
When building out its new data center, Mercy Ships had no choice but to seek forward-looking technology.
Several factors made the international charity's decision process unusual, including the following:
Mercy Ships' new data centers will reside on a floating hospital ship that will spend most of its time off the African coast.
The storage and servers had to sync with the company's Garden Valley, Texas, data center and its Africa Mercy ship already in service.
Construction began in 2016 and is scheduled to be completed in 2020, raising the danger that its technology could be dated.
The ship's volunteer crew rotates several times a year, which puts a premium on technology that is simple to manage.
That left Mercy Ships' IT team looking for next-generation technology from a tried-and-true vendor that was sure to be around four years later. It picked Dell EMC VxRail all-flash hyper-converged appliances. The appliances use Dell EMC PowerEdge servers and Dell-owned VMware vSAN hyper-converged software.
"Building a ship in 2016 that's not going to be finished until 2020, we had to think quite a ways ahead," said Jonathan Dyson, Mercy Ships' director of enterprise infrastructure.
Hyper-convergence gave Mercy Ships a common platform for its on-site and remote data centers and a single platform for its rotating IT team to manage. After deciding that hyper-convergence was the future, Dyson said Mercy Ships considered Dell EMC, Nutanix and Cisco.
Although Nutanix had the most experience with hyper-convergence, it was the youngest company of the three. Dell EMC had just rolled out VxRail around the time Mercy Ships started its search, and Dyson said the track record of Dell, EMC and VMware in servers, storage and virtualization won out.
"Nutanix was only around for a couple of years," Dyson said. "That put us on the edge about whether we wanted to trust that solution. They hadn't been around as long as we knew it would be until the ship came out. We looked at Dell EMC and the support model, knowing they would be around for a long time. Dell and EMC have obviously been around for quite a long time."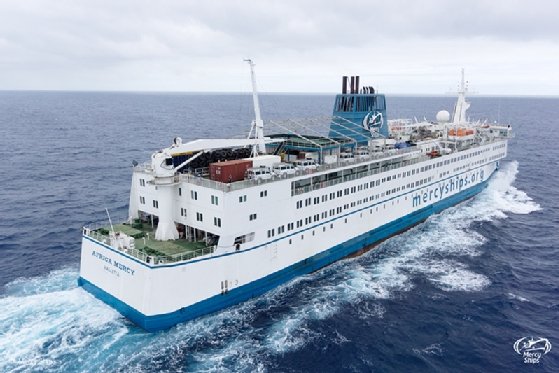 Mercy Ships bought Dell EMC VxRail around the time it started building the new ship in 2016. Then, in 2017, it also added VxRail into the data center at headquarters. Mercy Ships CIO Chris Gregg said when Africa Mercy gets upgraded in 2020, VxRail systems will go in the data center there, too.
"We started out putting something in for the new ship, but we needed to build out our test/dev environment back at our headquarters support center," Dyson said. "We built it to mimic what was on board. We ended up putting the VxRail appliances at headquarters in production. Now, we're adding additional nodes to help us scale."
Mercy Ships will have 12 all-flash nodes in the new ship -- eight Dell EMC VxRail G410F appliances and four VxRail V470F models. Six nodes will run in each of the ship's data centers in an active-active setup. Mercy Ships' headquarters has four VxRail G410F, with four more G410F and two VxRail V570F appliances coming soon.
Dyson said the Dell EMC VxRail appliances will replace most of the NetApp storage in the headquarters.
Building a ship in 2016 that's not going to be finished until 2020, we had to think quite a ways ahead.

Jonathan Dysondirector of enterprise infrastructure, Mercy Ships
Gregg said hyper-convergence fits Mercy Ships, because its volunteer IT teams on the ships rotate, as do the medical and mariners staff. The ships typically have eight IT staff, and it turns over an average of three times per year.
"As the technology grows and our demands increase, we've needed to look at how we can continue to support the organization," Gregg said. "So, having a common interface and platform between our ships and platform between our ships and our office in Texas helps us. Then, having a single vendor to go to for support makes it a converged operation model for us as IT."
He said hyper-convergence also gives the team a building block for using multiple clouds.
"We're thinking about how we can move from office to cloud and back, as necessary, in a more cohesive way through one platform," he said.
Dyson said the Dell EMC VxRail hyper-converged appliances perform as well as the NetApp SANs, because the all-flash setup increased total IOPS.
The Africa Mercy data center also includes Dell EMC Isilon NAS and Data Domain backup targets. Mercy Ships also uses Veeam software to back up its NetApp arrays to Data Domain at headquarters.
Dyson said there may be further consolidation of storage and backup. "We're changing the way we support our ships from Texas," he said. "There are a lot of moving parts and pieces still going on."
Dig Deeper on Converged infrastructure management