Sergey Nivens - Fotolia
Beer maker brews up cloud alternative with Dell EMC VxRail
With breweries in Colorado and North Carolina, New Belgium Brewing Co. moved shared production apps from cloud to local cluster of Dell EMC hyper-converged infrastructure.
New Belgium Brewing Co.'s business is making innovative craft beers, not worrying about cloud storage or compute. To that end, the 30-year-old beer maker recently scrapped its cloud provider and implemented a local cluster of Dell EMC VxRail hyper-converged appliances.
The craft brewer's major brands include Fat Tire and Voodoo Ranger . The company is based in Fort Collins, Colo. and has about 700 employees.
With breweries in Fort Collins and Asheville, N.C., New Belgium initially hosted commonly shared applications in a multitenant private cloud, including its ERP, CRM and data warehouse systems. Other applications that manage manufacturing and production run site-specific storage at each facility.
The cloud enabled the necessary collaboration, but cost and management issues wiped out the benefits, IT operations manager Jake Jakel said.
"We had lots of challenges with the private cloud, where it didn't keep up with the VMware version that we were rolling in our two facilities. That was holding us hostage [when] upgrading our environment. Virtual machines couldn't be migrated without some conversion and other goofy stuff. We just really needed control back in our environment," Jakel said.
Migrating from cloud to … cloud
Hyper-converged infrastructure (HCI) provides an all-in-one alternative to traditional networked storage. HCI appliances consolidate compute, networking and storage along with hypervisor on a single piece of hardware. Customers often install HCI as part of an on-premises hybrid cloud.
Dell EMC is the HCI market leader largely due to its ownership of VMware, which was originally owned by EMC. In addition to Dell EMC VxRail systems, the vendor also sells VxRack systems that scale to petabytes of storage.
A longtime Dell customer, New Belgium Brewing has used older Dell SC storage arrays and Dell PowerEdge servers. The public cloud was considered as an alternative to private clouds, but Jakel said the costs were "equally astronomical."
When it came time to upgrade, Jakel said he opted for all-flash VxRail capacity after briefly considering a SAN. Despite the upfront purchase, buying Dell EMC VxRail gear turned out to be more cost-efficient than leasing cloud capacity. He estimates New Belgium will save about $1 million during the next three years.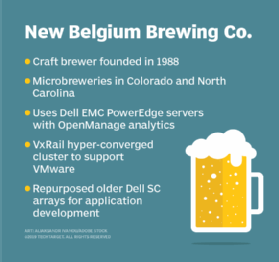 "That's a huge amount of money in our IP budget," Jakel said.
New Belgium didn't completely drop the cloud: It simply transitioned to a cloud setup that offered more control and flexibility. Its four-node VxRail cluster is housed at a colocation facility in Denver. The cluster provides 220 TB of raw storage. Effective capacity is about 30 TB after deduplication.
Placing HCI gear in a remote facility provides redundancy and guarantees continuous uptime, Jakel said. Data moves between VxRail nodes as needed and eliminates much of the manual intervention. Jakel said his team is now able to update VMware by clicking one button.
Although this was New Belgium's first foray into HCI, Jakel said he plans to deploy Dell EMC VxRail nodes as part of a hardware refresh at the Asheville brewery in 2020.
Dig Deeper on Converged infrastructure management