Successful IBM ELA renewal negotiations require preparation
Start planning early, follow a realistic timeline and know your enterprise license agreement options inside and out as you gear up for ELA negotiations with IBM.
IBM ELA renewal negotiations aren't easy. They are often complex, time-consuming and fraught. Doing your homework and entering the process prepared, however, can greatly increase your odds of successfully negotiating the best possible IT deal with Big Blue.
ClearEdge Partners, a consulting firm based in Needham, Mass., uses what it calls a "leverage management maturity model" to assist clients with enterprise license agreement (ELA) negotiations. The purpose of the model is to foster positive results when businesses renew these deals with IT vendors.
ClearEdge applies this methodology when negotiating with any kind of vendor, be it an incumbent or a new one, a Fortune 100 vendor or a startup, said ClearEdge analyst Eugene Cho, who leads ClearEdge's Transactional Software and IBM Practice. The model follows nine (often overlapping) steps that, according to Cho, "breaks down the fact that almost every negotiation is not necessarily a back and forth at the negotiation table over discounts and dollars, but more of the ability for either a buyer or a seller to come prepared to the table with a superior leverage position to actually negotiate and get to outcomes."
Cho presented these steps -- as they apply to multiyear IBM-specific software deals -- in the webinar "Managing Leverage in an IBM Deal." In the webinar, Cho addressed the most common pitfalls that have befallen ClearEdge's clients during ELA renewal negotiations with IBM and how to avoid them. The nine steps, Cho noted, "range from things as seemingly straightforward as early warning, which is an understanding of when to start and what "start" actually means in areas as nuanced as message development.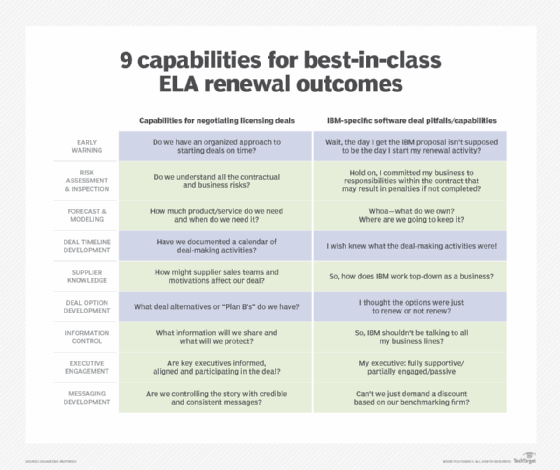 Let's take a close look at three of the nine steps -- No. 1, early warning on starting a deal; No. 4, deal timeline development; and No. 6, deal option development. Follow-up articles will delve into No. 5, supplier knowledge; No. 2 and No. 3, contract risk assessment & inspection and forecasting modeling requirements; and Nos. 7 through 9, information control, executive engagement and messaging development.
Early warning on starting deal
Cho's clients struggle quite a bit with this step. First, he said, it is important not to wait for an official quote from IBM to start preparing your next IBM ELA negotiation. If you wait too long, you compress the timeline, making all the other steps of the process that much more difficult to manage.
"Clients have a tendency to come to us with a quote, and that quote -- that formal renewal proposal for IBM -- is typically the trigger for a lot of our customers to start the engagement in terms of reviewing their IBM ELA," Cho said. "That gets compounded pretty quickly. … A compressed timeline isn't a great starting point and makes some of the other downstream activities on this chart difficult."
Cho's clients tend to think three months is enough time to prepare for a deal. But IBM is a tricky supplier when it comes to clients assuming a typical 36-month term for an ELA, he added, noting businesses tend to succeed when they start engaging in the ELA renewal process from 12 and 18 months out.
Meanwhile, unlike a vendor like Oracle, where you pay for a license and your maintenance stream never gets renegotiated, "IBM will, and increasingly is, leveraging their pricing authority against their customers," Cho said.
For example, he said, IBM will raise prices back to list for customers with 60% discounts on Software Subscription and Support (S&S) streams. Unless your contract has renewal holds plus price real terms and conditions protecting you from these hikes, "there is not much you can do," which is why Cho always says beginning the process early is crucial.
A compressed timeline isn't a great starting point and makes some of the other downstream activities on this chart difficult.

Eugene ChoHead of Transactional Software and IBM Practice, ClearEdge Partners
Deal timeline development
The general guideline for IBM ELA renewal is to institute a 12 to 18 deal-making calendar. That's more or less a rule of thumb, however, according to Cho. A more scientific method, and the best time to strike and do a deal, is the Q4 preceding your deal's expiration date, he added. For those with deals not based on a calendar year, the December before your current IBM ELA deal ends is the ideal time to get started.
The reason for this is your agreement has been forecasted for the year it expires and not the prior year. That's because, as Cho explained, "If you can bring that revenue forward, you will see a significant concession on a certain number of your prices and your costs from your supplier and your sales teams in exchange for bringing in money early that they didn't even realize they would be getting through the pipeline."
Deal option development
IBM ELA deal options are not black and white, Cho emphasized. But ClearEdge's clients often say, "I'm going to renew my ELA for three to five years or whatever multiyear term I'm considering, or I'm not." Sometimes there are other choices available, however. So, keep your options open as you prepare for negotiations and perform some risk assessments and forecasting.
Cho also noted that very few ClearEdge's clients' 30- to 36-month projects come to fruition. "And here's the dirty little secret," Cho added, "if you only commit to the first 18 to 24 months, there is absolutely nothing … stopping you in that second year from opening up your deal early. ... IBM will be more than happy to do that, and you will likely get some concessions on your S&S streams as a result."
Price protections are also key. Your negotiation with IBM over the term of your ELA is about more than its three-year term, Cho said. It is also about the two years after your three-year term -- where you can include renewal holds to guard against price variations.
"We say this all the time: Start with the parts. Know that there's a difference between what you were entitled to (i.e., what you have receipts for when it comes to licenses) and your deployments, which is what you're using today," Cho elaborated. "Also, know that what you own today may not necessarily be what you will own tomorrow, next year or the year after that. Having a year-by-year view is important because it helps you … understand if you're about to commit to quite a bit of shelfware."
Cho also emphasized the importance of building your IBM product catalog and knowing the difference between your wish lists and projects that are confirmed, funded and have deadlines. He recommended scoping your catalog and net-new demands for the first 18 to 24 months.
Know your renewal rights, as well. Here, not-to-exceed pricing is key. He sees this in a variety of ways.
"Sometimes, much like the ELA being bottom line, we see the not-to-exceed pricing bottom line, which means that whether or not I renewed zero or 100% of my licenses, I pay the same amount," Cho said. "Inversely, on the other side of the spectrum, we see clients with unit pricing per license, so they have a budget predictability beyond the deal for each particular tool."
About ClearEdge Partners
Founded by senior sales executives from large IT suppliers and informed by current market analytics, ClearEdge enables CIOs and their teams to make more competitive IT investments. By combining rigorous inspection and IT financial expertise, they identify risk and opportunity, align internal teams and maintain leverage throughout the lifecycle of supplier relationships. As a result, their clients maximize the value of their investments by unlocking millions of dollars from legacy spending and redirecting funds toward IT modernization, digital and cloud transformation with confidence and speed.
Dig Deeper on Converged infrastructure management