freshidea - Fotolia
Arcserve UDP Cloud Direct cuts downtime for cloud DR
Arcserve UDP delivers short RPO and RTO for backup and disaster recovery in the cloud. The upgraded platform targets the enterprise and medium-sized businesses.
Arcserve has turned technology acquired from Zetta into what it calls "near-zero downtime" cloud disaster recovery.
More specifically, Arcserve claims it can deliver a five-minute recovery time objective and 15-minute recovery point objective for data, systems and applications protected with the Arcserve Unified Data Protection (UDP) Cloud Direct.
Arcserve acquired cloud DR vendor Zetta in July 2017, giving it direct-to-cloud disaster recovery and backup technology.
Arcserve UDP Cloud Direct is designed for medium and enterprise-level companies looking for disaster recovery as a service (DRaaS) or backup as a service (BaaS) with stringent service-level agreements.
"The midmarket has the same requirements as the enterprise -- the need to get data back in a matter of minutes," said Christophe Bertrand, Arcserve's vice president of product marketing. "What is new is the ability to synchronize data every 15 minutes. No one else can do this directly to the cloud."
Arcserve UDP Cloud Direct provides orchestration and failback by initiating recovery by using a sequence of predetermined events with incremental failback, allowing users to continue to run systems in the cloud while managing the sequential failback in the background.
Arcserve, which spun out of CA Technologies in 2014, acquired Zetta to integrate the technology into its flagship Arcserve UDP platform. The Zetta technology provides BaaS and DRaaS for virtual and physical environments. Arcserve has phased out the Zetta brand.
The midmarket has the same requirements as the enterprise -- the need to get data back in a matter of minutes.

Christophe Bertrandvice president of product marketing, Arcserve
"We did this in five months," Bertrand said of the Zetta integration. "Now we provide the ability to significantly mitigate the impact of an event. And we are going to add capabilities that will make the gap shorter and shorter. This is designed for the midmarket and decentralized enterprise."
Phil Goodwin, research director for IDC's storage systems and software practice, said his research shows that the data protection market is growing at 5.4% a year and the DRaaS market is growing by more than 20% per year.
Goodwin said Arcserve "is targeting the fastest area of the data protection market. But this is a fast-growing and extremely competitive market. To the extent that Arcserve can attract partners like cloud service providers, that will be the key to success."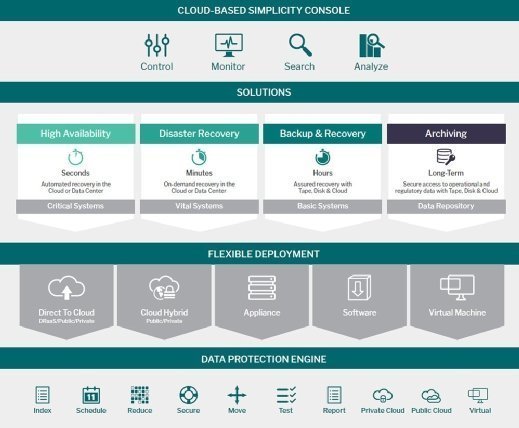 Edwin Yuen, cloud systems analyst at Enterprise Strategy Group, said Arcserve is targeting medium-sized businesses and enterprises with remote locations that need a quick cloud on-ramp without on-premises hardware.
"They really understand that market," Yuen said of Arcserve.
Dig Deeper on Disaster recovery facilities and operations