What to do if Windows Defender updates don't work
Without the latest Windows Defender updates, your users' desktops won't be completely protected. When update problems occur, there are several actions you can take to solve them.
The majority of the updates that come through Windows Update are for Windows Defender, and for good reason.
Continue Reading This Article
Enjoy this article as well as all of our content, including E-Guides, news, tips and more.
Windows Defender helps make your antimalware and other security protections stronger. Microsoft updates the tool so frequently that you might download as many as four updates to your Windows Defender features a day. Sometimes, however, Windows Defender updates won't download through Windows Update.
As an IT professional, you can ignore the problem for a while, but you don't want to miss more than a full day's worth of updates because, the longer you wait to update Windows Defender features, the more vulnerable your company is to a security breach.
Windows Defender update options in Windows 10
There are numerous ways to update Windows Defender features outside the automatic Windows Update umbrella, including:
downloading updates via the Windows Defender Security Center

;

downloading updates manually from the web; and
trying a third-party tool, such as the Windows Update MiniTool (WUMT)
Microsoft's options
Run the Windows Update troubleshooter. Sometimes, the problem is not with Windows Defender updates, but with Windows Update itself. In that case, the built-in troubleshooter may solve the problem and restore your access to Windows Defender updates. Find the troubleshooter via Start > Settings > Update & Security > Troubleshoot > Windows Update.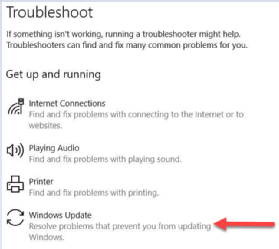 Use the Windows Defender Security Center. If you search for the term defender in Cortana or using the search box, it should lead you to the Windows Defender Security Center. If you click Virus & Threat Protection, and then Virus & Threat Protection Updates, you'll see a pane that includes a Check for updates option. Click that to download the Windows Defender updates immediately.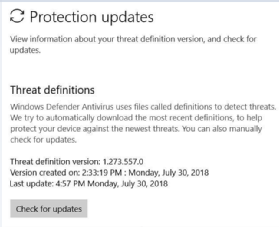 Download Windows Defender updates and installs them manually. In the same way you can use the Microsoft Update Catalog to download security and other updates from Windows Update, Microsoft also offers a webpage -- called definition updates for Windows Defender Antivirus and other Microsoft antimalware -- from which you can grab the most current Windows Defender features and updates. It also includes information on how to clear Windows Defender's definitions cache and trigger an update.
For manual updates, look for the section labeled Latest definitions under the Manually download and install the definitions header. There, you'll find a table of links that will lead you to the items you need. Run the downloaded .exe file on the target PC to automatically install the latest definitions.
Try a third-party tool
WUMT is an excellent alternative to the built-in Windows Update capabilities. It interacts with Microsoft's Windows Update services on its own.
Sometimes, WUMT can download and install updates -- including Windows Defender updates -- when Windows Update can't or won't do the job.

To use WUMT to grab the Windows Defender features updates, click the refresh icon to check for downloads. Then, select the checkbox next to Update for Windows Defender... and click the downward-pointing, underlined arrow -- the third icon from the left under Update history, as shown in Figure C.