Definition
Windows 10 Update Assistant
Windows 10 Update Assistant is a native update management tool designed to help individual users keep up with OS updates as Microsoft publishes them.
Users can set updates to download automatically and manage the timing of updates with this tool. IT professionals looking to deploy and manage updates across an organization's desktops, however, should look elsewhere, because this tool only works for individual desktops. Windows 10 Update Assistant has no equivalent in previous versions of Windows.
Purpose and function
Windows 10 Update Assistant is meant to ensure users deploy the latest Microsoft Windows updates that they might miss or choose not to apply, which can lead to vulnerabilities. It provides push notifications that inform the desktop user of any updates he has not yet added. This helps users ensure they always have the latest version of Windows 10 on their desktops. After running compatibility checks for the desktop and the update, Windows 10 Update Assistant automatically downloads the latest version of Windows 10. Each user can set active hours and a custom restart time through the Windows 10 Update Assistant to avoid interruptions.
IT professionals or users can turn off the automatic updates in the Windows 10 Update Assistant's settings by designating the device to have a metered connection. With a metered connection, the user has a specific amount of bandwidth he can consume over a particular period of time. By designating a device as having a metered connection, it limits the bandwidth Windows Update Assistant can consume so it does not use up unnecessary resources. Desktop administrators can also designate a metered connection to take control of Windows 10 and application updates even if the device does not actually use a metered connection.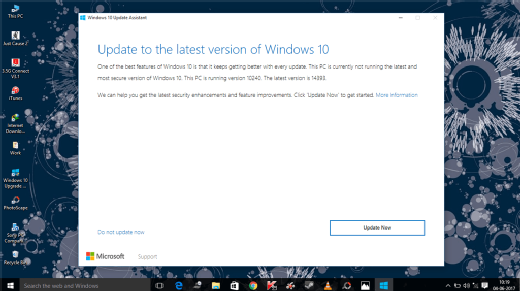 Disabling
In the enterprise, Windows 10 Update Assistant takes some control over scheduling and deploying updates away from IT professionals. As a result, IT departments typically disable this feature.
IT professionals can use the three servicing channels -- Windows Insider Program, Semi-Annual Channel and the Long-Term Servicing Channel -- that make up Microsoft's Windows as a service update model to determine the update cadence for every desktop. Even so, Windows 10 Update Assistant is still present on users' devices, which can leave some users confused and distracted by the assistant's pop-ups.
To remove Windows 10 Update Assistant entirely, IT must uninstall the program through Microsoft Windows Control Panel's Programs section. Next, it must delete the entire Windows 10 Upgrade folder in the C drive. Without the second step, Windows 10 will reinstall the program when the desktop reboots.
This was last updated in
June 2018
Continue Reading About Windows 10 Update Assistant