rvlsoft - Fotolia
Citrix Microapps benefits include improved security, UX
With the Citrix Microapp integrations, IT professionals can build templates that enable users to view and edit back-end systems, which could improve Citrix Workspace's usability.
Citrix Microapps integrations and the micro app builder can simplify workflows with Workspace, but the custom micro app building process may take time and resources.
The micro app integrations with Citrix Workspace, which originated from Citrix's acquisition of Sapho and were released in December 2019, allow users to view, organize and even edit data from back-end systems without ever exiting the workspace.
"Citrix Microapps are going to be a big deal, and they could completely change how people work because of how much users can access within the workspace," said Ulrik Christensen, principal infrastructure engineer at Oncology Venture, a medical services company in Demark that uses Citrix Workspace.
Prior to December 2019, Citrix Workspace allowed users to manage tasks, trigger notifications and complete routine tasks, but users still had to navigate through different business applications throughout the day. The micro app workflow integrations bring users one step closer to completing their entire workday within Citrix Workspace, which could provide users with a simpler, more consistent UI and help IT from a security and management perspective.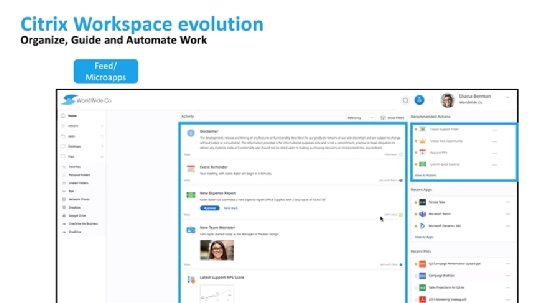 Benefits and challenges from IT's side
Citrix Microapps can reduce attack surfaces for malware because users that stay within a digital workspace throughout their entire day only need to authenticate once. IT doesn't need to worry about securing numerous applications on an end user's desktop. Instead, admins can focus all their energy on securing the workspace and its back-end systems.
Careless users and weak passwords are the greatest threat to enterprise security, so reducing users' opportunity to make mistakes is a win from a security perspective.
"If I can reduce the number of applications that [users] have to access and keep them in one place, that's a very good thing from a security point of view," Christensen said.
Of course, building these micro app integrations will take time and resources. Each organization is different, so IT pros will have to build out the required actions from templates and, in some cases, from Citrix Workspace's HTTP micro app integration. This may seem like a lot of work for individual IT departments; smaller organizations are more likely to be understaffed to add these tasks onto their daily routine and larger organizations will have countless micro app integrations to build out for different departments and roles.
These departments likely won't have to build out the custom integrations alone, according to René Bigler, Citrix technology professional and head of IT at Berufsbildungszentrum IDM, a school in Switzerland.
"I can see developers publishing micro app integrations for their own apps and ... I imagine there will be some community activity, for open source applications especially, to build and publish [micro app integrations] for all to access," Bigler said.
The integrations can present an opportunity for developers to partner with Citrix and help it provide workspace customers with out-of-the-box integrations, said Mark Bowker, senior analyst at Enterprise Strategy Group in Milford, Mass. Custom apps are likely to require a lot of work but collaboration that can simplify the rollout process for IT.
Benefits for all types of users
A Citrix Workspace deployment with micro app integrations built out can flatten the learning curve of an organization's internal practices and processes.
With [Citrix Microapps], users don't have to deal with the whole heavyweight version of the application and that should simplify a lot of things for them.

Mark BowkerSenior analyst, Enterprise Strategy Group
As an example, some photocopiers -- and heavyweight applications -- have hundreds of features for power users, but the vast majority of users just needs the copier for one or two simple tasks. Similarly, the goal of the Citrix Workspace micro app integrations is to provide users access to those tasks without requiring that they interface with the outside app.
"With [Citrix Microapps], users don't have to deal with the whole heavyweight version of the application and that should simplify a lot of things for them," Bowker said.
Users won't have to learn the intricacies of custom applications and unsupported legacy apps; instead they can rely on a single UI.
The Citrix microapp integrations will particularly benefit task workers who only need a small percentage of certain apps' functionality, Bigler said.
"Let's face it, [task workers] don't need the whole SAP platform. They just want to file their expenses and move on with their day," Bigler said.
Power users will still need to master heavyweight applications outside the workspace, but they still can benefit from the workspace integrations for day-to-day tasks.
"Power users still need to request time off and approve expenses, which are common tasks the micro apps help with," Bowker said. "The visibility [the microapps] can provide them into back-end systems can help power users work more efficiently."
These benefits extend to Citrix Workspace's mobile app as well, and mobile users can have secure access to all their work resources in a single location.
"Regardless of which device users are working from -- tablet, smartphone or laptop -- it's the same underlying technology and interface, so people are going to be able to do much more work on the road or wherever they are," Christensen said.
While learning the workspace UI may present some growing pains for users, organizations with the goal of moving its users into a workspace should encourage users through this process to reap the long-term reward of a simplistic one-size-fits-all UI, Bowker said.