zhu difeng - Fotolia
Data center operations best practices checklist
Independent experts guide you to better data center operations with tips and advice on best practices and the right management tools.
Stability, agility and efficiency reign as the top data center IT infrastructure goals. Stable data center operations...
Continue Reading This Article
Enjoy this article as well as all of our content, including E-Guides, news, tips and more.
mean data center operators and managers spend less time putting out fires and more time implementing new platforms or optimizing existing ones.
Data center operations best practices in the enterprise range from simple IT incident monitoring to complex tasks, such as mapping network connections and removing underutilized servers.
The 10 expert tips in this checklist cover best practices to manage IT assets, fend off wasted IT resources, configure infrastructure, handle application migration and support and execute other daily data center operations. Share it with everyone in the network command center.
1. Treat all applications well
Application support is the most important job in a modern data center. IT operations teams face a daunting task to oversee app migrations, maintain legacy systems and onboard new and diverse application types onto IT infrastructure. Consultant Tom Nolle provides insights into the operations side of application lifecycle management in this tip.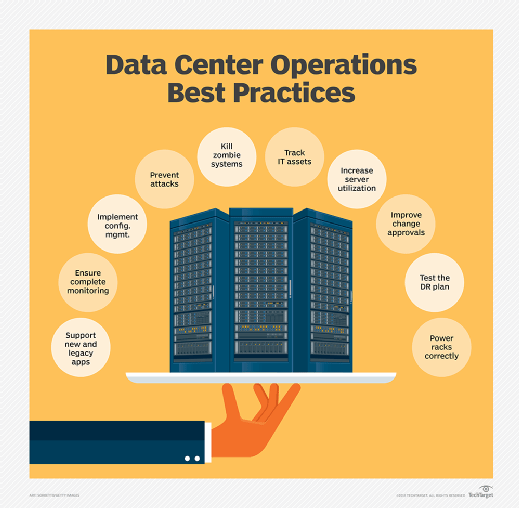 2. Work your IT infrastructure tools
IT infrastructure monitoring tools provide insights into capacity use, bottlenecks, access attempts and much more. To use them effectively, start with a reasonable and achievable project scope, and explore AI-enabled features. News writer Beth Pariseau surveys the intelligent IT monitoring and management technologies available today to data center operators.
3. Focus on configuration management
Configuration management tool implementation requires buy-in from IT infrastructure and development teams, but the payoff in stability and fast updates is worth it. Analyst Kurt Marko advises that IT organizations standardize configuration management tools across groups for streamlined software delivery and support.
4. Obey security best practices
Smooth data center operations mean nothing if unauthorized personnel or unknown people can access corporate information stored on IT infrastructure. Keep these crucial systems safe from would-be attackers or thieves with security attack tests, compiled by (ISC)2 in the Official (ISC)2 Guide to the CISSP CBK.
5. Utilize the servers you've got
Data center operations best practices revolve around making existing infrastructure as high-performing and efficient as possible. Zombie servers, which often are 30% of running capacity in an organization, fly in the face of tight data center management. Follow data center design and implementation expert Robert McFarlane's advice to eradicate the zombies and enhance server performance.
6. Lock down IT assets
Do you know what OS and application licenses will expire this year? How many items are on the network? The available server capacity in each cluster for high availability? Data center operations run more smoothly when all IT assets are managed properly, technical writer Stephen J. Bigelow explains.
7. Keep up server density best practices
Cloud providers and web-scale organizations set an example for data center operators in terms of server density and management. Cloud-like redundancy, virtualized storage and networking, and hyper-converged infrastructure change the game for modern data center operations, news writer Robert Gates reports.
8. Embrace and standardize change
Change is a constant, so make change management consistent. A change management process is one crucial data center operations best practice, and the organization should support it with various tools. Change management means back-end stability, which pays off in the form of IT flexibility and agility on the front end. Not sure how to start or where to fix a broken system? IT manager Adam Fowler walks data center teams through ways to understand and improve changes.
9. Make disaster recovery a priority
Disaster recovery is an essential service that rarely gets used. Too often, data center operators let documentation, processes and procedures fall out of date, which makes recovery from an outage a longer, more frustrating process. Practice diligently, and know the dangers for each data center under your purview, lest you wind up unprepared when the real thing happens, IT consultant and auditor Paul Kirvan says.
10. Regulate rack-level capacity
Servers vary greatly in power draw and utilization, factors that affect how much power each rack consumes. Here's how to estimate the power draw in a rack so you can insert new equipment, plan space for additional servers and arrays or rebalance power loads. Download the worksheet to do your own calculations.
Editor's note: This article was updated with current information and practices advice in April 2018.
Dig Deeper on IT systems management and monitoring