Snow Software SAM expands Microsoft, Oracle and Adobe support
Snow Software's SAM platform has expanded to include new compliance and manageability capabilities for Microsoft Windows, Oracle and Adobe Creative Cloud.
Snow Software announced analytics features for its software asset management platform -- principally for Microsoft and Oracle -- that the vendor hopes will improve manageability for enterprise users.
The goal of the Snow platform is to provide users with software to manage their complex technology assets and remain compliant. The software asset management (SAM) tool vendor hopes the new features will extend automation to limit administrative delays and help organizations increase productivity and innovation.
Updates include the following features:
support for Microsoft Windows Server, including automated recommendations for licensing;
automated user authentication reports for Oracle;
insights into IBM and VMware partitioning for Oracle licensing compliance; and
compliance exclusions for common enterprise vendors in production and test environments.
According to Snow, Microsoft and Oracle are two of the largest software expenses for an organization. The vendor claimed its releases for Microsoft and Oracle will counter complex licensing issues, provide visibility and control of vendor-specific processes and software, and ultimately reduce costs for an enterprise by avoiding audit-related risks and expenses.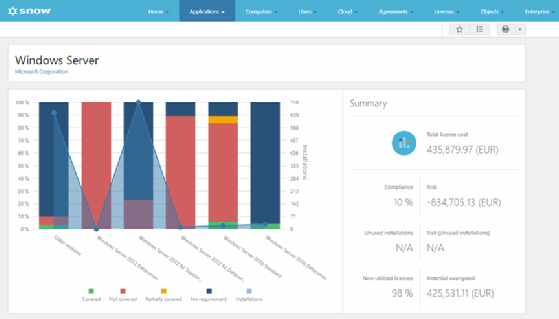 Snow also offers license management for SAP and IBM products and software.
In addition to Microsoft and Oracle capabilities, Snow also introduced governance and risk features that can identify known vulnerabilities tied to an enterprise's existing software portfolio. According to a Ponemon and IBM study, the cost of security breaches globally in 2018 increased 6.4% from the previous year, costing enterprises an average of $3.86 million per data breach. Snow claimed its new features will enable users to reduce data risks across all environments.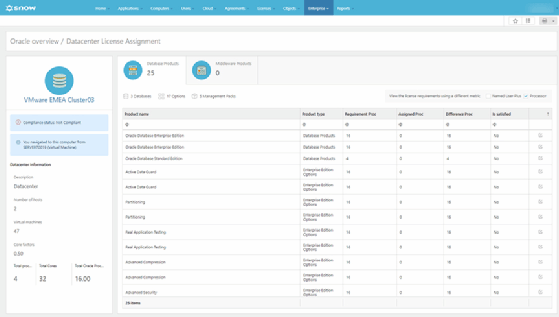 In attempt to compete with other SAM providers, like Flexera and ServiceNow, Snow also released extended support for cloud-based SaaS applications, including capabilities for Adobe Creative Cloud. According to the vendor, with businesses increasingly moving to the cloud, visibility decreases. Snow's release aims to provide an accurate and actionable view of enterprises' SaaS landscapes across all software.
Dig Deeper on Systems automation and orchestration