Managing mobile devices smarter, not harder
Smartphones are all over the enterprise -- can you manage them? We've compiled tips, reviews and more to help you update your organization's mobile device management strategy.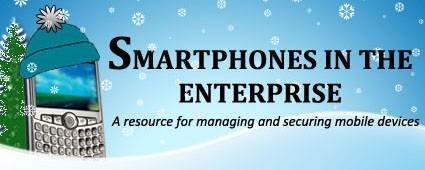 With smartphones becoming almost ubiquitous, many of your users are likely checking email and connecting to the corporate network via these devices -- even during the holidays.
But what's the best way to manage and secure mobile devices? We've compiled tips, tutorials and more to help you update your enterprise's smartphone management strategy. Find out which applications and features are worth a second look, as well as reviews of the newest smartphones from our sister site, Brighthand.com.
Quick Guide: What's new | Security | Features and apps| Smartphone reviews
WHAT'S NEW WITH MOBILE DEVICES
Windows Phone 7: Is it right for your business?
Users may be tempted by Microsoft's shiny new smartphone platform, but Windows Phone 7 may not be the right choice for enterprises.
Related Securing Windows Phone 7
Will desktops apps ever work on mobile devices?
Much to the dismay of users, many enterprise apps don't function properly on smartphones. IT pro Mike Nelson explores the root of the problem and proposes a solution.
How to manage the new, more powerful mobile devices
Smartphones just keep getting smarter. Is your enterprise ready to handle this new security threat?
Business interest soars in wake of iPhone 4 and iOS 4
The new features in iOS 4 may increase the use of iPhones in the workplace. (From Brighthand.com)
Locking down the new desktop: enterprise mobile devices
Mobile devices have become the new enterprise desktop. These steps can help you plan for smartphone and mobile device security.
What are the security risks of mobile devices?
There are many ways mobile devices and remote connectivity can put your enterprise in danger. Understanding these security vulnerabilities is crucial for protecting your systems.
Protecting enterprises from mobile devices

Mobile devices can open your IT environment to unlicensed apps, data loss and unauthorized network access. Keep your enterprise safe with these tools and features.
Don't underestimate mobile client security threats
Malware authors haven't overlooked mobile devices, whose growing computing power now poses an inviting target. Be aware of dangers from viruses and accidental data disclosure.
Tools that can boost Windows Mobile security
Security tools that improve Windows Mobile security can be hard to find. Luckily, our expert put together a list of quality tools that can keep your mobile devices safe.
Related Free security tools | Secure Windows Mobile
FEATURES AND APPS FOR SMARTPHONES
WINDOWS MOBILE
Exchange ActiveSync explained
Exchange ActiveSync brings control and security to mobile environments, while providing ease of use to employees. Get the rundown on the numerous benefits of EAS.
Which ActiveSync authentication method is best for your mobile device?
When securing ActiveSync mobile devices in Exchange 2007, there are several authentication methods, including basic authentication, certificate-based authentication and token-based authentication.
OWA Light vs. Exchange ActiveSync
Should you use OWA Light or Exchange ActiveSync for email on Microsoft Windows Mobile devices? Learn how each affects battery life, security, cost and more.
Related More tips about ActiveSync
Mobile Device Manager joins Windows
Mobile Device Manager gives IT managers better tools and added network support, and improves management of devices that run Windows Mobile 6.1.
Microsoft Office Mobile 2010
Microsoft's suite of Office apps for Windows Mobile 6.5 has a new feature for sharing documents and ensuring they look as expected. (From Brighthand.com)
iPHONE
Quickoffice for iPhone review
Quickoffice Connect Mobile Suite is an office suite for Apple iPhone and iPod touch that allows users to access, edit, view and share documents. (From Brighthand.com)
ANDROID
DataViz Documents To Go 2.0 review
This is a must-have application if you use Microsoft Office and want to view, edit and create documents on your Android smartphone. (From Brighthand.com)
BLACKBERRY
DataViz Documents To Go 2.0 Premium Edition review
BlackBerrys come preloaded with a stripped-down standard version of DataViz's "Documents to Go" that doesn't allow for new file creation -- but is the premium version worth the money? (From Brighthand.com)
REVIEWS FROM BRIGHTHAND.COM
BlackBerry Style 9670
The new BlackBerry Style 9670 simply delivers. It combines the power and productivity of a BlackBerry Bold with the recently-released BlackBerry OS 6.0.
Samsung Epic 4G
As with any smartphone, the device is a lot more than its specs. But does the Epic 4G live up to its name and the promise of ultra-fast mobile connectivity?
Motorola Droid Pro
With excellent hardware on an amazingly robust and easy-to-use platform, the Droid Pro delivers a great smartphone experience for users wanting the best of Android and the BlackBerry-type designs.
HTC EVO 4G
If you're attracted to the idea of WiMAX speeds and mobile hotspot capabilities, and don't mind giving up the extra space in your pocket, then consider the HTC EVO 4G from Sprint.
HTC Touch Pro2
One of HTC's latest devices is the HTC Touch Pro2, a slider phone with a large display, full QWERTY keyboard, Wi-Fi and Bluetooth wireless networking, plus a 3.2 megapixel camera.
HTC Droid Incredible
The Droid Incredible packs a lengthy list of features, including Android OS 2.1 running on a 1 GHz processor, an 8 megapixel camera and 8 GB of on-board memory.
Motorola Droid
Every now and then a phone comes along that shakes up the market. The Motorola Droid is one such device. While the first edition felt like a beta, this new version is ready for primetime.
Apple iPhone 4
The iPhone 4 has a new design, a better camera and a much improved screen, as well as some hidden treats on the inside. But will it live up to your expectations?
BlackBerry Bold 9650
With an optical trackpad, Wi-Fi, international roaming capabilities, 512 MB of on-board memory and plenty of processing horsepower this smartphone is the new standard bearer for CDMA-based BlackBerrys.
BlackBerry Storm2
With its large and crisp touchscreen, 3.2 megapixel camera, sleek form factor, and a host of connectivity options, the BlackBerry Storm2 should be great -- but it's not.
Quick Guide: What's new | Security | Features and apps| Smartphone review