Acer Spin 5, TravelMate P6 preview: Great specs, good price
At CES 2020, the Acer Spin 5 and Acer TravelMate P6 and P2 series headlined the vendor's appearance. Acer focused its upgrades on durability, productivity and affordability.
Acer Spin 5
The Acer Spin 5 seems built for productivity, at least at glance. It has a 13.5-inch 2k touch display with a 3:2 aspect ratio. That's not the cinematic 16:9 widescreen as found on competing devices, but rather a boxier design better suited for work-related tasks, like spreadsheets and PowerPoint.
As the name suggests, the Acer Spin 5 sports a 360-degree hinge, making it a 2-in-1 with tablet mode, and it pairs with an included Wacom AES 2.0 active stylus, furthering its productivity bona fides. That particular stylus supports 4,096 pressure points and feels great on the screen -- very similar to pen on paper. It also charges while docked in the Spin 5.
It weighs 2.7 pounds, is 0.59 inches thick with a slick magnesium aluminum frame and has all the hallmarks of a premium 2020 laptop. That includes 10th-generation Intel Core processor options, up to 16 GB RAM, up to 1 TB SSD, Iris Plus integrated graphics and a fingerprint sensor. Ports include USB type-C with Thunderbolt support, full-sized USB, HDMI, 3.5 audio jack and a microSD card slot. That's an impressive selection and rivals any other 2020 flagship for I/O options. Acer claims it has a 15-hour battery, which fast-charges for four hours of juice in just 30 minutes.
The Acer Spin 5 will ship in June, starting at $899. That's a great price for a device with this spec sheet.
For those who like the cinematic 16:9, the larger Spin 3 has a 14-inch display with more modest specs. That includes a lower-resolution 1920 x 1080 display, 12-hour battery life, and it tops out at an Intel Core i5 CPU. It's also heavier, at 3.3 pounds. But it shares much of the Spin 5's potential at a lower price point. It will ship in April, starting at $699.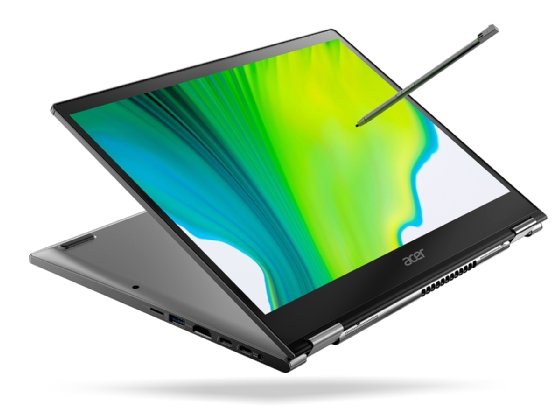 Acer TravelMate
When you think of rugged travel laptops, you think big and bulky devices. Acer is flouting that with its new 14-inch TravelMate P6 and P2 series of Windows 10 notebooks that wouldn't look out of place in the vaunted Lenovo ThinkPad lineup.
Both are Mil-Spec 810G- and 810F-compliant, and the P6 weighs only 2.5 pounds and measures 0.65 inches thick, with a magnesium-aluminum alloy chassis. It includes 10th-gen Intel Core i7 processors, up to 24 GB RAM, optional Nvidia graphics, and up to a 1 TB SSD and FHD display.
What's more, it meets Intel's Project Athena standards for near instant on and near nine hours of real-world battery life, with 50% battery after a 45-minute charge. Acer claims it can go up to 23 hours.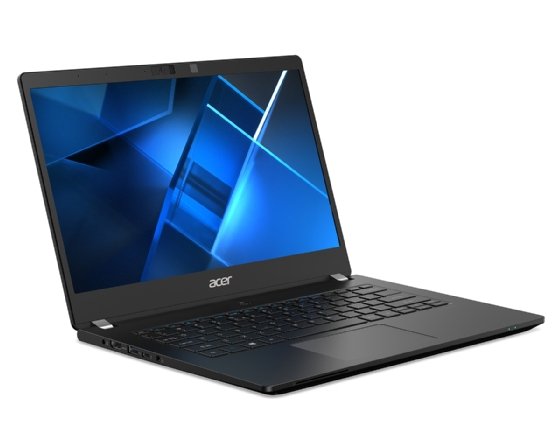 It has the full range of ports you'd expect from a business laptop, which includes Thunderbolt 3, full-sized USB 3.1, HDMI, Ethernet, 3.5 audio, microSD, SmartCard and SIM.
Other optional specs include the typical business features, like a power button that doubles as a fingerprint reader, facial recognition, webcam shield, Acer's ProShield security and management software, 4G LTE support and an Integrated Trusted Platform Module 2.0 chip.
Promised battery life varies, depending on the configuration, with two battery options at 60 Wh and 45 Wh. Acer claims the TravelMate P6 can hit a max of 23 hours with the larger battery, non-touch device with integrated graphics.
The P2 has a larger display, at 15.6 inches, and is bigger, weighing 3.58 pounds. It has a similar design and same toughness. Overall, it has more modest specs.
The TravelMate P6 will ship in February, starting at $1,149. The heavier P2 will run starting at $699.
Dig Deeper on Mobile operating systems and devices