It's a foldable PC: Lenovo ThinkPad X1 Fold hands-on preview
The much-awaited Lenovo ThinkPad X1 Fold headlined the vendor's CES 2020 appearance, accompanied by upgrades to two of its flagship laptops -- the ThinkPad X1 Carbon and Yoga.
Lenovo ThinkPad X1 Fold
Lenovo unveiled what it dubs the world's first foldable PC at CES 2020. Indeed, the Lenovo ThinkPad X1 Fold is a foldable Windows 10 device, but perhaps, more importantly, the ThinkPad X1 Fold is a durable foldable device, fit for the ThinkPad branding.
At its most basic, the ThinkPad X1 Fold sports a 13.3-inch OLED display with 2,048 x 1,536 pixels and a 4:3 aspect ratio. It runs Windows 10 Pro and features Intel "hybrid technology," according to Lenovo. As of this writing, the company is short on processor specifics. It also features 8 GB of LPDDR4X (Low-Power Double Data Rate 4X) memory and up to 1 TB of PCIe-NVMe SSD storage. The ThinkPad X1 Fold has two USB-C ports that support both charging and DisplayPort and a SIM card slot. It also supports 802.11ax Wi-Fi, LTE and Bluetooth 5.
The foldable display is courtesy of LG Display and is made of flexible plastic. The OLED colors look great, and the included stylus feels natural for writing. The ThinkPad X1 Fold also feels sturdy. It's thicker than many other 13.3-inch laptops and heavier too, weighing 2.2 pounds. This is to account for what Lenovo calls the "multilink torque hinge mechanism" and the additional engineering to toughen up the display and device. But, still, it's not a large device. Folded up, it's no bigger than a hardcover book. Stash it in a backpack or carry it around for a few minutes, and it's easy to understand the design's appeal.
It opens and closes with ease and stays put at just about any angle up to 180 degrees. It's bound by a leather folio, which includes a loop for pen storage, as well as a built-in kickstand for propping it up in landscape orientation.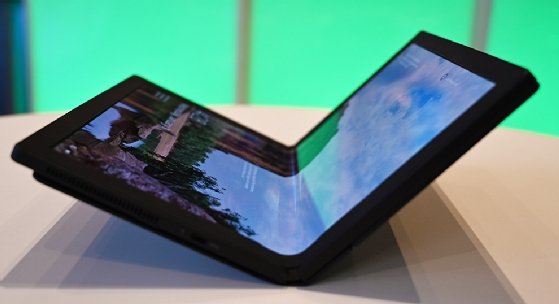 The Lenovo ThinkPad X1 Fold ships with a Bluetooth keyboard that also reveals additional design tricks. The keyboard magnetically attaches to the bottom half of the folded display for laptop mode and neatly tucks away between the display halves when folded closed.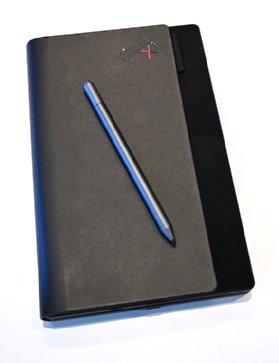 The keyboard is relatively small and appropriate only for short spurts of typing. Same with the trackpad -- it's cramped. Most frustrating, though, is Windows 10 Pro, as it constrains the ThinkPad X1 Fold. The OS was not built with this design in mind. While in laptop mode for instance, the task bar remains on the bottom of the display, hidden under the keyboard, not in the middle of the display at the crease. Lenovo tries to offset this with some custom software tweaking, specifically a manual split-screen shortcut, but it's an awkward solution.
According to the company, a ThinkPad X1 Fold with Windows 10X, Microsoft's upcoming Windows 10 version for split-screen devices, will ship later in the year, hopefully with more support for foldables.
The Lenovo ThinkPad X1 with Windows 10 Pro is set to ship in mid-2020, starting at $2,500. That price point, combined with the limitations of Windows 10, means the Lenovo ThinkPad X1 Fold is for early adopters. But its build quality and folding display impress enough to suggest that business users might be sporting foldable PCs sooner rather than later.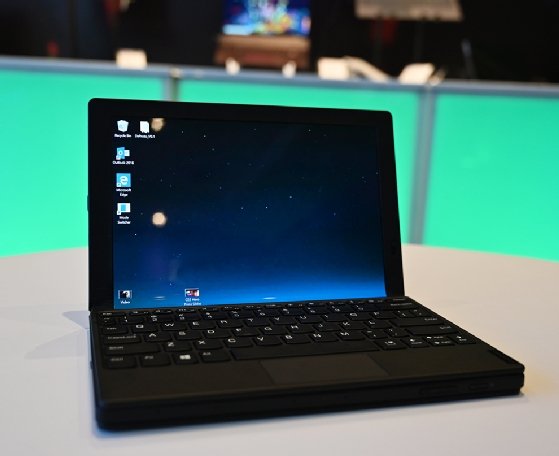 Lenovo ThinkPad X1 Carbon and ThinkPad X1 Yoga
Lenovo also unveiled updates to its flagship ThinkPad X1 Carbon and ThinkPad X1 Yoga.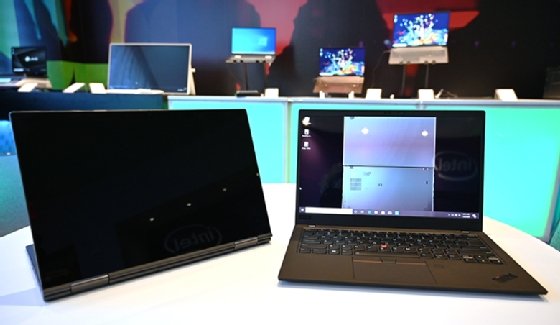 The new models are similar to the most recent iterations, both with 14-inch FHD (Full High Definition) displays. New for 2020 are 10th-generation Intel Core processors and a 2 TB SSD storage option. Also new in both products are a 500-nit FHD AG panel with PrivacyGuard and an enhanced keyboard layout with new unified communications (UC) controls. The keyboard now supports instant voice over IP access with UC function row buttons.

The ThinkPad X1 Carbon Gen 8 starts at $1,500, and the ThinkPad X1 Yoga Gen 5 starts at $1,600, with both shipping in the coming months.