Thep Urai - Fotolia
Compare the main mobile app development languages
Developing an app is all about visualizing what the users need and what they'll see in the UI. Get visual with this infographic about the top mobile app dev languages before you build.
Before starting mobile development, it is important to understand why your organization needs an app. Based on...
Continue Reading This Article
Enjoy this article as well as all of our content, including E-Guides, news, tips and more.
the app's business and feature requirements, developers can then turn to the mobile app development languages that work best to serve those needs.
To start, organizations must determine which operating systems and device types the mobile app has to support and whether they need a native, hybrid or web app.
Native apps for Google Android, for instance, use Java along with C or C++, whereas Apple iOS apps use Objective-C and Swift. Native apps require the developer to have skills in that particular codebase, and the developer must build the app for each OS it plans to support. The benefit of using native apps, however, is that they provide fast performance and better integration with hardware functions because they live directly on the device itself.
Application programming languages see changes at the top
As tastes in fashion reflect changing times, the choice for the most popular programming language reflects computing advancements. And, like blue jeans, some languages keep hanging on. Test your knowledge of these trends with this quiz.
For a web or hybrid mobile app, developers often opt for HTML5, CSS and JavaScript, as these apps are essentially websites that are responsive on mobile device browsers. Web apps are also a good option if the organization is looking for a cross-platform application that works across desktops and different mobile device OSes.
At the end of the day, choosing between mobile app development languages can be as much about functionality as it is about the developer's personal preference and skill set. With mobile app developers in high demand, it is critical that organizations and developers understand the different approaches to Building mobile apps and how the different languages fit in.
Learn more about the most popular mobile app development languages with this infographic.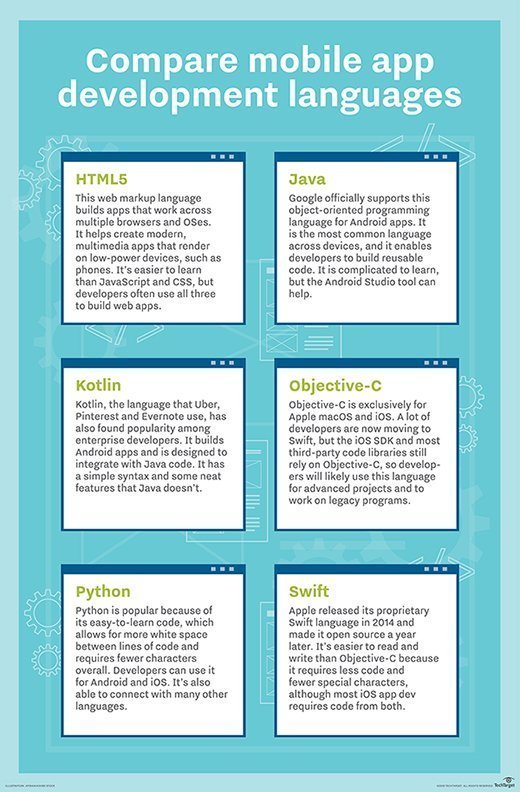 Dig Deeper on Mobile application strategy