Getty Images/iStockphoto
Samsung seeks bigger role as a business mobile provider
Samsung's wide variety of mobile devices, partnerships with software makers and government-grade security are differentiators in the business market, analysts said.
SAN FRANCISCO -- Samsung wants companies to see its latest mobile PCs and smartphones as a starting point for solving critical problems within business operations.
"We don't come in just to sell a black box," said Chris Balcik, vice president and general manager of Samsung Electronics America's Mobile B2B division. "We want to solve a problem. And over the last year and a half, we've changed the complexion of the narrative with customers to understand what's keeping them up at night."
That approach will apply to Samsung's latest Galaxy S23 series smartphones and Galaxy Book3 laptops, unveiled this week at the company's Unpacked event.
Powering the S23 series is the Qualcomm Snapdragon 8 Gen 2 Mobile Platform, which includes an AI engine for faster natural language processing for multi-language translation and transcription.
The top-of-the-line S23 Ultra includes a built-in stylus called the S Pen. The latest version supports Google Apps, so professionals can hand-draw in Google Docs or copy and paste text and images into Google Calendar.
Samsung plans to start selling the new S23 series on Feb. 17. Prices start at $1,200 for the S23 Ultra, $1,000 for the S23+ and $800 for the S23.
Companies interested in Samsung smartphones should consider customer Walmart as an example of how the device manufacturer wants to approach the business market, Balcik said in an interview with TechTarget Editorial.
In 2021, the retailer signed a deal to buy Samsung's Galaxy XCover Pro smartphones for employees. Workers use the device to clock into work, access their schedules, check inventory availability and chat with other workers by tapping their names in a directory.
Walmart uses the Samsung Knox security platform to protect corporate data when employees engage in personal use of the phone outside of the workplace.
Samsung has sold Walmart one million XCover Pros, Balcik said.
Samsung's wide variety of business devices; its partnerships with software makers, such as supply chain-focused Blue Yonder; and its government-grade security are differentiators in the business market, analysts said. Depending on the problem a company is trying to solve, it could seek technology from Samsung, Google, Dell or Hewlett-Packard Enterprise.
"No one has all the services that they have," said Patrick Hevesi, an analyst at Gartner, of Samsung. "That's probably one of their key differentiators."
Supplying mobile devices coupled with software from partners separates Samsung from suppliers of high-volume, lower-cost hardware, said Tuong Nguyen, an analyst at Gartner. "These partnerships are especially relevant in the enterprise because of the unique challenges for businesses."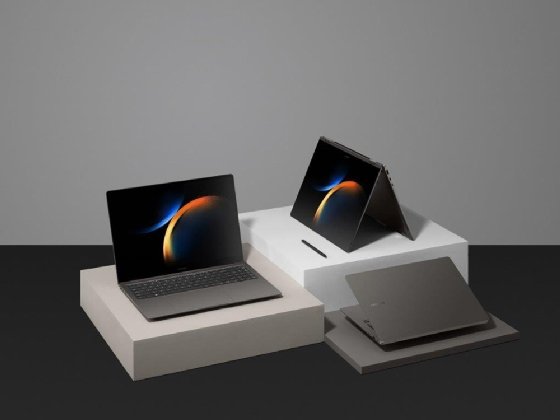 Samsung's latest Book3 PCs
Samsung designed its new Galaxy Book3 Ultra laptop to compete with Apple's MacBook Pro. A 13th-generation Intel Core i9 processor and an NVIDIA RTX Geforce 4070 GPU powers the PC. The system is the first to have Samsung's Dynamic AMOLED 2K Display with a resolution of 2880 x 1800.
With the Book3 Ultra release, Samsung upgraded components in its less powerful siblings, the Book3 Pro and the Book3 Pro 360 convertible laptop and tablet with built-in S Pen.
Samsung plans to start selling the Book3 PCs on Feb. 17. Prices start at $1,450 for the Book3 Pro, $1,900 for the Book3 Pro 360 and $2,400 for the Book3 Ultra.
Samsung will release its latest hardware at a time when PC and smartphone sales are falling due to high inflation and economic uncertainty. This week, Gartner reported that it expected shipments of PCs, tablets and mobile phones to decline 4.4% year over year, to 1.7 billion units. Shipments last year dropped 11.9%.
Balcik said he believes businesses will continue to buy premium devices during the downturn. But their approach to purchasing technology has changed.
"They're not going to be as free [with spending]," he said. "They're going to be very specific on how they make those IT decision buys."
Corporate attitudes toward employees using their personal devices for work have also changed, Balcik said. Regulated businesses like financial services, insurance and healthcare are requiring employees to use company-issued mobile devices.
The shift stems partly from government regulators cracking down on lax data protection. In September, they fined 16 Wall Street firms more than $1 billion for failing to stop employees from doing business on unapproved and unmonitored messaging apps on personal devices.
"A lot of our customers are now looking differently at what that endpoint can do [and] should do and how it should be protected," Balcik said.
Antone Gonsalves is networking news director for TechTarget Editorial. He has deep and wide experience in tech journalism. Since the mid-1990s, he has worked for UBM's InformationWeek, TechWeb and Computer Reseller News. He has also written for Ziff Davis' PC Week, IDG's CSOonline and IBTMedia's CruxialCIO, and rounded all of that out by covering startups for Bloomberg News. He started his journalism career at United Press International, working as a reporter and editor in California, Texas, Kansas and Florida. Have a news tip? Please drop him an email.
Dig Deeper on Mobile operating systems and devices