Getty Images
How to restore a deleted Android work profile
If a user deletes an Android work profile or switches devices, they will need to go through the process to restore it. Learn the simple steps to reenroll an Android work profile here.
Users and IT administrators might need to restore a deleted work profile for various reasons.
For example, users could have accidentally deleted their work profile, or they may be switching from an old Android smartphone to a new one. In either case, it is important that both IT teams and end users know how to restore a deleted work profile properly.
With the right prerequisites in place, users should have no trouble restoring their Android work profile and reenrolling in an organization's mobile device management (MDM) or other management platform.
Prerequisites for restoring an Android work profile
To restore a deleted work profile, organizations need to have Android Enterprise-integrated MDM tools, or a similar tool with these capabilities, from vendors such as VMware, IBM, Microsoft and Samsung, to name a few. These tools provide the necessary infrastructure and capabilities to properly manage policies on Android devices in general. In this case, they can help restore a deleted work profile.
How to restore a deleted Android work profile
Restoring a work profile, in most cases, is a task the end user completes. To help guide users through the process of restoring a deleted work profile, it is important to provide screenshots and documentation wherever possible. This makes it easier for end users to understand how they should complete the task and may reduce help desk tickets related to this process.
This example uses Microsoft Intune, though different versions of MDM may vary but will follow similar concepts:
Search for the proper MDM agent app in the Google Play Store. Then, download the app to the Android device.
To restore a work profile on a device that was self-unenrolled, select the three-dot menu at the top right, and select Reset Work Profile. Then, click the Restart button.
Sign into the MDM agent, and tap Begin (Figure 1).
Review the privacy statement, and tap Continue.
Review and accept Google's terms and services.
Wait while the profile is set up, and follow the remaining prompts to complete the setup.
Note: If a user sets up the Android work profile as a new user, they only need to download the MDM agent, open it and then click Begin.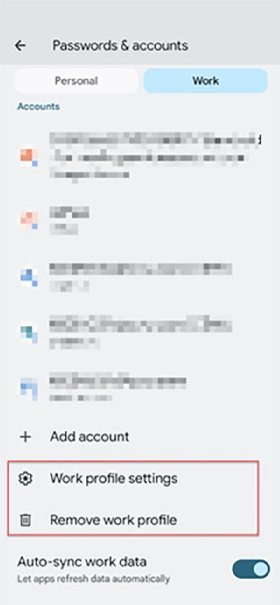 Once the process is complete, end users can confirm that their applications and security settings have been restored by opening the app drawer and verifying that their work apps are available and can also navigate to Settings > Passwords and Accounts. Then, validate that the MDM shows the option to select Work profile settings (Figure 2).
Note: This selection varies depending on the user's version of Android, the Android model, and OEM and MDM platform in use.
This ensures that users can safely return to working on their devices without any issues. Additionally, IT teams should keep track of which devices have been restored to identify any potential problems in the future. With custom reports from an organization's MDM system, IT admins can configure rules to monitor enrollment and pending device status. This example uses VMware's reporting platform (Figure 3).
How to temporarily turn off an Android work profile
If users delete their work profile to avoid having work data on their Android smartphone, IT administrators should inform the user that it's possible to turn off the work profile entirely without deleting it (Figure 4).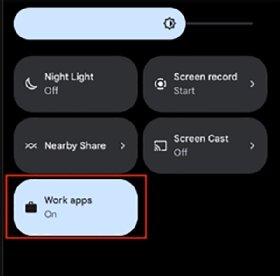 For example, they may be going on vacation or taking time off for the holidays and need a way to turn off work notifications and applications. Android makes the process to temporarily disable a work profile simple.
Any BYOD Android user with the device enrolled in a work profile can turn off the work profile by dropping down the notification bar twice to open the application tiles, scrolling to the Work Apps tile and toggling it to Off. Once they want the work functions back on the device, they can navigate to the same menu and flip it back to On.
Dig Deeper on Mobile operating systems and devices