Getty Images
How to delete or disable an Android work profile
When users leave an organization or lose a device, it's time to remove their Android work profile. Learn three methods to get rid of a work profile on a BYOD device.
A work profile is an important feature of Android devices because it enables users to keep their personal life separate from their work life.
Once a user or IT professional enrolls an Android device into their organization's mobile device management (MDM) platform, the device creates the work profile. By installing a work profile on a device, employers can secure their company apps and content accessed in the work profile, while guaranteeing more privacy for their users.
When an employee leaves or changes roles within a company, however, it is common practice for the employer to delete any associated work profiles installed on the device. This ensures security for company data by preventing unauthorized access to sensitive files stored in the profile. To ensure users don't lose personal data, deleting an Android work profile does not delete anything outside of the profile, including non-work-related files, apps and content stored on the device.
When the time comes to remove a work profile, either the device's owner or an IT staff member can take steps to remove the profile.
How can a user remove an Android work profile
End users can remove their Android's work profile themselves through a relatively simple process. There are two methods users can employ to delete a work profile, and neither of them take more than a few minutes.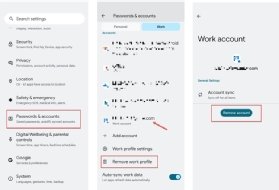 Method 1. Removing a work profile via Settings
With this method, the user can remove their work profile through the native Settings application on the device (Figure 1).
Open the device Settings menu, and then select Accounts. This is sometimes listed as Passwords & accounts as well.
Select the work profile to remove or delete from the various accounts displayed on screen.
Tap the Remove work profile button, and then confirm the selection when prompted by pressing OK on the pop-up window.
The device begins removing all data associated with the work profile, including apps, settings and other information stored within it. This process can take several minutes, depending on how much data is stored within the profile. Once this process is complete, the work profile is completely removed.
Method 2. Removing a work profile via MDM agent or application
With this method, users can remove the work profile through the same MDM application used for enrollment.
This example uses the Microsoft Intune application called Company Portal (Figure 2).
Open the MDM application on the device, and sign in if requested. This is the application the user used for the initial MDM and work profile enrollment.
Under Devices, select your device.
In the Device Details section at the top right, select the menu button, and select Remove Device.
After selecting Remove Device, the user is prompted with a confirmation screen. Select OK to proceed with work profile removal.
After confirmation, the device removes the MDM platform and work profile, and all associated data is deleted.
Additional options include removing or uninstalling the MDM agent application directly. In this example with Intune, an end user can simply open the menu and select Remove Company Portal.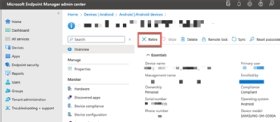 How can an IT administrator remove an Android work profile
IT administrators may want to delete a profile from an Android device themselves, thereby protecting company data without wiping the Android device completely. This can be beneficial when, for example, an employee leaves an organization or if a device is reported lost or stolen.
This process requires an IT admin to log in to the MDM system and remove the device. To do this, IT can follow the steps below.
Note: Each MDM system differs on the location of each of the sections below.
Open the MDM admin console portal, and select the Devices section.
Filter for Android Work device or user.
Select the desired device.
In the menu of that device, select Retire or Delete, depending on the MDM system (Figure 3).
Work profiles provide an important way to keep business activity separate from personal activity while using Android devices. They can be easily installed when needed and deleted when no longer necessary.
Dig Deeper on Mobile operating systems and devices