Getty Images/iStockphoto
What are the best file managers for Mac devices?
If the native macOS file manager is lacking, IT can look to third-party options for advanced features. Commander One, ForkLift and Path Finder are three alternatives to consider.
The Finder utility in macOS is a helpful function, but it comes with drawbacks that might lead some users to consider third-party file manager options.
Most Mac users rely heavily on Finder when working with the files and folders on their systems, but some might feel frustrated by its limitations and lack of advanced features. Even tasks that should be simple, such as copying or moving files from one folder to another, can be unnecessarily cumbersome. Fortunately, there are several third-party file managers that can run on macOS computers. These third-party tools simplify common tasks and add advanced features that can streamline file and folder management, helping to make users more productive.
There are many products on the market, however, and it's not always clear which one is the best file manager for Mac.
What are the limitations of macOS Finder?
Finder is the default file manager in macOS, and for many users, it provides everything they need to interact with the files and folders on their Apple computers. For more advanced users, Finder can lack many of the options available to other file managers, including those in Windows and Linux. Finder also receives relatively few updates compared to other macOS apps or file managers, so little has changed in the interface over the years.
Finder also offers limited capabilities for working with remote servers and cloud storage, lacking the built-in connectivity features available in many other file managers.
That's not to say Finder is without useful features, but carrying out certain tasks can sometimes be unnecessarily difficult and time-consuming. For example, renaming multiple files or syncing folders can be daunting tasks if there are many files and folders involved. Even navigating the folder structure can be inefficient at times. Finder also offers limited capabilities for working with remote servers and cloud storage, lacking the built-in connectivity features available in many other file managers.
One of the biggest limitations of Finder is its lack of advanced search capabilities. For example, the search function doesn't support case-sensitive searches or the use of regular expressions, and it can also be a difficult or lengthy process to find files and folders when working with lots of data. In addition, Finder offers limited viewing options, making it difficult to review numerous photos and videos in one sitting.
Some users also don't like how Finder adds .DS_Store files to all the folders it touches, including those on remote systems. In addition, it lacks a dual-pane mode, forcing users to navigate multiple tabs or windows to carry out simple operations. The lack of dual panes is one of the key reasons why working with files is sometimes so time-consuming. The file manager no longer remembers the last open folders or tabs when the Finder window is closed, a change that occurred several years ago and affected the way many users work.
Because of the various issues with Finder, an organization might look for an alternative file manager, especially for users who require the greater productivity third-party products offer. For example, application developers, web administrators, graphic artists or data stewards who work with large numbers of files might benefit from a more robust file manager. However, this puts the organization's decision-makers in the position of having to find the best file manager to accommodate the specific needs of their Mac users.
3 best file managers for Mac
Third-party file managers can address many of the shortcomings of macOS Finder, making it easier to search for files, manage files in bulk, and work with remote servers and services. Most include a wide assortment of features that can help increase productivity and improve the user experience.
There are many third-party file managers available for Mac, and it can be difficult to choose one over the other. Three top file managers that IT administrators might want to consider are Commander One, ForkLift and Path Finder. These three provide a good cross-section of the type of features to look for when researching the best file manager for an organization.
Commander One
Commander One from Electronic Team is a dual-pane file manager written in the Swift programming language (Figure 1). It runs natively on macOS systems, including Mac computers with the Apple Silicon M1 or M2 chips. Commander One supports configurable hot keys for most actions and includes numerous options to customize the interface's appearance. It also provides a toggling option to view hidden files; includes a built-in process viewer and terminal app; and supports a large assortment of archive formats, including .zip, .7z, .txz, .tlz, .tbz, .tgz and .tz.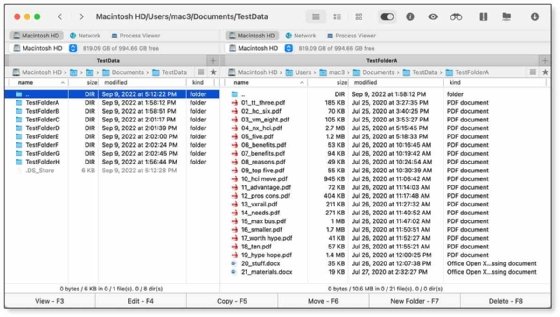 One of the strongest features of Commander One is its search capabilities. Users can specify case sensitivity, folder depth, file text or whole words. It's also possible to search within archive files or limit the search to text in a specific character format, such as Unicode, hex, UTF-8 or ANSI, and use regular expressions in searches for pattern-matching file content or file names. Commander One supports root user access to all system files and includes a built-in viewer to quickly access a file's content, even if it's in hex or binary format.
Commander One also provides native connectivity to a wide range of remote servers and services, with support for FTP, WebDAV, OpenStack Swift, Amazon S3, Google Drive, Box, Dropbox and several other protocols and cloud storage services. The file manager lets users encrypt any of their online connections using 256-bit Advanced Encryption Standard, as well as mount iOS, Android or Media Transfer Protocol devices to transfer files. This file manager is well-suited to users who work with numerous files that are distributed across multiple network file servers or cloud storage services. These connectivity features can also make Commander One useful to administrators maintaining websites and online tools.
ForkLift
ForkLift from BinaryNights offers many of the same features as Commander One, but it also includes other advanced capabilities. Like Commander One, ForkLift supports configurable hot keys, displays hidden files, provides a quick view feature and offers multiple options for archiving files, including the ability to encrypt those archives. ForkLift also provides a preview pane to quickly review file content, supports single-pane or dual-pane mode and includes a quick select feature to easily choose files from a directory (Figure 2). ForkLift isn't as well documented as Commander One, but it's intuitive to use and navigate, putting it on par with the other product.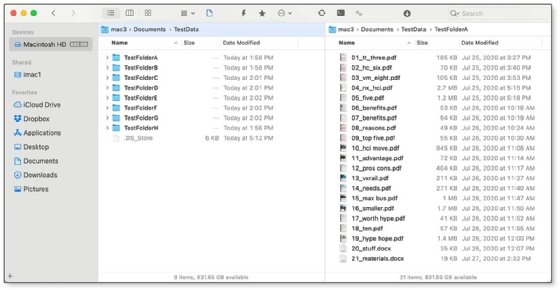 Another valuable component of ForkLift is the sync feature, which makes it possible to synchronize new, updated or deleted files across local or remote folders, with support for both one-way and two-way syncing. The file manager also provides native integration with Git source control, making it easy to add, commit, push or pull files with the Git repository. In addition, ForkLift simplifies remote connectivity through its support for multiple protocols -- such as FTP, SFTP and WebDAV -- and cloud storage services, such as Amazon S3, Google Drive and Rackspace Cloud Files.
These features can be particularly helpful to users who need to access and sync numerous files across remote locations, such as web developers or administrators, but power users can also benefit. For example, ForkLift makes it possible to control file transfers at a granular level, so users can limit download and upload bandwidth. Users can also open the terminal app to a specific directory, compare text or image files, set a preferred app to edit remote files and mount remote servers so they appear as local drives. There's an app deletion feature to uninstall apps directly from the file manager interface as well.
Path Finder
Like Commander One and Forklift, Path Finder from Cocoatech is full of features to help increase user productivity, including configurable hot keys, file compression capabilities and a quick view option. It supports multiple connection protocols and cloud storage services, although not nearly as many as the other two products. On the other hand, Path Finder offers an interface and user experience that more closely aligns to Finder than the other products, making it easier for some users to transition to (Figure 3).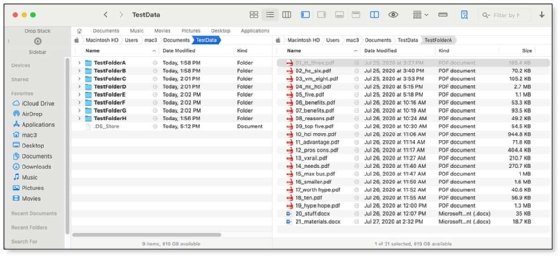 Path Finder offers many other advanced features, but they can still be confusing to understand or navigate. Path Finder's product documentation also isn't as thorough as Commander One's or Forklift's, adding to the confusion around certain features. Even so, there are enough advanced capabilities to make Path Finder a worthy contender in the file manager market. The product includes an easy-to-access favorites pane, provides native support for Apple silicon, integrates with Apple's AirDrop, supports file operations on iOS devices and includes one-click dual-pane file copying. It also offers a Secure Delete feature to control the number of file-deletion passes, and it provides an advanced access control list editor to configure file and folder permissions.
Path Finder is well-suited to power users who regularly work with many files throughout the day and are looking for ways to be more productive on their macOS computers. Developers and administrators might also benefit, especially when considering the product's many other capabilities. For instance, Path Finder includes both a single-pane and dual-pane mode, supports bulk renaming, calculates file checksums, synchronizes folders, compares files, and integrates with Git and Subversion. Other useful features include file transfer controls, an integrated terminal window, folder merging, and file tagging and filtering.
Dig Deeper on Mobile operating systems and devices