Getty Images/iStockphoto
How to use the iPadOS file manager in the enterprise
Organizations can use the iPadOS Files app to manage files locally or in the cloud. Learn the pros and cons of both storage types and how to use them in the native file manager.
There are many enterprise use cases for iPads, and to keep corporate files safe and functional, organizations should understand how the iPadOS file manager works.
Organizations today use tablets in a variety of ways -- as kiosks for employees and customers, in warehouses to manage inventory, for activities such as presentations and more. Their small form factor, long battery life and reliability make them a useful mobile tool in the enterprise. Still, managing how users interact with corporate files on these devices can become a challenge for IT administrators, especially when data lives in so many different places.
When it comes to delivering digital content and accessing mobile apps for day-to-day work activities, iPads are a great tool. In the manufacturing sector, they can replace bulky and slow Windows CE scanners, as an iPad paired with a Bluetooth barcode scanner has far more to offer users in terms of usability, battery life and apps -- and at a much lower cost. They can also help support customer service departments, as employees can walk up to a client and enter information directly into an iPad, or look up products from the device without needing to go to a computer at a physical desk.
Regardless of the use case, it's beneficial for users to be able to interact with any files stored within an iPad's internal storage or somewhere in the cloud. The file manager in iPadOS is the Files app, and it supports local storage as well as cloud storage services. However, local and cloud storage each come with their own advantages and disadvantages.
Using files that are stored locally on the iPad or external storage
There are several advantages of interacting with files stored in the local memory on the iPad. One of the main advantages is offline access, which allows users to simply click on files and interact with them, regardless of whether the device is connected to the internet. This is useful in scenarios where the iPad is on the move and doesn't have a cellular data plan or a hotspot with Wi-Fi connectivity available to it. Storing files locally can lead to outdated files and put data at risk if the tablet is lost or stolen prior to a cloud backup.
With local storage, another concern is storage capacity, which is generally limited and dependent on the model of the iPad. One thing to note about offline access to files is that iPads support external storage for devices that are connected via USB-C. There are several adapters available online to go from USB or Lightning to USB-C.
Using iPadOS files that are stored in a cloud service provider
Several different cloud service providers, including Box, Dropbox, OneDrive, Google Drive and others, can provide an unlimited amount of data to the Files app. These options offer users access to all their files remotely and are directly available from the iPad when connected to the internet. Cloud storage services can also be ideal for organizations looking to keep their corporate data secure, as access to those repositories can be revoked when the iPad is lost or stolen, and the iPad can't access that data when it's offline.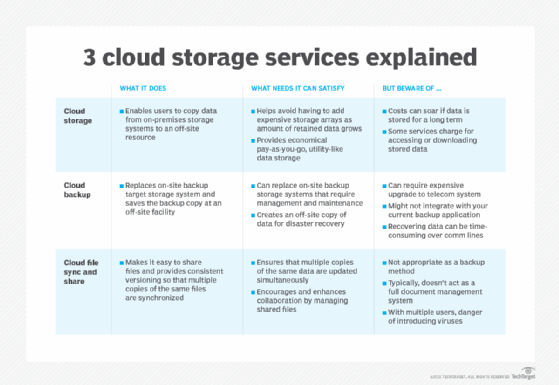 Employees looking to improve collaboration can also take advantage of these storage destinations, as other users can access those folders to update or introduce new files. Users can also connect to network shares within their organizations through the support of server message block shares that are available on Windows servers. This can be an option for organizations that are not currently supporting or using any cloud storage providers for their data and prefer to maintain it all within their data center.
The file manager in iPadOS has much of the same functionality available in a standard file system on macOS and Windows machines, making the tablet user-friendly and capable of supporting the needs of employees. Some functions available in the Files app include the following:
Data compression to zip or unzip files and folders.
File rename capabilities.
Drag-and-drop file and folder movement.
Recently Deleted folder where users can recover files that were recently removed.
File duplication.
File-sharing capabilities.
File download for later offline use when connected to iCloud or other online locations.
File preview for images.
File search to locate specific files based on file name.
Gallery view of files.
File view based on installed app viewers such as Adobe or Office 365.
Add folders or documents to Favorites.
Scan documents into files directly using the device camera.
There is very little difference between iPadOS and iOS when it comes to the file manager. In terms of functionality, all features available within the iPad are available on the iPhone as well, so the only difference comes in how the files can be previewed on the screen. The iPad offers a much bigger screen to use when interacting with files, which allows users to view photos in a much larger format.
Dig Deeper on Mobile operating systems and devices