Fotolia
IPadOS, Mac Pro aim to improve Apple's enterprise stance
The new iPadOS is a distinct operating system for the Apple tablet. New features such as mouse and external hard drive connectivity and multi-app capabilities leave little doubt where it's aimed -- the enterprise.
Apple unveiled a new operating system specifically for the iPad. Built off of Apple's new iOS 13 and dubbed iPadOS, it will provide enterprise-based capabilities such as application multitasking and the ability to use an iPad as a companion screen to a desktop Mac.
Both iOS 13 and iPadOS were unveiled at Worldwide Developers Conference, Apple's annual developers' event. Apple rounded out its enterprise upgrades with a revamped Mac Pro that analysts called an extremely powerful -- but expensive -- computer designed for specialized workers and not meant for a full enterprise deployment.
The iPadOS, a nod by Apple that smartphones and tablets are distinct devices, is designed to make the iPad more attractive to a mobile business employee. New features include the ability to sync with an Apple desktop computer, use a mouse or touchscreen, multitask between applications and connect to an external hard drive. Even with the new features, the iPad will likely remain a second or third screen for front-end workers, according to Bob O'Donnell, founder and chief analyst at Technalysis Research.
"Apple really did turn the iPad into a computing device with the additions, including being able to access file systems, mouse support and using the iPad as a secondary display," O'Donnell said. "But it's still more of an accompaniment. At first, Apple made sure to separate the Mac and iPad, and they seem to have finally given up on that."
Ray Wang, founder and analyst at Constellation Research Inc., agreed, adding that the iPadOS may help increase enterprise adoption as users continue to work in a choose-your-own-device environment. But still, the accessibility of an iPad isn't for everyone.
"Apple is realizing that the iPad has evolved from just being for consumers to being for creators," Wang said. "The iPad has its place in business for those that prefer the touchscreen, prefer using a pencil and that design aesthetic -- it's a great form. For others that prefer a fixed device or prefer pounding away on a keyboard, it's still not for them."
IPadOS is available as a developer preview right now and a public beta program will be available next month, according to Apple. IPadOS will be available as a free software update this fall for iPad Air 2 and later, all iPad Pro, iPad 5th generation and later, and iPad mini 4 and later.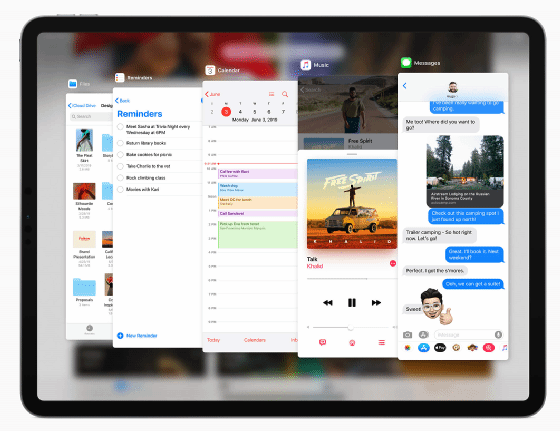 The new and improved Mac Pro
IPadOS may create ripples in the enterprise, but it will have to vie with the relaunch of another Apple enterprise product that made noise at the event. After a 2013 version of a business-grade Mac Pro failed to attract business users, Apple unveiled its new offering, with computing capabilities and memory capacity. The new Mac Pro features caught the attention of analysts attending the show.
At first, Apple made sure to separate the Mac and iPad, and they seem to have finally given up on that.

Bob O'DonnellFounder and chief analyst, Technalysis Research
"The important thing about the Mac Pro is the power in it," Wang said. "The main thing for those who are in the creative, video editing industries, or those building multi-simulation models -- this is the machine for you."
O'Donnell added that the new Mac Pro puts Apple back in conversation for high-end, high-computing workstation computers with the likes of Microsoft, Dell and Lenovo. But the pricing made some in attendance scoff.
"It's good to see Apple back in that market, regardless if it's a ridiculously expensive machine," O'Donnell said, adding that the price made those near him chuckle, especially at the reported $1,000 computer stand. Apple stated that the Mac Pro would start at $5,999, but reports show that top-of-the-line models could run north of $30,000 per computer.
"It's a beautiful product and there's a certain market for it," O'Donnell said. "Fortunately, cost isn't an issue for that market."
The Mac Pro will be available to order in the fall.
Dig Deeper on Mobile infrastructure